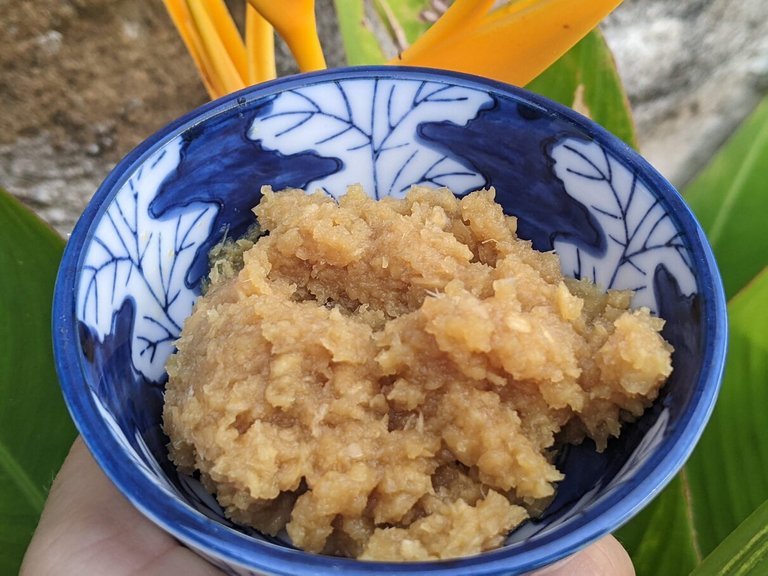 Greetings fermentation lovers. What have you been up to lately? I hope you had a less stressful few weeks than we just had. Though all is ok now and though my dad is still recovering at home from a triple bypass heart surgery, all is well.
For the second time in over 8 years, I found it difficult to live 8000-9000 km for my family. Though my dad always has had heart issues, he had a heart attack 25 years ago at the age of 45. Back then he didn't need a bypass but they gave him 5 stents. About 10-12 years, he was again in the hospital as there was something wrong with these stents. But again they fixed him up. Back then, being a younger man than the 70 years of age he is now, he recovered super fast.
About 4 weeks ago he ended up in the hospital again with a heart pulse of only 30-35 beads per minute. Luckily he felt it coming and the ambulance brought him to the hospital before he had another heart attack.
One stent later he was home again to end up at emergency a few days later with the same issues. Another stent later and we all thought he was ok. Unfortunately, after another few days and a visit to another cardiologist my mom called me they had to go back to the hospital for a triple bypass heart operation… scary times!
The surgery was about 10 days ago. Right after the surgery, I got a call from my mom that he was in intensive care, still sleeping, but ok. You can't imagine how happy I was when he called me the day after. I could see his smile again and he was already making jokes, which could also have been the morphine taking lol. Long story short, all is well and he is recovering from his operation at home now.
Living so far from your family and not being able to help and do anything else but constantly calling for an update, is hard, stressful, and very frustrating. But this is the life we chose and I am still happy to be here while planning our next big adventure. Which will probably take us to the other side of the world but as far from our loved ones as we are now.
But hey enough about what a shitty, stressful few weeks we had, let's continue on a more positive note. Let's talk happy bellies and another fermentation favorite of ours.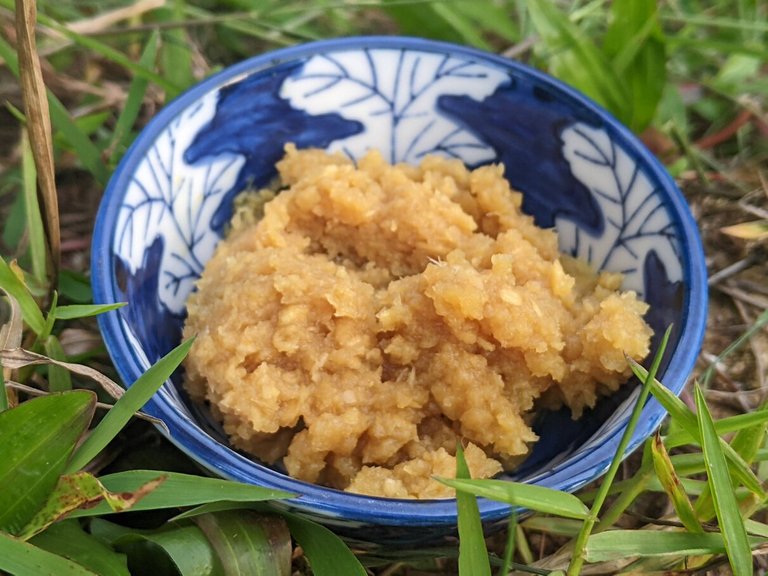 FERMENTED GARLIC PASTE
---
As I said in one of my previous posts, I am in a fermentation frenzy at the moment. I only started making this a few months ago, but it is already a kitchen staple. We are garlic lovers, Ever since we discovered this fermented garlic paste we have hardly used raw minced garlic in our cooking.
Fermented garlic has this sweet, less sharp, caramelized flavor you get from roasted garlic. Furthermore, the fermentation process not only changes the flavor but the nutrient content too. Fermented garlic paste has enhanced bioactivity and is a rich source of probiotics, vitamins, and enzymes that support gut health, help your body to function better, strengthen the immune system, and promote better health.
Ever since we made this fermented garlic paste it has been a must-have staple in our kitchen. Its taste is so much better than using regular raw garlic and it will save you some time when preparing meals.
Next to adding an amazing flavor to your dishes, it also works as a natural medicine. It possesses potent antiviral and antibacterial properties. So if you feel a cold coming or want to boost your immune system during the flu season, consume 1 teaspoon of the fermented garlic paste one or 2 times a day.
Oh and one last thing. The sulfur-containing compounds in garlic - which are responsible for garlic breath - are mellowed during the fermentation process. So no bad garlic breath after consuming fermented garlic.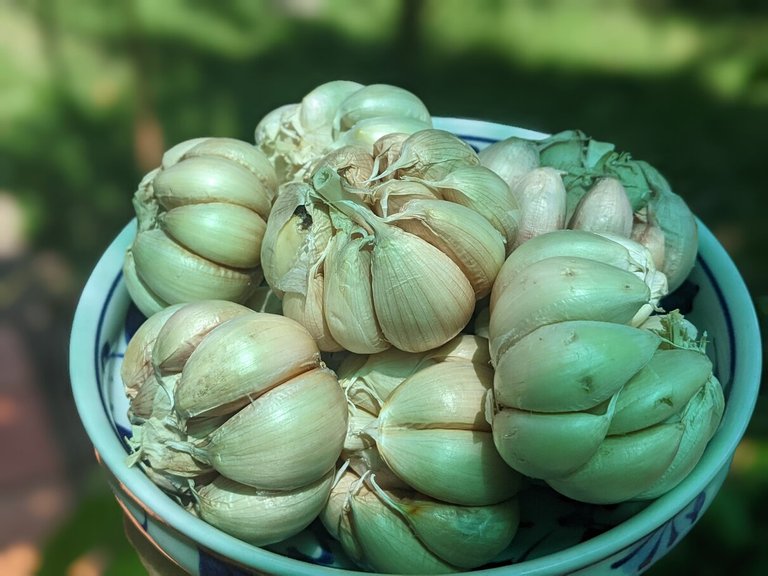 Ingredients (makes 1 big jar or 2 smaller ones)
---
18 to 20 heads of garlic, peeled
2-3 teaspoons of Himalayan pink salt or good quality sea salt
Directions
---
Peel the garlic, if you have sensitive skin, you might want to use gloves as the juice of the garlic is very potent and might give you a burning sensation after peeling so many garlic cloves.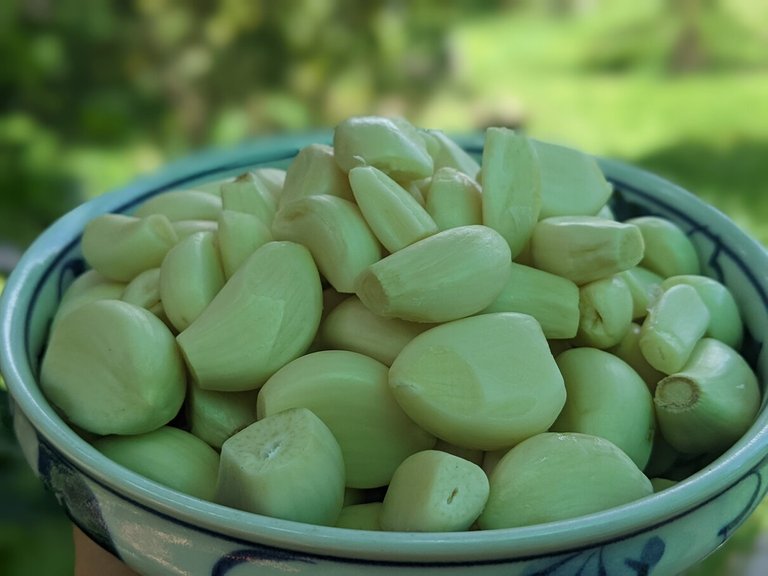 Add the peeled garlic with the salt to a blender and blend until you have a smooth paste. Scrape down the sides while blending to make sure no big garic lumps remain. Taste and add more salt if you like.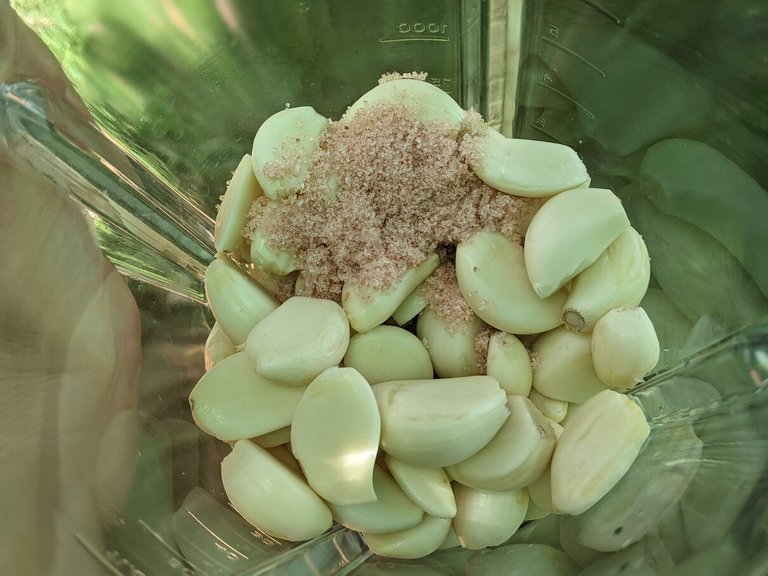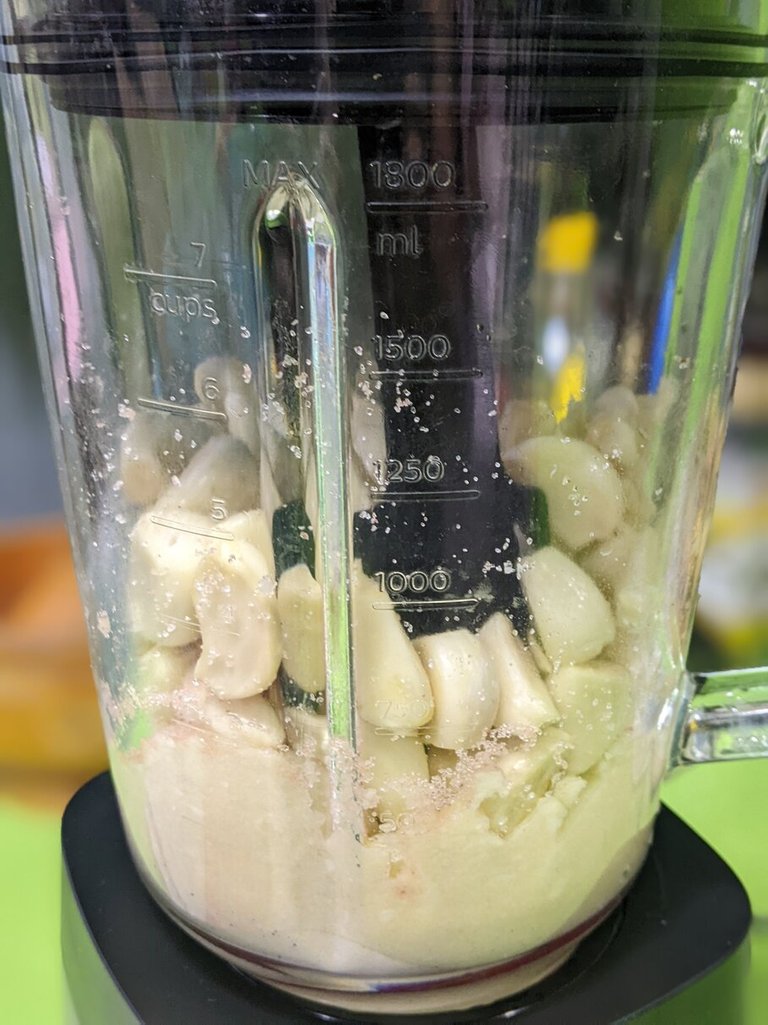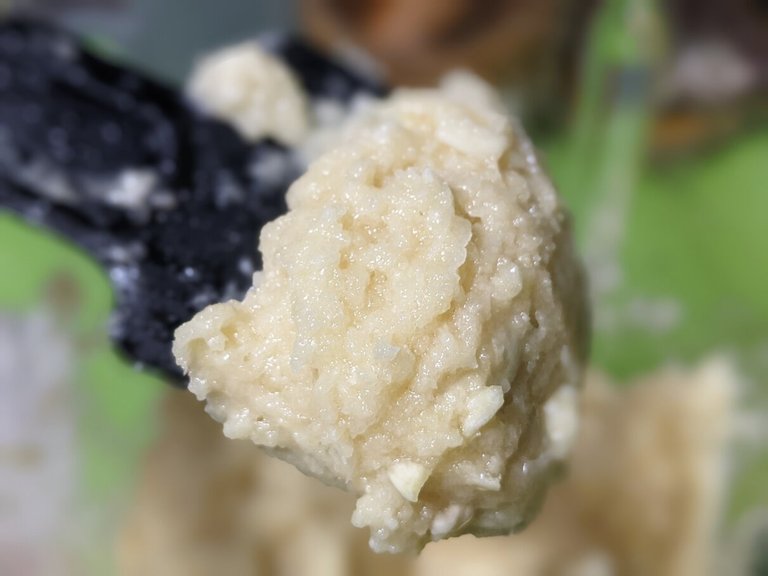 Add the paste to a small, clean jar. Leave about 2.5 cm or 1 inch of space for the top.
Press down the paste with a tamper or spoon. Depending on the garlic and how much you blended the garlic, the natural liquid (brine) present in the garlic might come up and cover the paste when pushed down.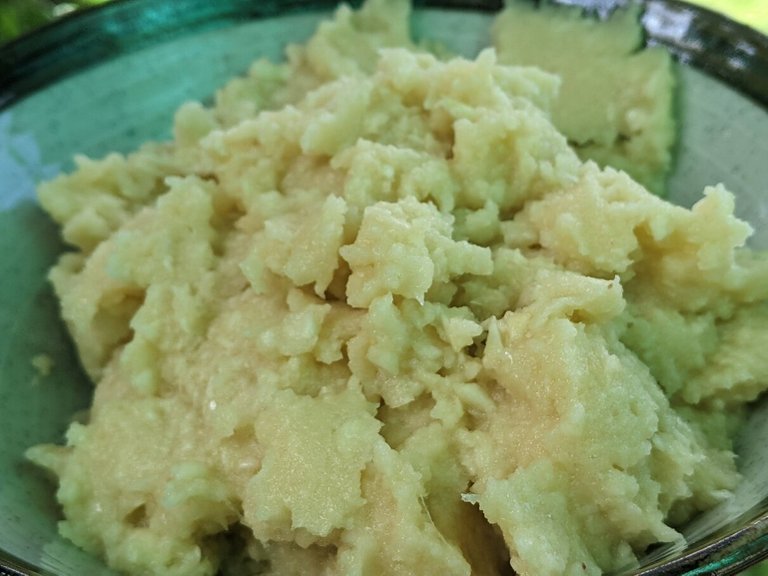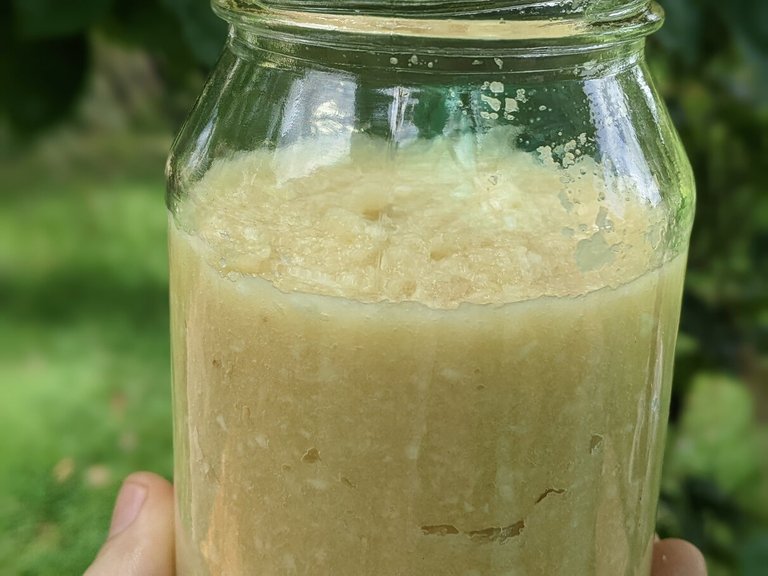 Make a salty brine if there is not enough liquid coming up to cover the paste. The ratio of the salty brine is ½ tablespoon of salt in ½ cup of filtered water. Mix well to dissolve all the salt.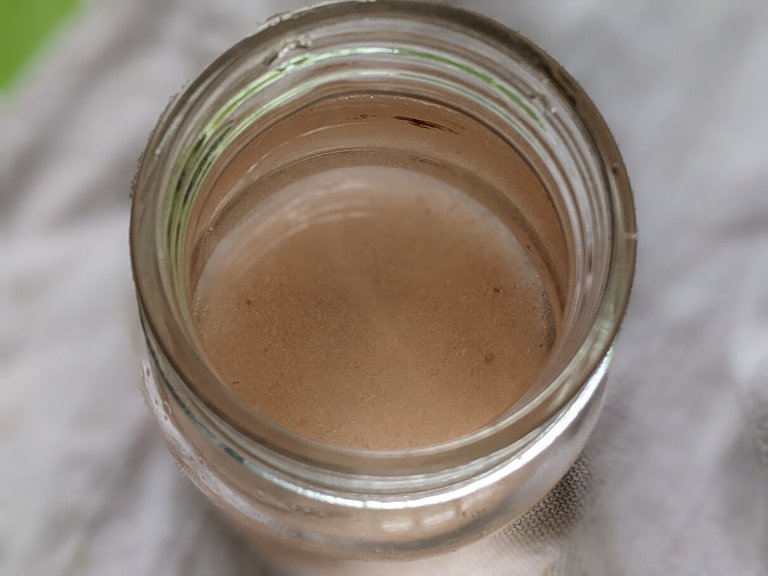 Pour a little of the brine over the paste to just cover the paste.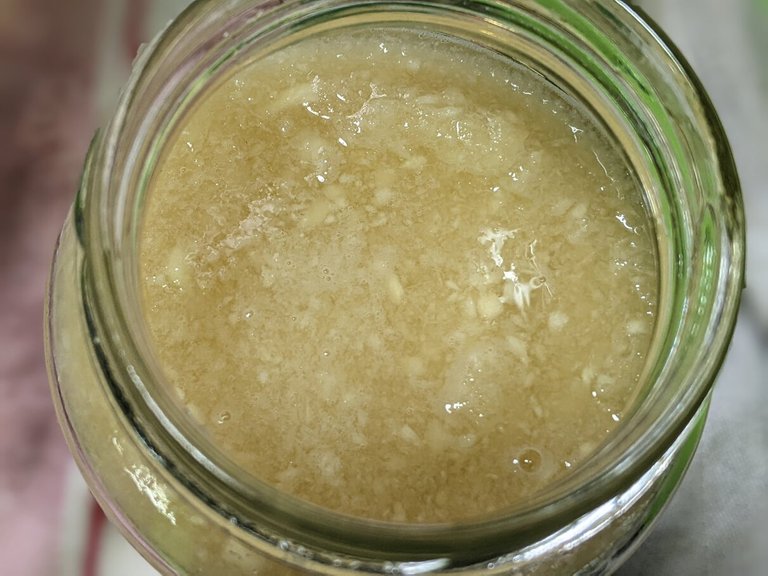 Then add a fermentation weight if you have one to make sure the paste stays submerged to reduce exposure to air and prevent mold to grow on top. If you don't have a fermentation weight you can use baking paper pushed into the jar and weighed down with marbles, a plastic ziplock bag filled with water, or this green plastic thing I used. I recycled them from jars of gherkins, olives, and slivered onions. Cut off the stick used to lift the gherkins and you will be left with a perfect device to weigh down your ferments.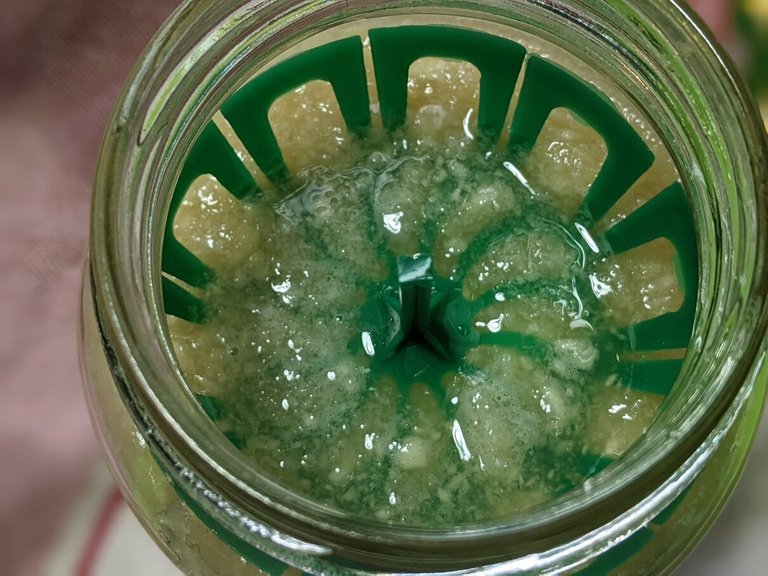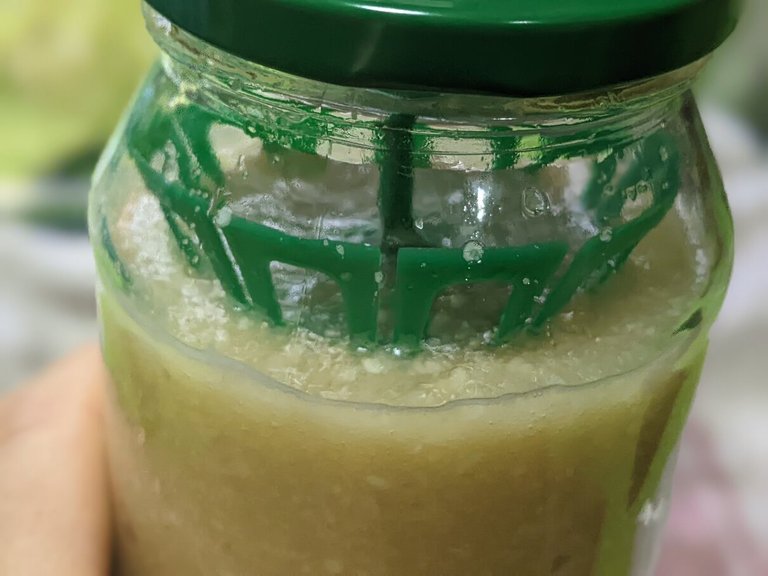 Close the jar with the lid and set it on the counter out of direct sunlight for 14 to 21 days. I live in the tropics so things go a little faster here.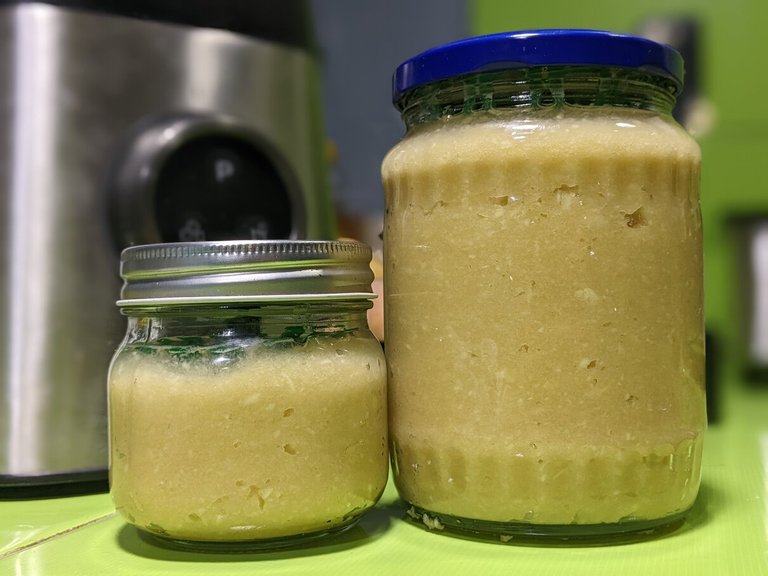 IMPORTANT NOTE:
---
Certain compounds in garlic may react with the minerals in the water or salt you use. This may result in the paste turning blue or green after just a few hours of making it. This is normal and nothing to worry about. The color will change again after a few days to a light yellow color and then light brown when ready.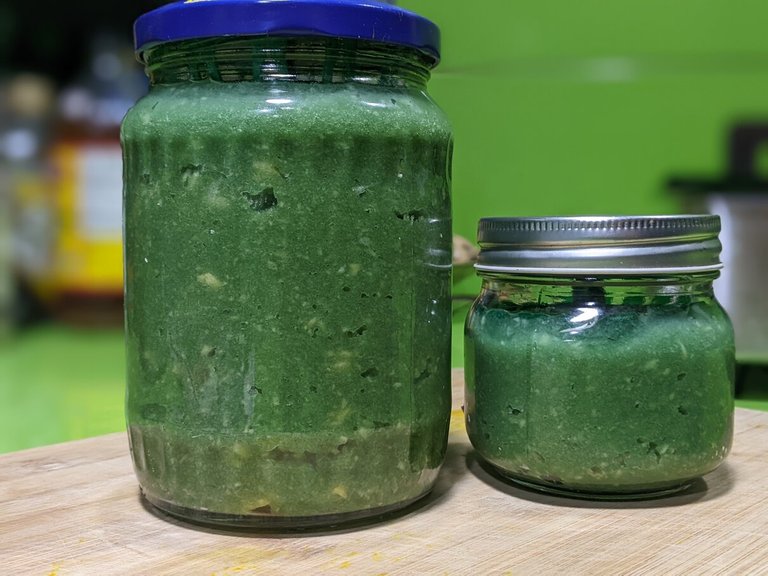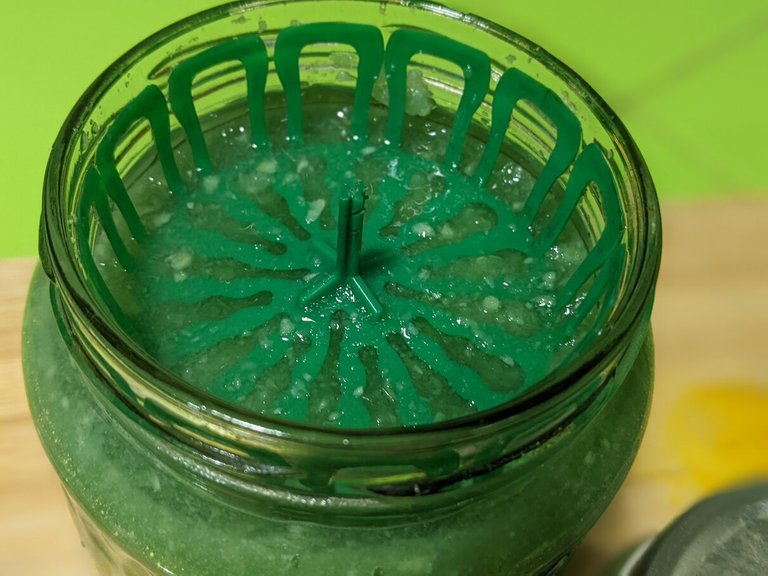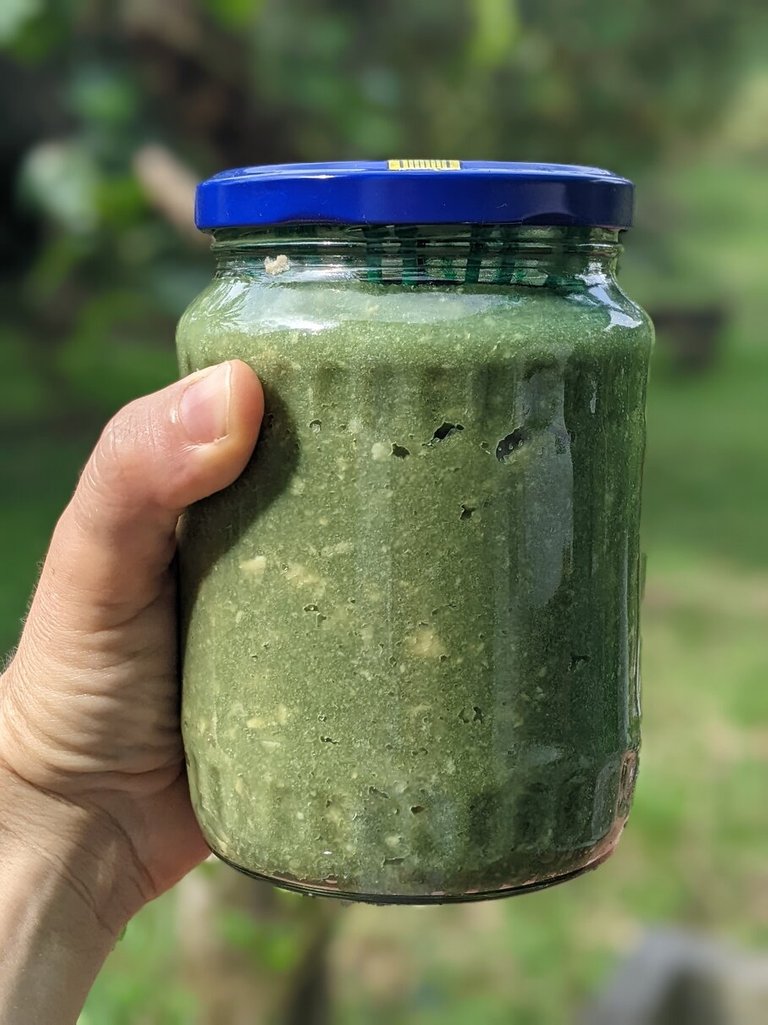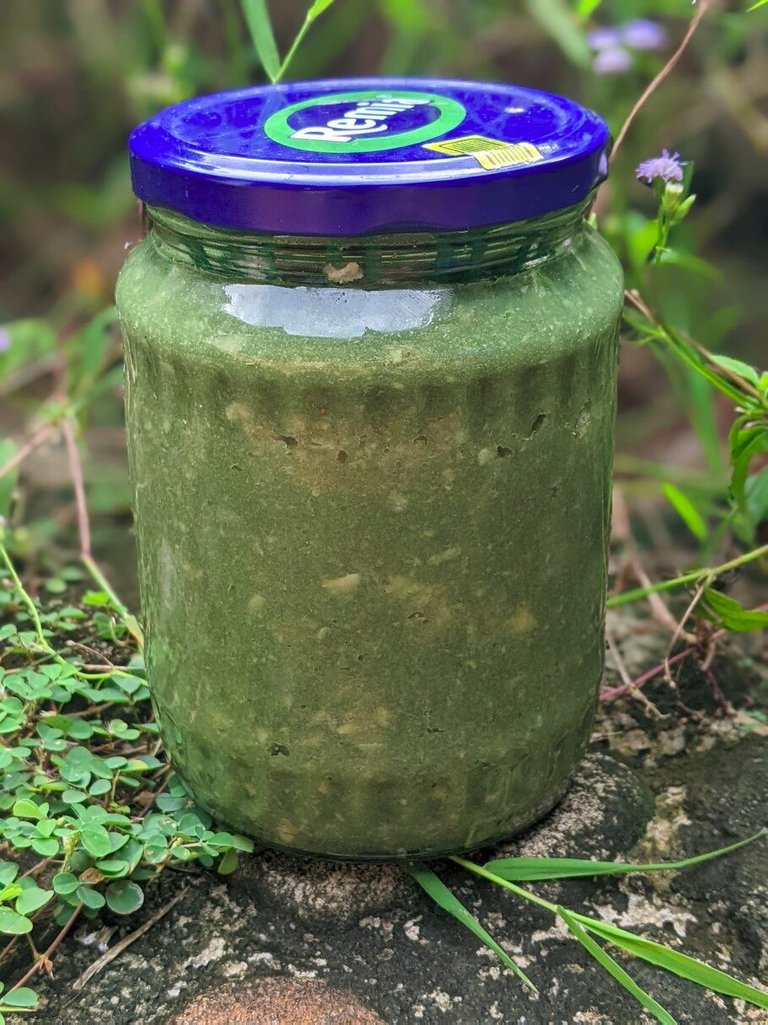 Start tasting after 14 days. It is ready when the spiciness of the garlic has mellowed and the paste tastes more like roasted garlic. The color will be a light brown, caramel color.
Check the ferment every day to make sure the paste is under the brine. Press the paste back down or add more salty brine if needed.
When ready, store it in the fridge. The paste will last for up to 1 year.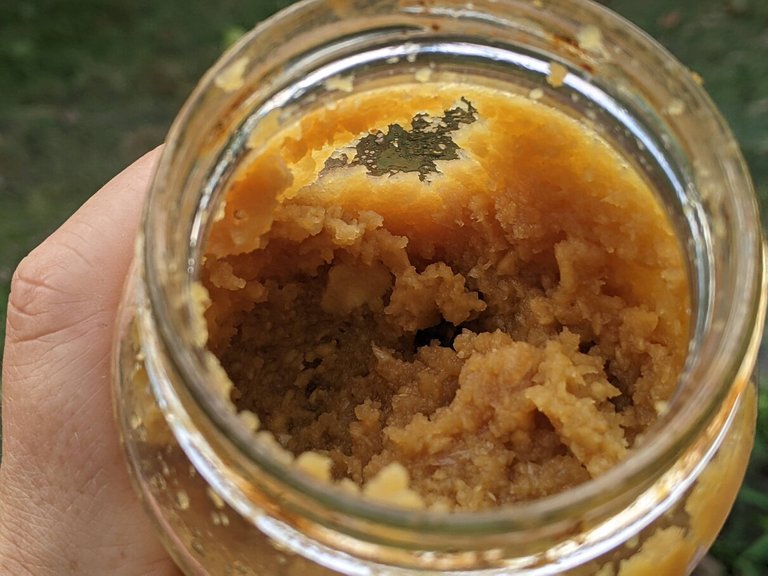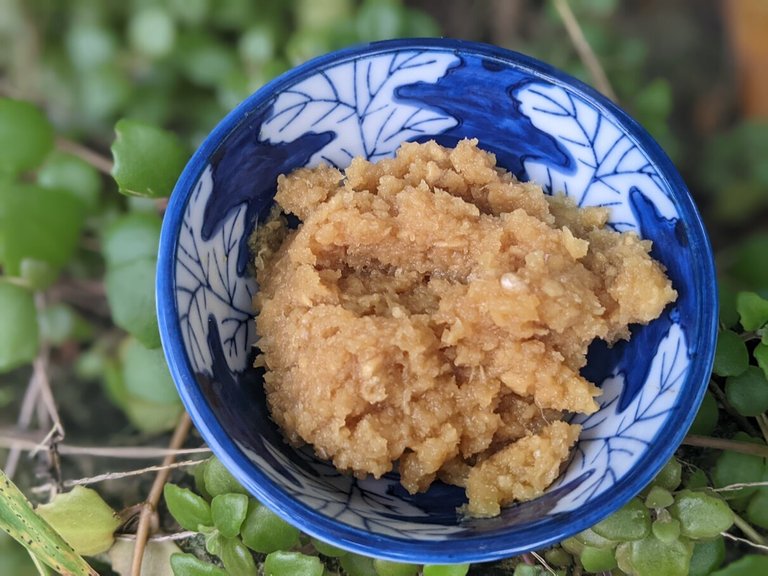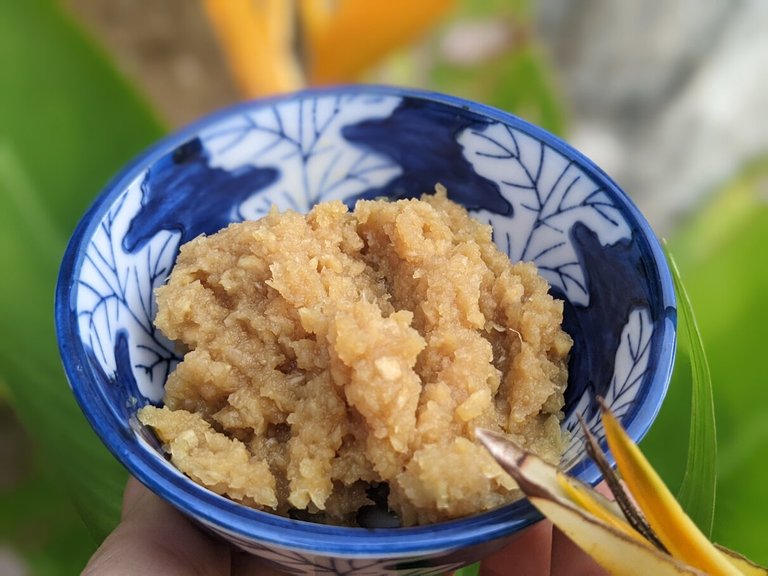 ---
WISHING YOU ALL A HAPPY AND HEALTHY DAY ღ ღ ღ
---

---
ALL CONTENT IS MINE AND ORIGINAL!
PICTURE(s) TAKEN WITH GOOGLE PIXEL 3 XL
---
LET'S CONNECT!
---
Website - Facebook - Google+ - Twitter - Pinterest - YouTube
---
🥑🍓🍆 FIND MORE YUMMY PLANT-BASED CREATIONS BELOW 🥑🍓🍆
---
EARLY NOVEMBER GARDEN JOURNAL: PAPAYA, LIME, MULBERRY, PASSION AND LOTS OF HIBISCUS LOVE
CHOCOLATE-COVERED HAZELNUT PRALINE BARS
WILD FEREMNTATIONS - HOW TO MAKE YOUR OWN APPLE CIDER VINEGAR AT HOME