---
---
Savory coconut milk is like a magic.
Curry but in a plant-based version and lite in taste.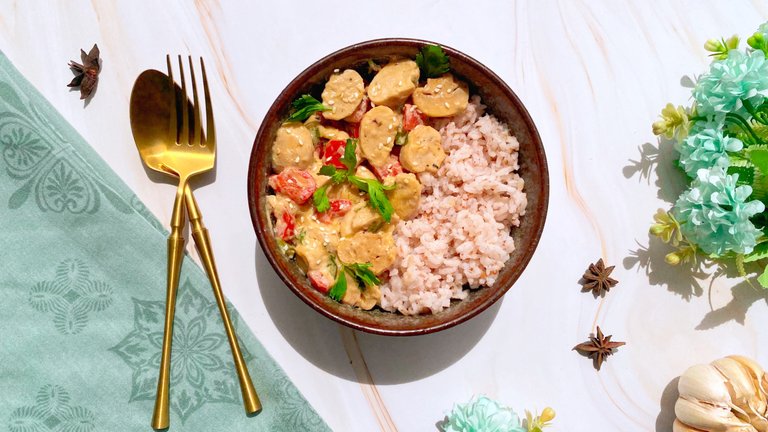 ---
---
Living in an abundance of coconut makes me grateful for every pleasure given by coconut in various forms. Starting from coconut water to coconut meat which turns into coconut milk. Coconut milk is like magic that makes food taste creamy and savory. Have you ever tried using coconut milk in your cooking?
Coconut milk is also available in canned products that you can find in supermarkets. Even though it might be quite expensive in your area, I believe it's worth it for you to buy. Is not it? What do you think?
Well, one of the side dishes that you can cook to try the pleasure of coconut milk is curry. What I mean by curry here is that you don't have to use curry leaves, curry powder, or even turmeric.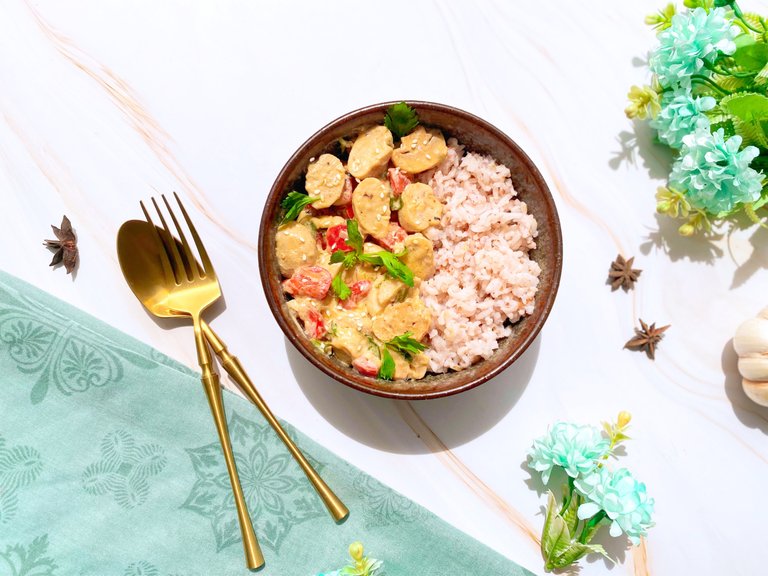 A recipe that I will share this time is a lite version of curry. You usually see curry in the exact color of turmeric. This time I will not use turmeric. I say this is the "lite" version in taste to be acceptable for those of you who may not be used to enjoying curry with a strong taste. For me, to be honest I prefer this curry in the lite version.
Then, what about the main ingredient of this curry? There are tons of curry versions out there. But what is popular is chicken curry. Here I'll be using the plant-based version which won't taste much different from the chicken curry. Let's see!
---
---
---
Mushroom As Main Curry Ingredients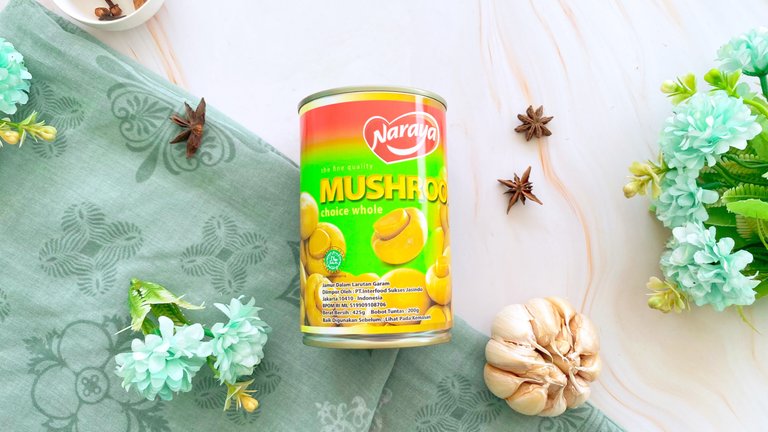 I really like to have a supply of button mushrooms at home, even if it's the canned version. Oh, it's tough to find fresh button mushrooms in my area.
How about the supply of button mushrooms in your city? Blessed are the people who live in friendly edible mushroom areas.
Of them, I made the curry mushroom recipe too because I only had a can of button mushrooms in the pantry for dinner at that time. Because I always have a supply of instant coconut milk, so I can make a side dish with only coconut milk as an ingredient. I've always believed that coconut milk will do its best magic for delicious food results.
---
Well, this is my first time cooking using canned mushrooms. I'm also curious about what canned mushrooms look like. I hope they stay in good shape. Although, I'm also sure that the color of the canned mushrooms will be different from the fresh ones.
---
Opened Canned Mushrooms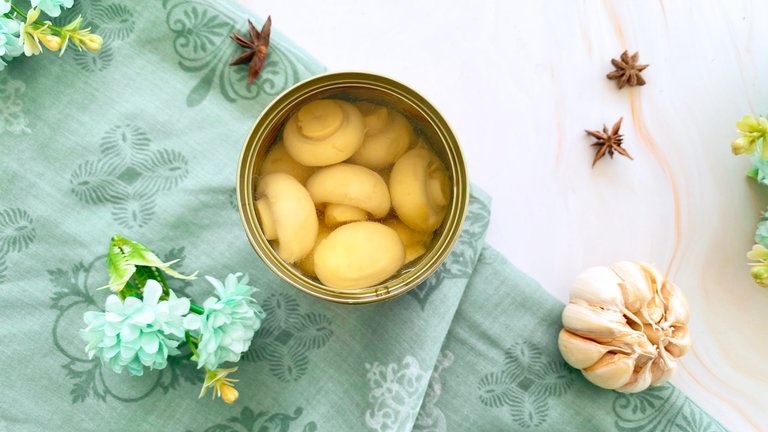 Let's take a look at the shape and color of the button mushrooms that were already in the can! Oops, I apologize if my actions seem tacky. Well, indeed as much as possible I try to avoid food products that have been packaged in cans. So this is the first time I tried canned mushroom products.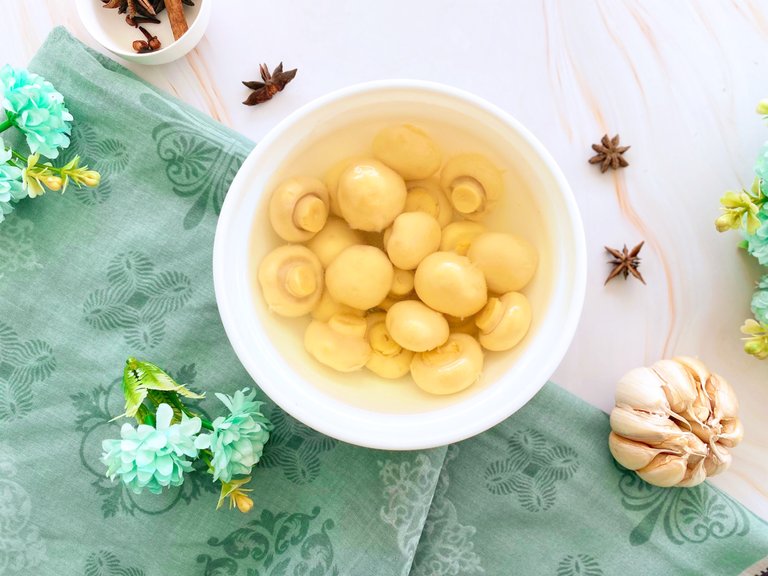 I'm quite satisfied with the shape of the button mushrooms in the can. I've opened the can cover manually, because a puller is provided on the top. It's just that, for a slightly brownish color, it's different from fresh white button mushrooms. That is not a problem because indeed it is a consequence that must be accepted from using food products that are packaged in cans.
---
---
---
Curry Button Mushrooms Ingredients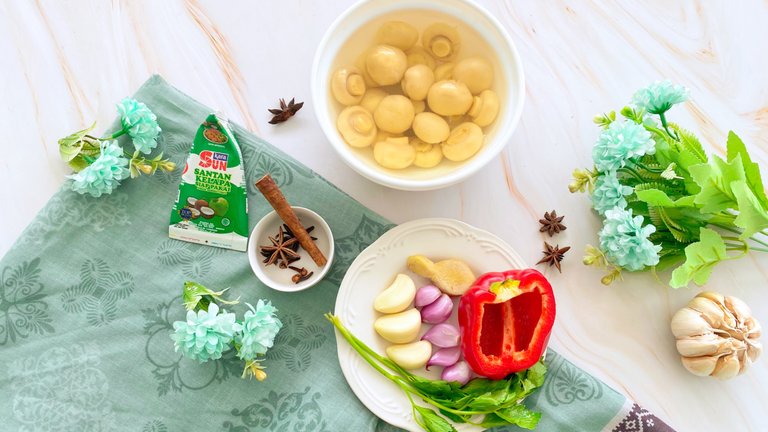 ---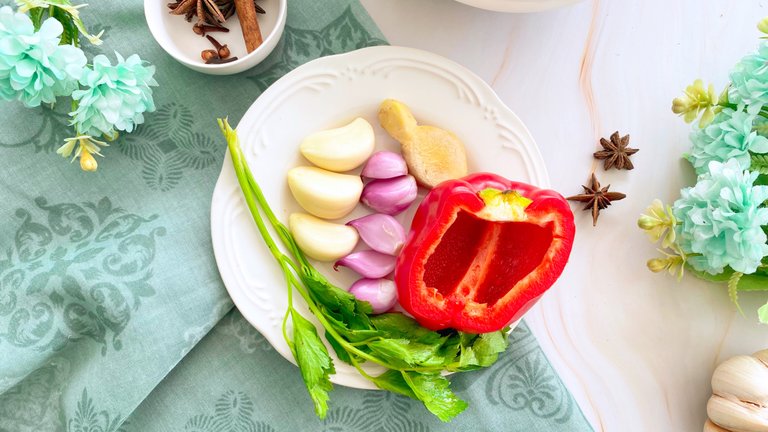 one can of mushrooms
Half a red bell pepper, seeds removed. Cut into small pieces.
100 grams of coconut milk.
3 cloves of garlic, chopped.
5 small cloves of onion, chopped.
the size of a thumb of ginger, thinly sliced.
enough celery according to your taste, chopped.
1 teaspoon of salt.
Spices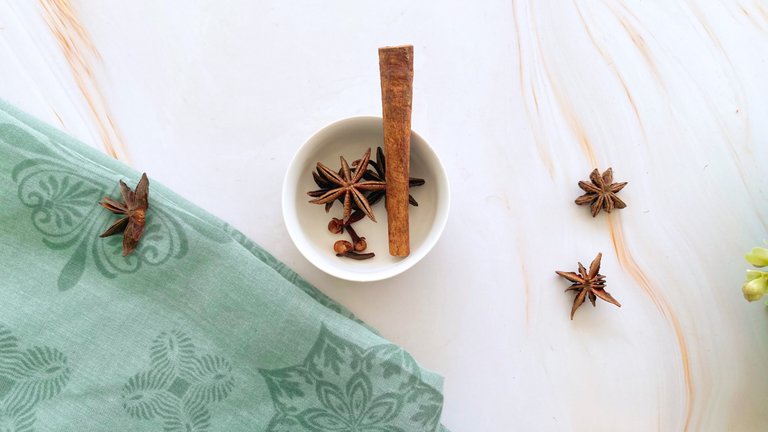 a stalk of cinnamon stick
3 cloves
3 pieces of star anise
(optional) ground pepper and coriander powder
NOTE: you can use spices with the powder version. Use the measurement of each ingredient in half a teaspoon.
---
---
---
Cooking Instructions
Cut mushrooms.
After opening the canned mushrooms, I soaked the mushrooms in water. This is because the canned mushrooms that I use salt water in the canned packaging process. So it will taste very salty if we don't soak the mushrooms again in water.
Then, I cut the button mushrooms into two pieces. I think they would have been too big of a bite if I didn't split them in half. However, this is your choice. It doesn't matter at all if you don't want to cut the mushrooms into small pieces.
---
---
---
Stir-fry onion, garlic, and ginger.
Heat cooking oil. Then stir-fry chopped garlic, onion, and ginger. Stir well until they turn into a pleasant fragrance.
---
---
---
Add spices.
After the stir-fried onions, garlic, and ginger become have pleasant fragnant, then add spices. Stir them well until they looks caramelized.
---
---
---
Add red bell pepper.
Then, add red bell peppers which have been seeded and cut into cubes. You can also substitute red peppers for green peppers, only if you like them.
---
---
---
Add button mushrooms.
Add button mushrooms. Stir well and cook them for about 3 minutes or until the mushrooms are half cooked. Add salt and pepper as an optional ingredients.
---
---
---
Add chopped celery.
Before adding coconut milk later, then add chopped celery. Stir them until they wilt.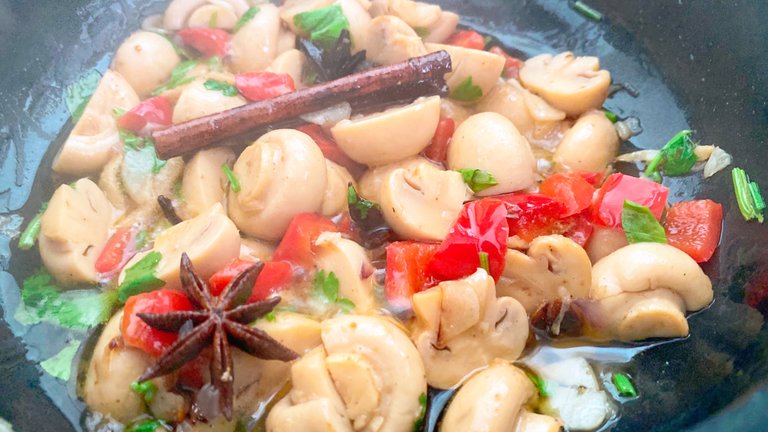 ---
---
---
Add coconut milk.
Once the bottom mushrooms look almost cooked, taste them. If it's not salty enough, add salt. If it's too salty, add enough water. This is because after adding coconut milk we are not recommended to add more salt because it will be difficult for salt to spread evenly on the texture of thick coconut milk.
Then, add coconut milk. If the overall texture looks very thick, then add more water. Differences in texture can occur due to differences in the consistency of the coconut milk texture which is different for each product, especially if you use packaged instant coconut milk products.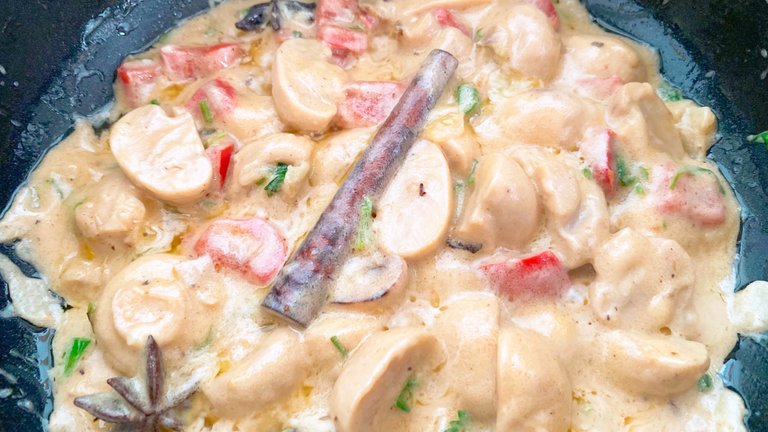 Cook until the mushrooms are cooked, or have the texture you want. Also, keep an eye on the gravy not drying out which could cause them to burn. My advice, is don't leave them especially if you haven't often cooked this type of curry. For side dishes that contain coconut milk, you have to stir it occasionally so that the consistency of the coconut milk doesn't change, nor does it burn.
---
---
---
Serve!
Serve curry button mushrooms with rice, or mashed potatoes, or even boiled yams. All options are perfect to serve with curry mushrooms! Well, I serve curry mushrooms with red rice. Also, I sprinkle them with roasted sesame seeds. Yummy!
---
---
---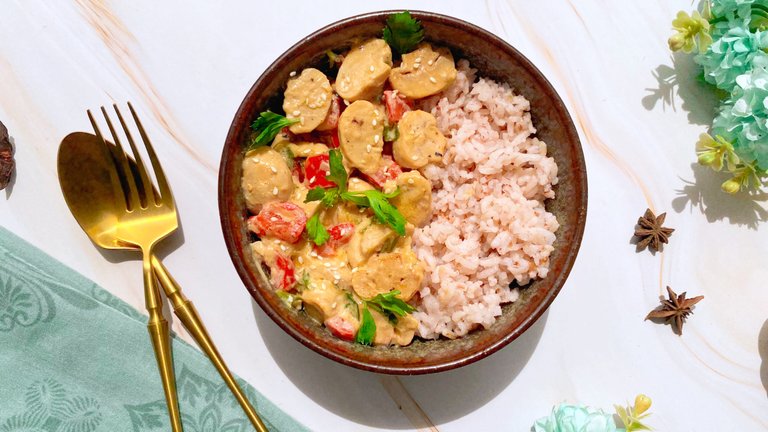 By the way, food lovers, you can also use other types of mushrooms in this lite curry recipe. I recommend using button mushrooms because they have a chewy texture, much like chicken meat. If you use oyster mushrooms, you should also add potato pieces to complete the curry dish.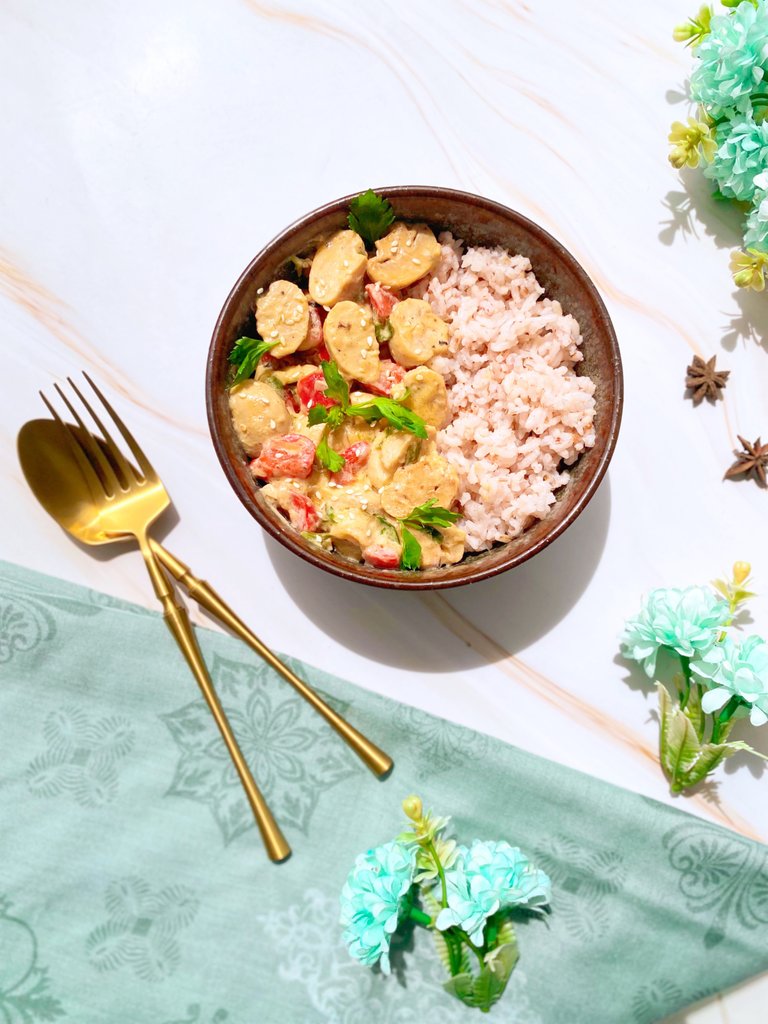 I hope you guys like this curry mushroom recipe that doesn't use curry this time. Well, you can share your experiences about enjoying curry. What's your favorite curry?
---
Thank you for reading my blog and reblog if you want my blog this time worthy of reading by others.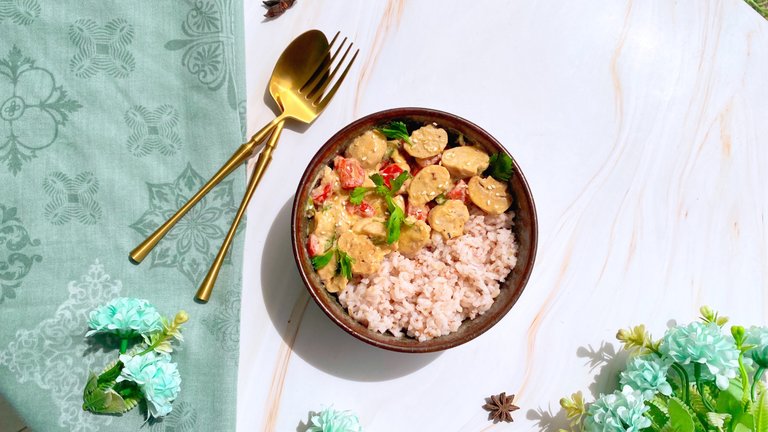 ---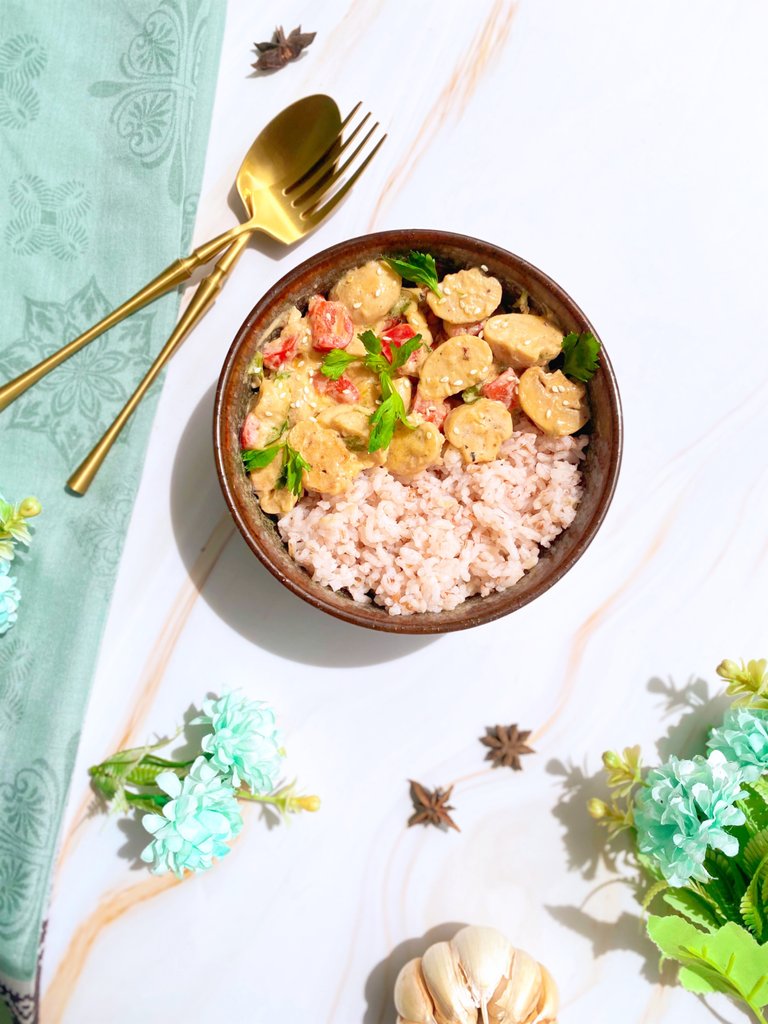 ---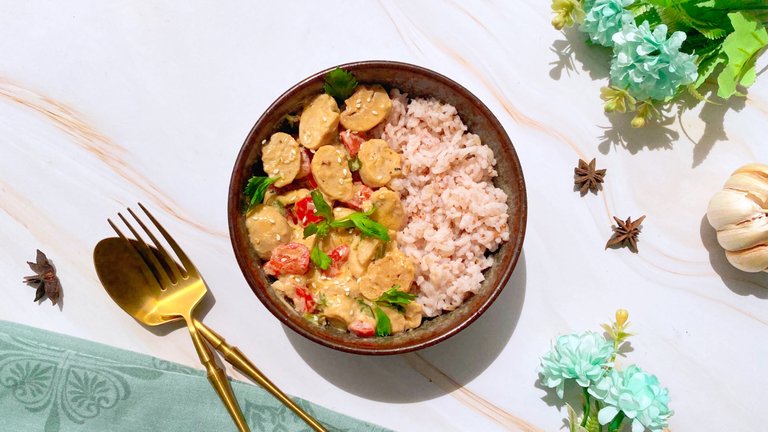 ---
---
---
Best Regards,
Anggrek Lestari
---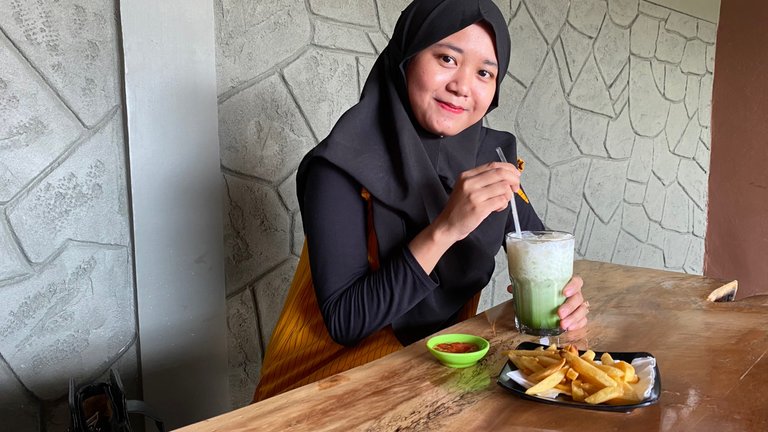 Who is Anggrek Lestari?
Anggrek Lestari is an Indonesian fiction writer who has published two major books. Now She is a full-time content creator. She has a goal to share life, poem, and food content that makes others happy and can get inspiration.
---
Contact Person: authoranggreklestari@gmail.com
Discord: anggreklestari#3009
---