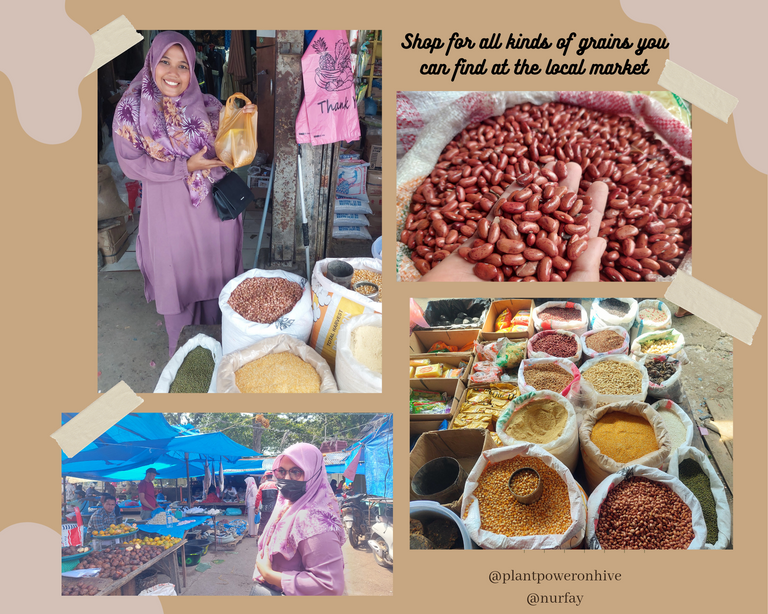 Enjoying various special challenges in this community is really very fun. I really like stocking and shopping at local markets and supermarkets. Both are just as fun in my opinion, how about you, I'm sure one of you also likes shopping, right? A few days ago the @plantpoweronhive community announced the winners in last week's special edition, and at the same time they are giving back a special challenge to shop. Well it's fun, they provide a special edition shopping challenge. If yesterday was the spice, this week the community is giving the grains Shopping Challenge. Very coincidentally, the grains I often use in my dishes are out of stock. I was very happy when I read this theme, apart from cooking, isn't shopping something that must be done?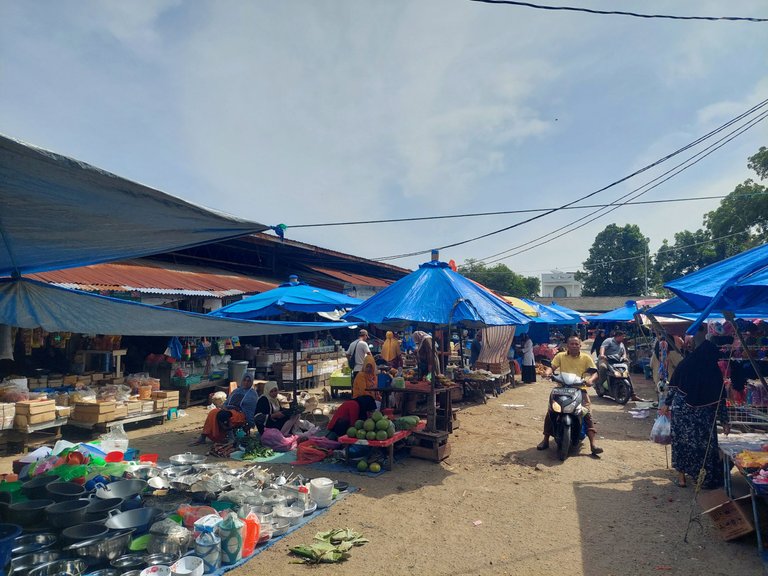 Yesterday journey starts with me, taking a special trip to Lhokseumawe to visit one of my friends. After returning from there, at 11.20 WIB, I arrived at the Batuphat tax local market, the local market that I visited last week in its 4th edition. As I have said, the Batuphat tax local market provides a complete variety of materials needed. So I don't hesitate to stop and shop again here, especially regarding shopping for grains, this is a shopping paradise. So besides being complete, this market is the biggest main market which just passed my way back home. So it's very nice to be able to stop by and share shopping experiences with my friends here.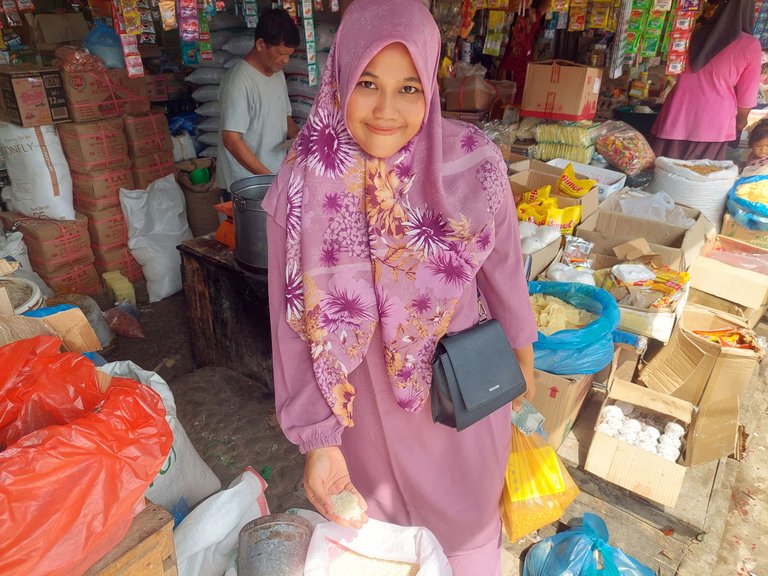 When I arrived at the market, the main thing I was looking for grain was rice. Well rice is a staple that I must fulfill for my kitchen. Indonesian people in general cannot be separated from rice, rice is the main component that must be present at the dinner table every meal time begins. Whether it's morning, noon, or night, rice is the main thing that must be prepared when cooking arrives. Therefore if I shop I will look for rice first.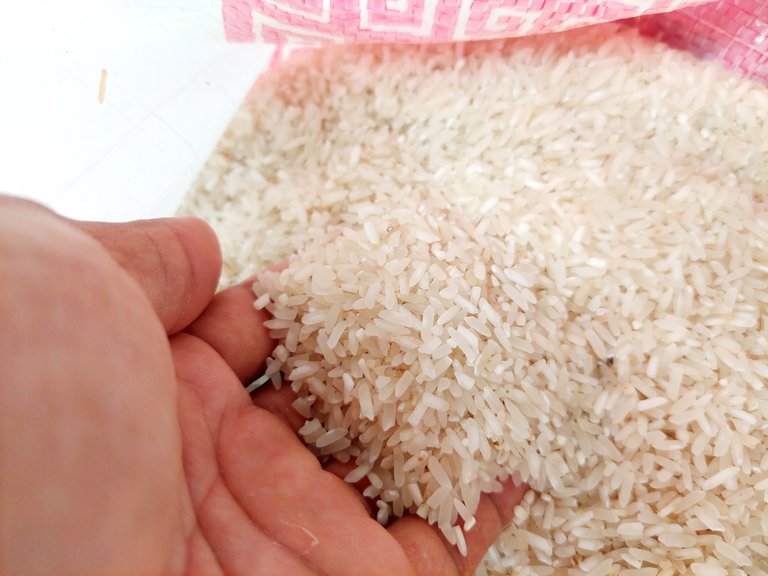 The rice I buy must be good rice, clean white in color and also rice that comes from the local community, which is free of bleach and preservatives. Isn't seeing quality and quantity the main factors when shopping. Usually I very rarely buy rice. I am used to relying on rice harvested by my mother in the village. Now, because rice stocks are running low, I have to buy rice. The rice I bought at the grocery store where I frequent, because this gentleman usually sells local rice I really like it.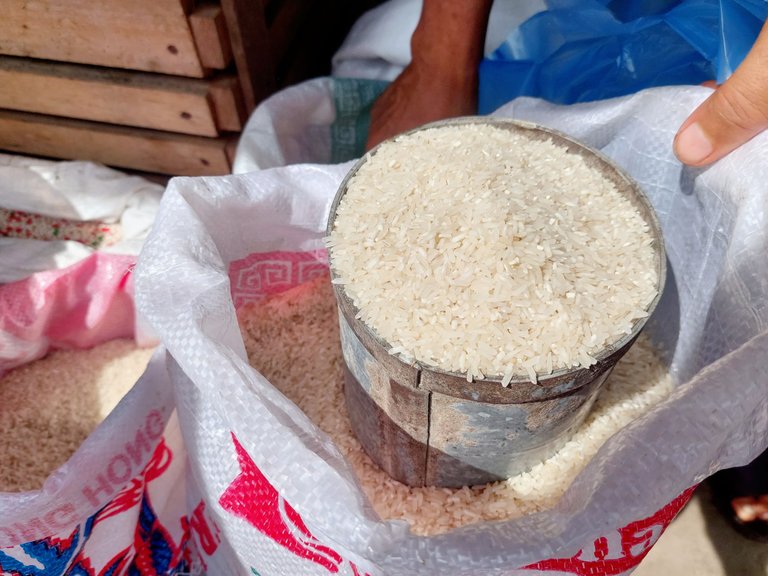 I bought 1 bamboo, priced at IDR. 18,000, now there are no sellers who sell rice by the kilo, the people of Aceh sell rice in a very traditional way. They use measuring instruments which in Acehnese are often known as "Are". Are is made of iron in the shape of cans without lids, usually one are weighs around 1.5 kilograms. As for the price of the rice itself, it is sold depending on the type of rice we want to buy, starting at IDR 15,000 per are up to IDR 25,000 per are.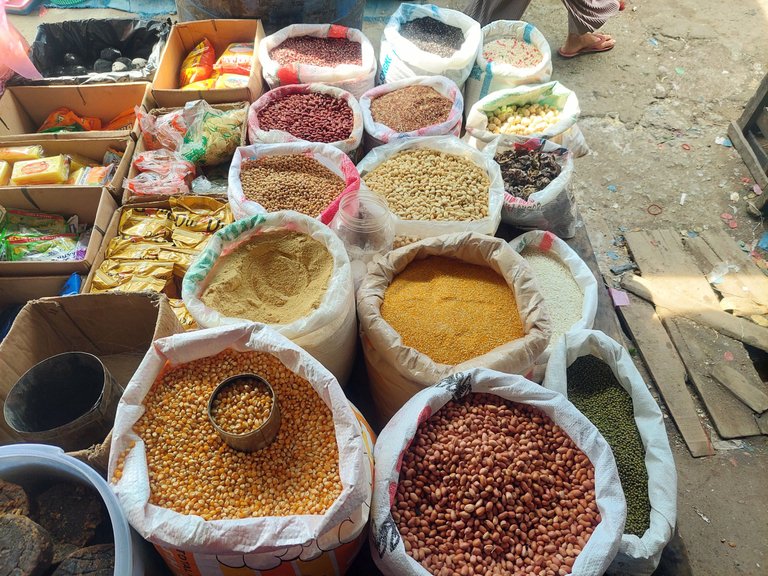 After buying the rice. I immediately went to another store to buy the grains I needed. I entered a shop that sells so many types of grains from whole dried peanuts, peeled peanuts, red beans, soybeans, green beans, red beans, dried corn kernels, to brown rice, white sticky rice and also sticky rice. black. Everything is available in full.
---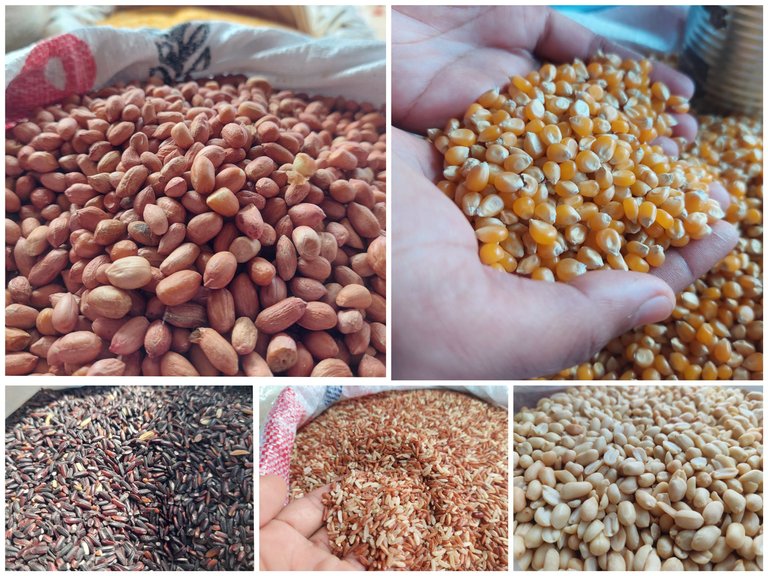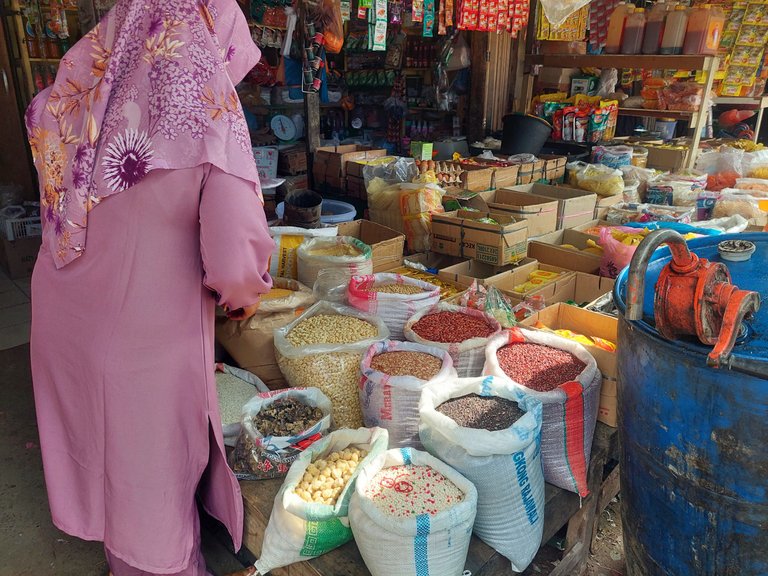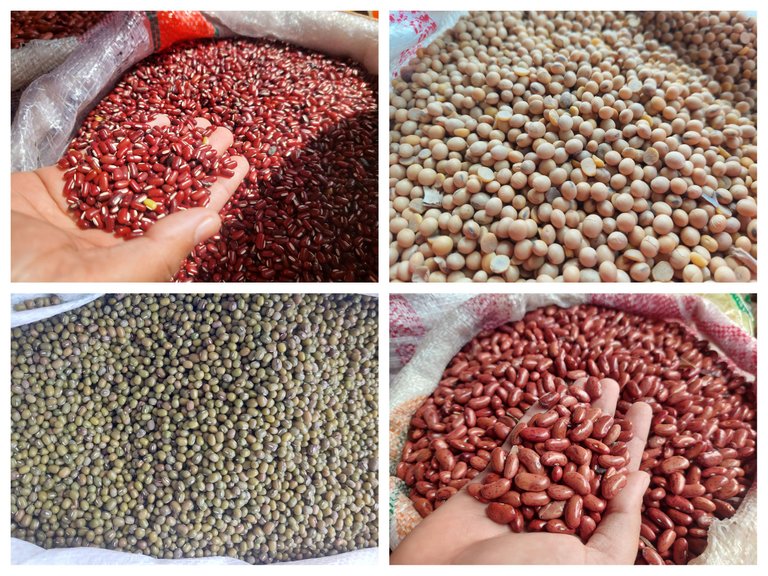 ---
So, because I didn't need all these types of grain, I only bought a few types. Among them are white glutinous rice IDR. 10,000, corn kernels IDR. 5,000, green beans IDR. 12,000, yellow beans IDR. 8,000, peanuts IDR. 5,000 and also red beans IDR. 5,000. So after buying it I immediately paid for it with a total I spent IDR.40,000.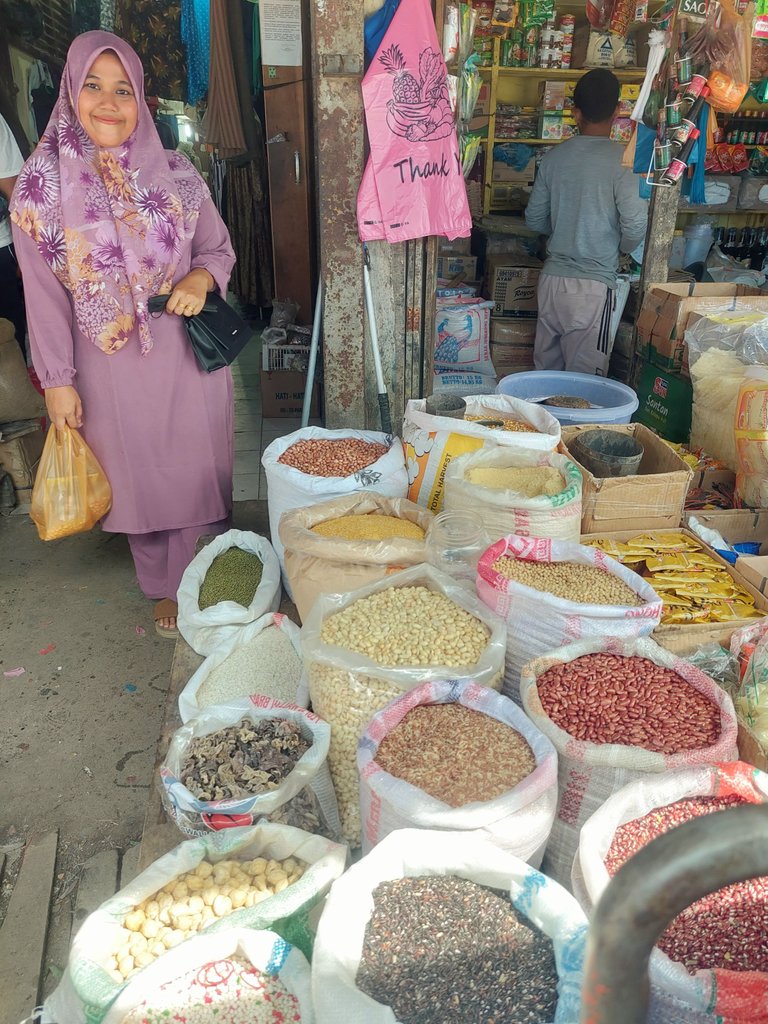 Before going home I took a short break while ordering 1 serving of lontong sayur noodles at the local market. Lontong sayur is boiled rice wrapped in banana leaves to make it firm, then cut into pieces and served with vegetables, coconut milk souce and noodles.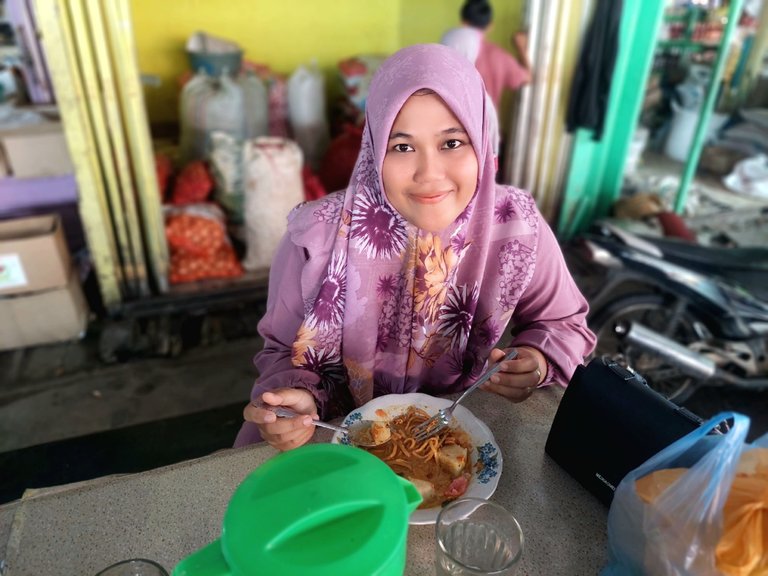 Well here the morning snacks of rice, rice cakes and various cakes are very complete so that after shopping you feel hungry and tired which is perfect for relaxing while enjoying Indonesian cuisine and other traditional snacks.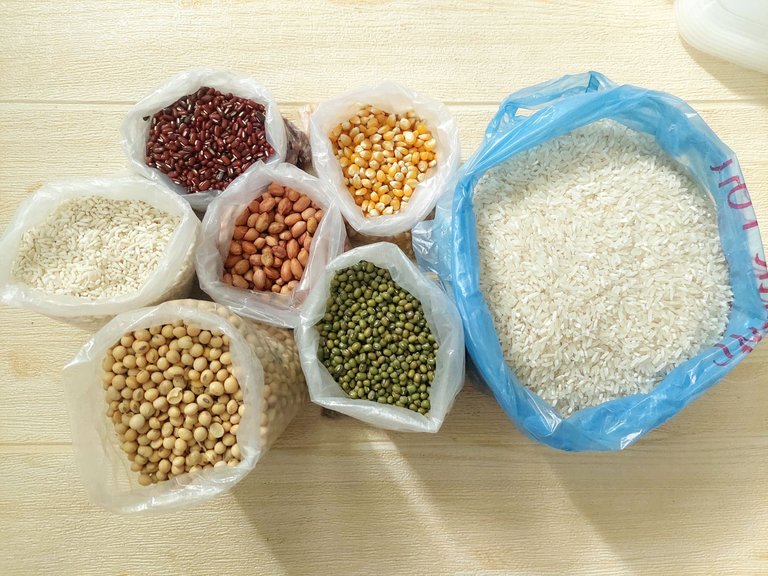 Arriving home as usual, after a short break I immediately packed my groceries in a storage container. The grains that I buy must be stored neatly in a closed container, so I immediately put all the seeds in the container and store them at room temperature.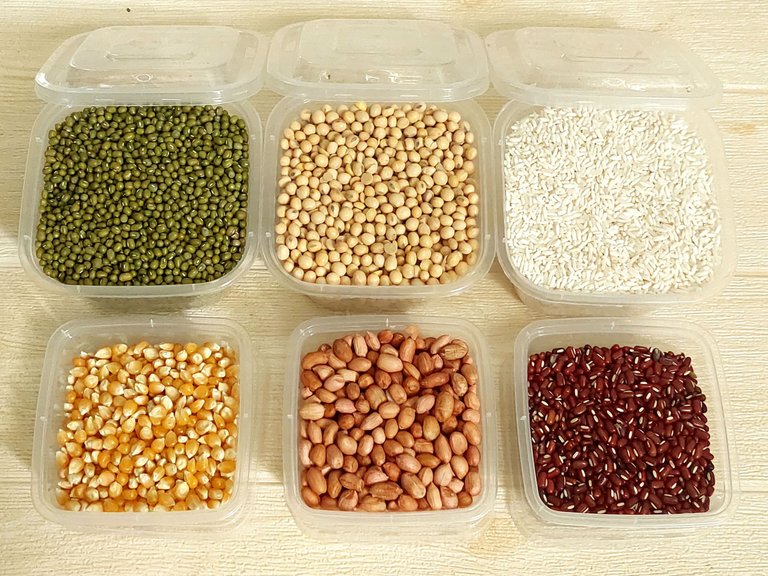 Now for grains, they can be stored for quite a long time, they usually last 1 to 2 months, depending on how you store them. I strongly advise you to store in an airtight container like I did this.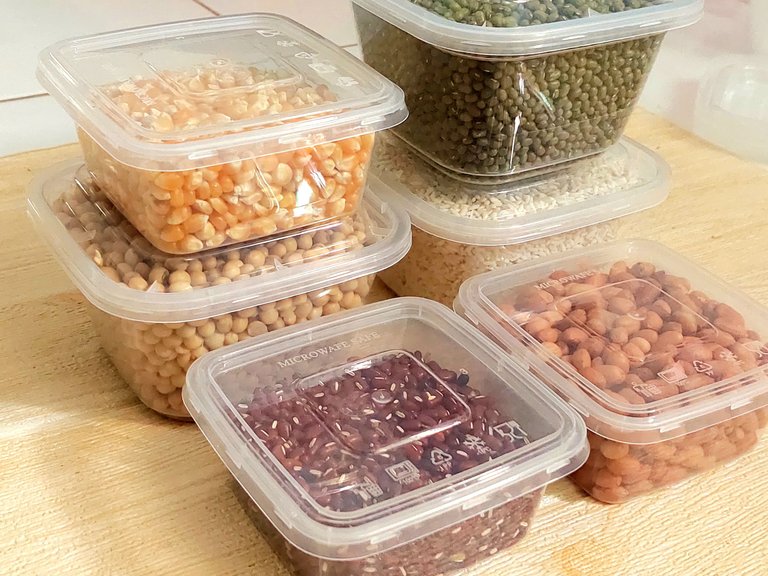 So that's my shopping result for this week's grain challenge. I spent a total of IDR 58,000 or the equivalent of only 3.69 dollars. It's very suitable right?, shopping for that much needs only spends a few dollars. Find the challenge to participate in this contest here !!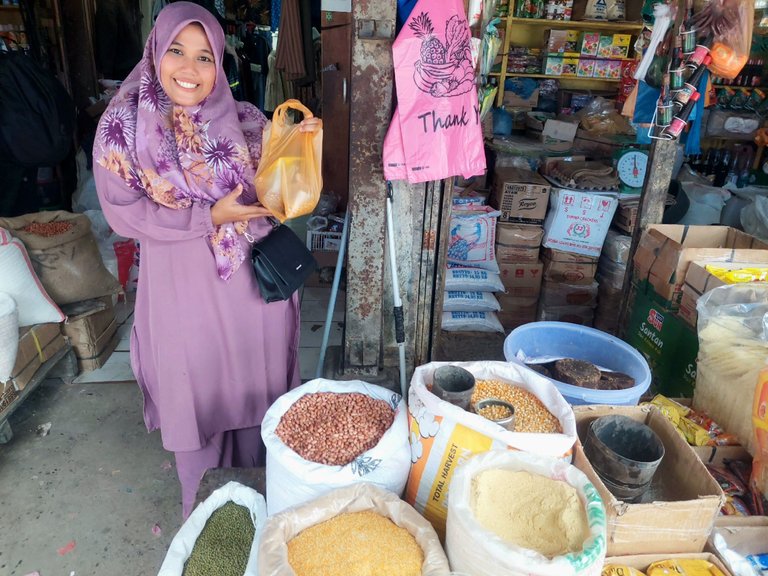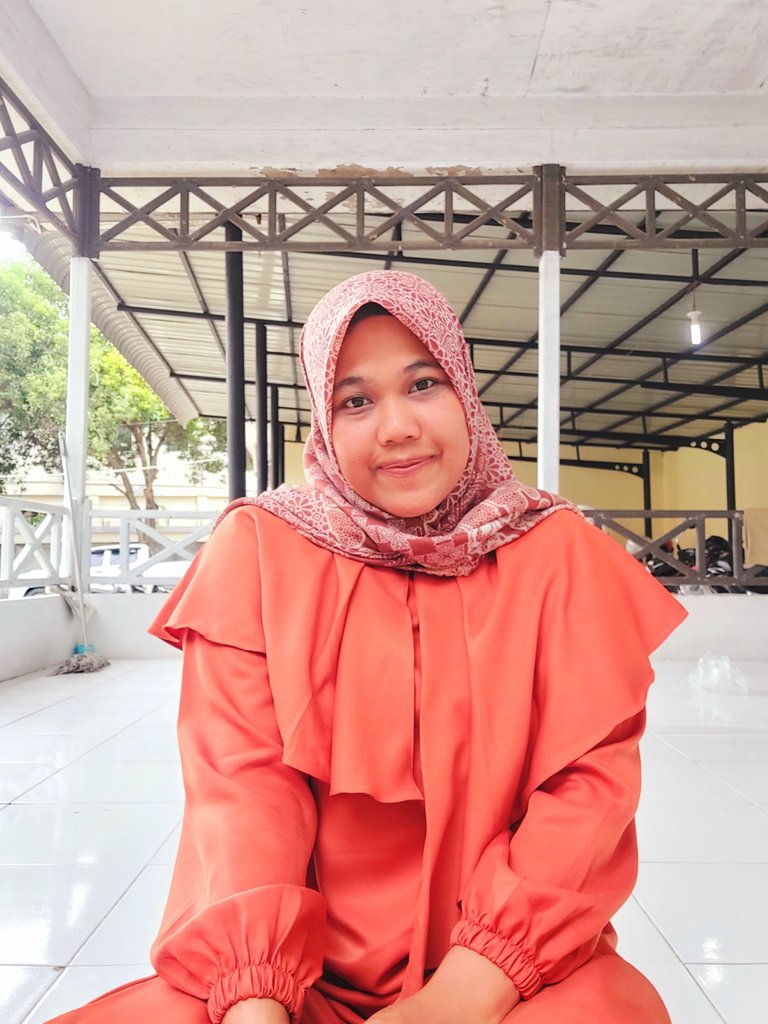 About The Author
A woman, firm and stubborn who is called "Nurul", born in July 1993, comes from Indonesia, Aceh province. My daily activity is work.
Besides working, I have several hobbies, namely reading, writing, cooking, gardening, making crafts, and traveling. From this hobby of mine, I will develop some inspiring content for all of you. I am also very happy to discuss positive new things with all of you.

Hi Readers and Hivers, Thank you for reading and visiting my posts which are 100% copyrighted by myself, my own content, writings and photos, taken with the Samsung Galaxy A72 Smartphone.
See you in the next post