Making your favorite dish on a plate using simple ingredients is an easy way to make it delicious and beautiful.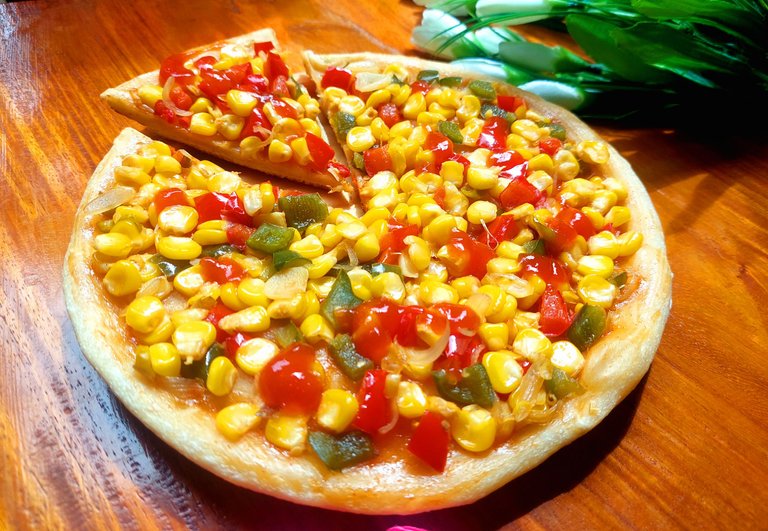 Hi vegan lovers, congratulations on carrying out your beautiful activities, I am very happy to be able to say hello and share recipes for my selection of special dishes. This time I'm going to re-cook something delicious and sure to fill you up and made from vegan. Well maybe this dish can accompany your dinner while watching your favorite television broadcast, especially now that we are intoxicated by watching the world cup soccer match. Wow, it's really fun to be able to share special dishes with family or close friends while watching, isn't it.

CORN PIZZA
Corn pizza is one of favorite foods, served with simple toppings and sauces that really suit my taste buds.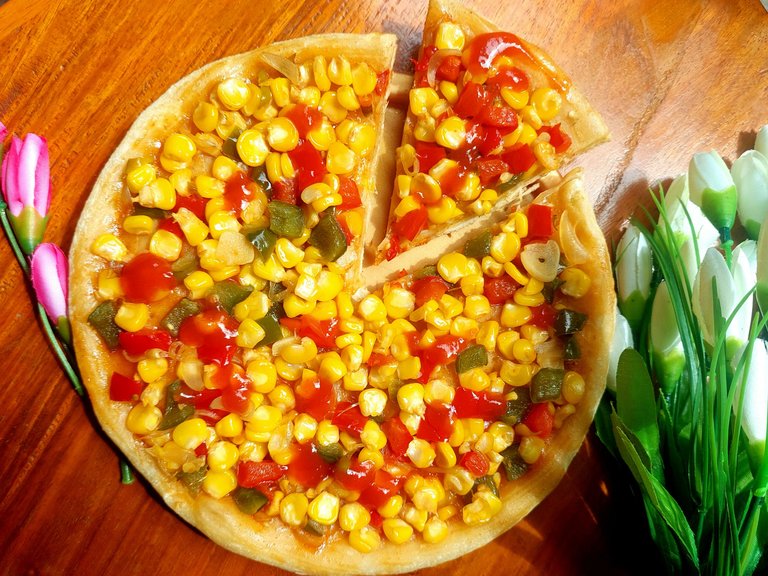 This time I will cook an economical vegan pizza. Corn pizza is the right choice when you feel hungry, besides being made from simple ingredients, this pizza is also very easy to prepare. So actually this pizza was inspired by pizza shops that sell online in my area, they offer various types of non-vegan pizza. There are lots of pizzas sold out there that don't suit my taste buds, well maybe it's too sweet or sometimes they give too much sauce that I don't like at all.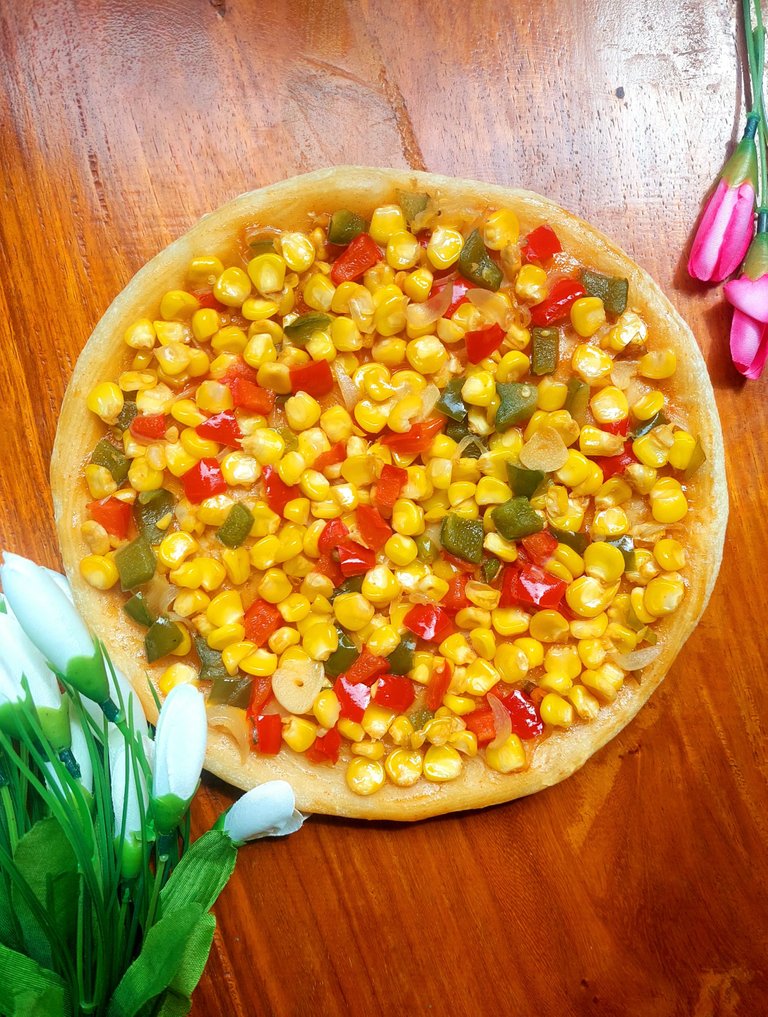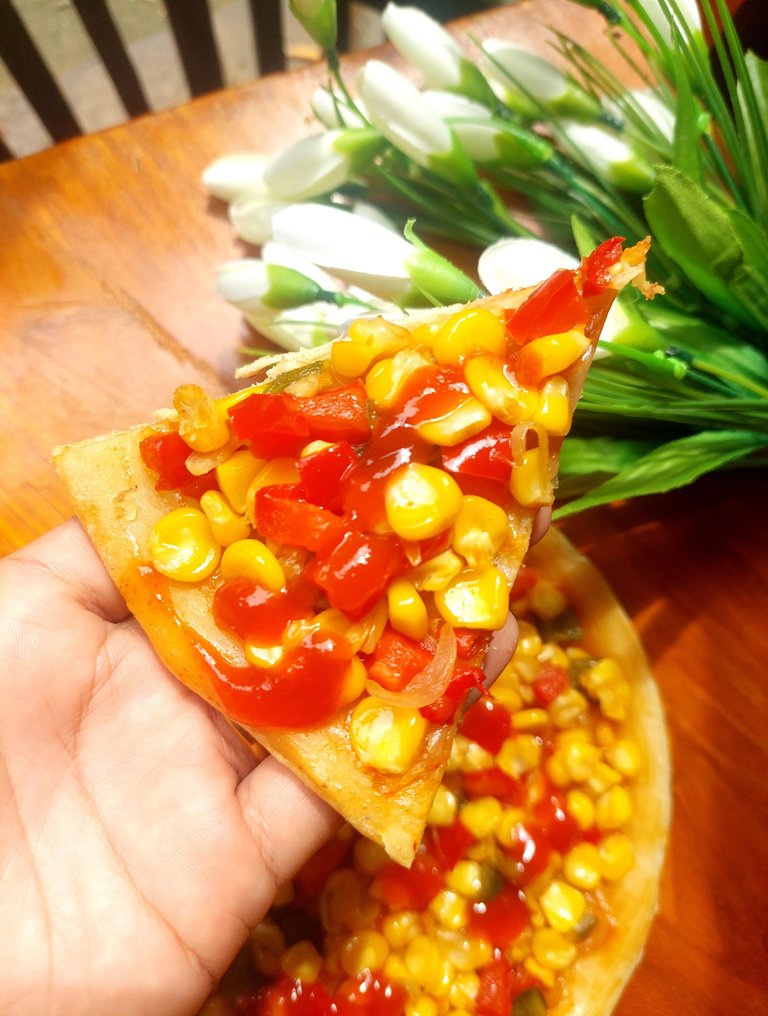 ---
Therefore making vegan pizza with minimal ingredients is very fun. Plus, yesterday I left leftover peppers in the fridge, and this one ear of corn will make it easier for me to work with it. Not only made from simple ingredients with the simple Teflon tools available, I was determined to make this economical pizza. The taste is a dellicius at all, even my friend asked to make it again.

Materials Used
To start making a pizza dish, first I prepared some of the ingredients needed along with the ingredients.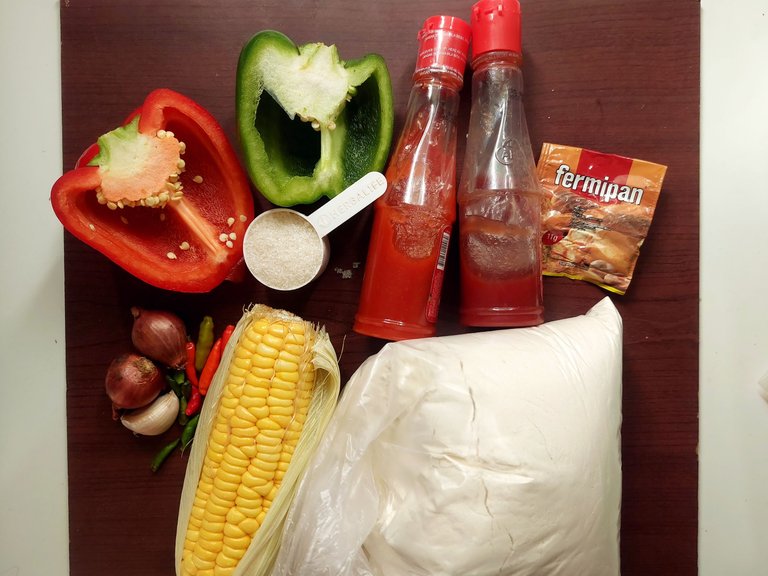 250 grams of wheat flour
1 tablespoon of granulated sugar
6 gr fermipan
enough warm water
1 teaspoon of salt
30 ml cooking oil or vegan butter
---
Toppings
1 piece of fresh corn
To taste tomato sauce
Pinch of chili sauce (optional)
70 grams of red peppers
50 grams of green peppers
2 Spring onions
1 clove of garlic
5 bird's eye chilies (optional)

Prep Step
Step 1
To make pizza the first thing I do is make the pizza bread dough first by fermipan first then add sugar, then add warm water and let it sit until it's frothy.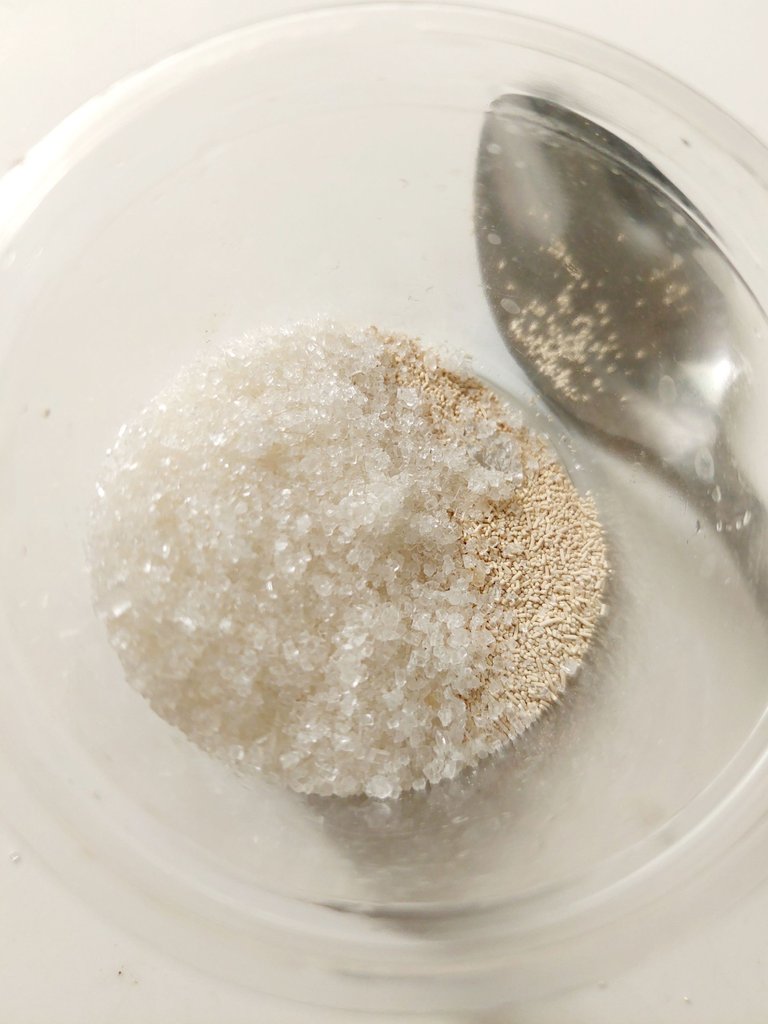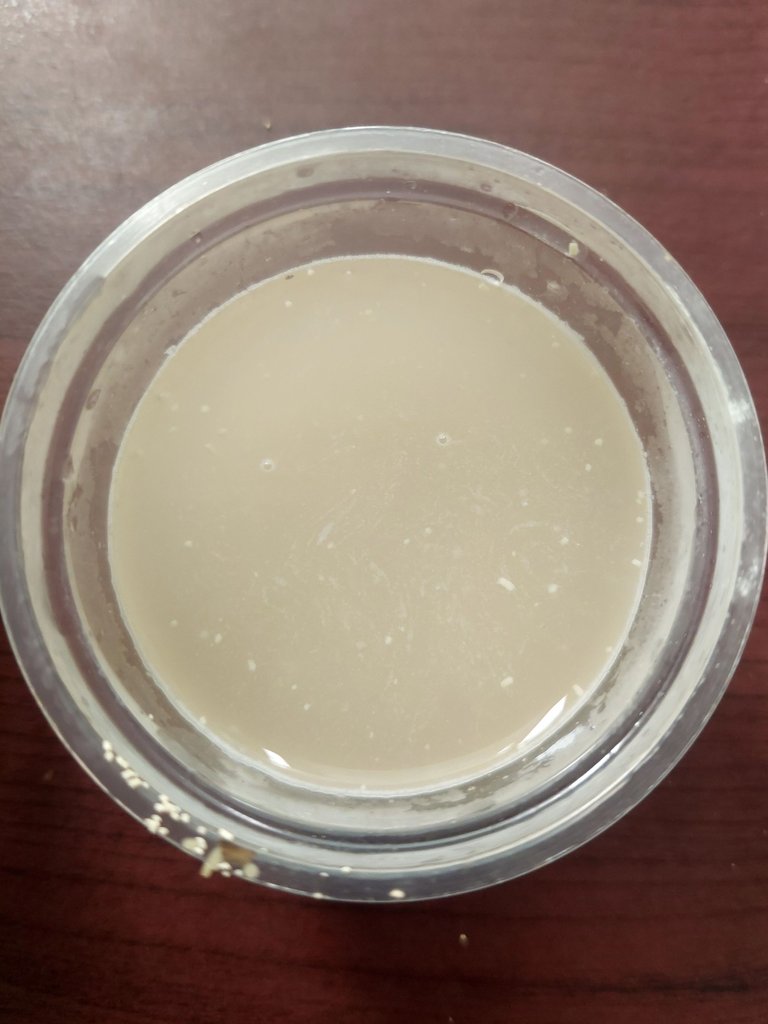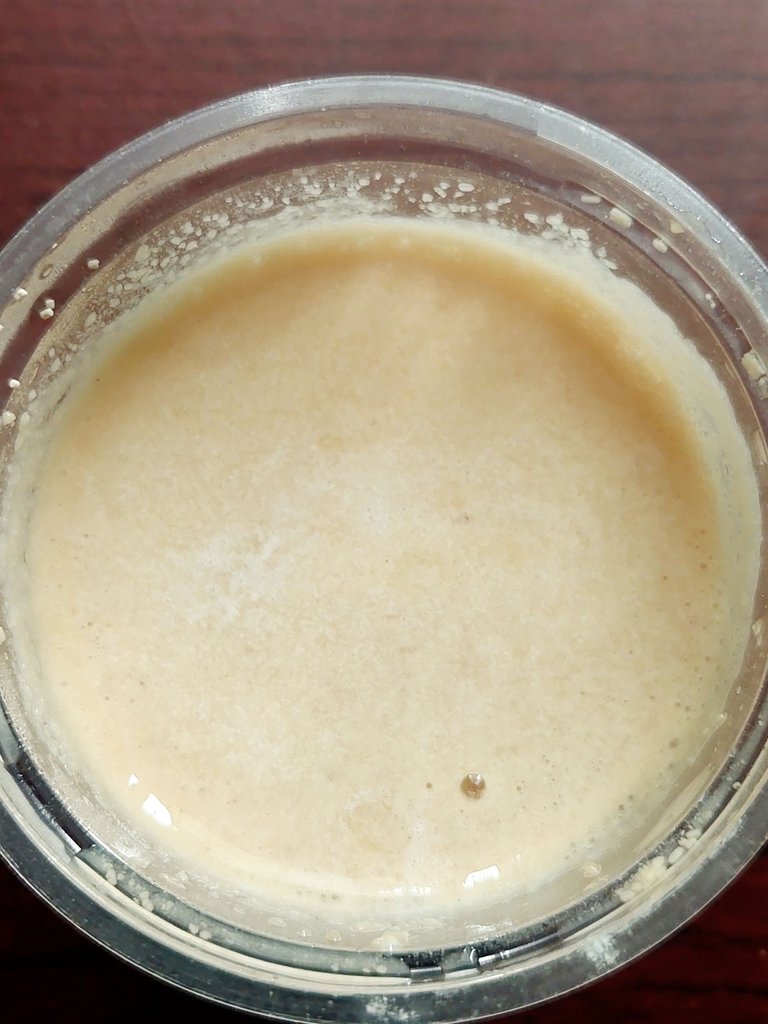 ---
Step 2
Then prepare, flour add salt, and add fermipan which has been soaked until foamy, then stir the dough, if it is still hard add little by little water.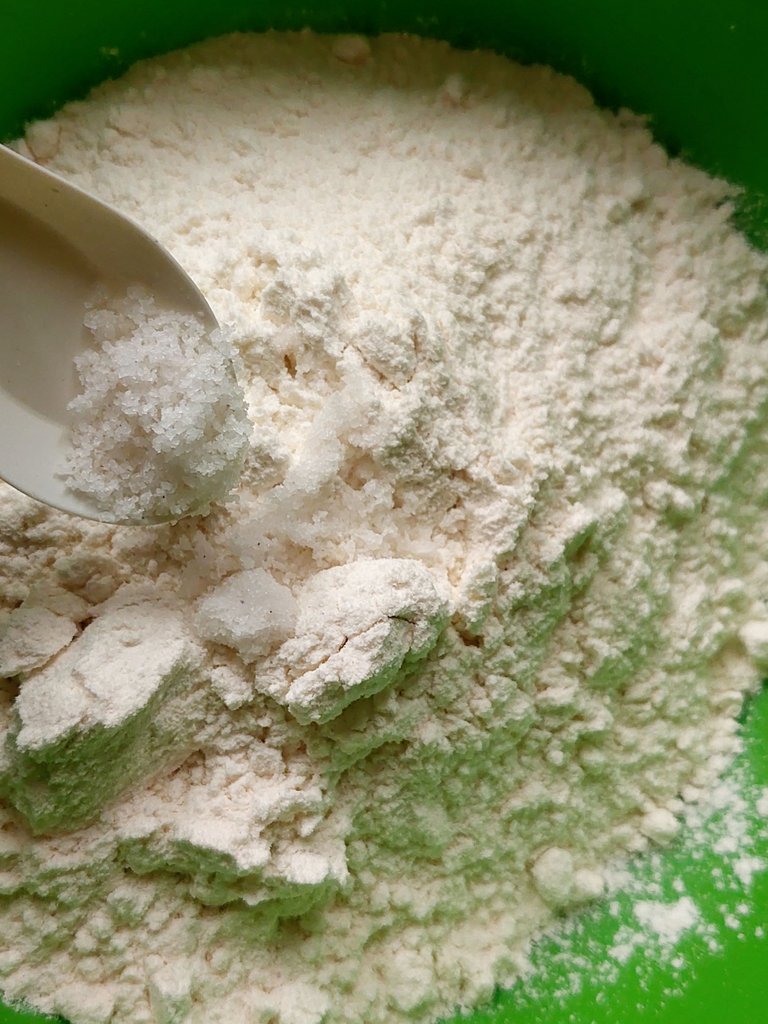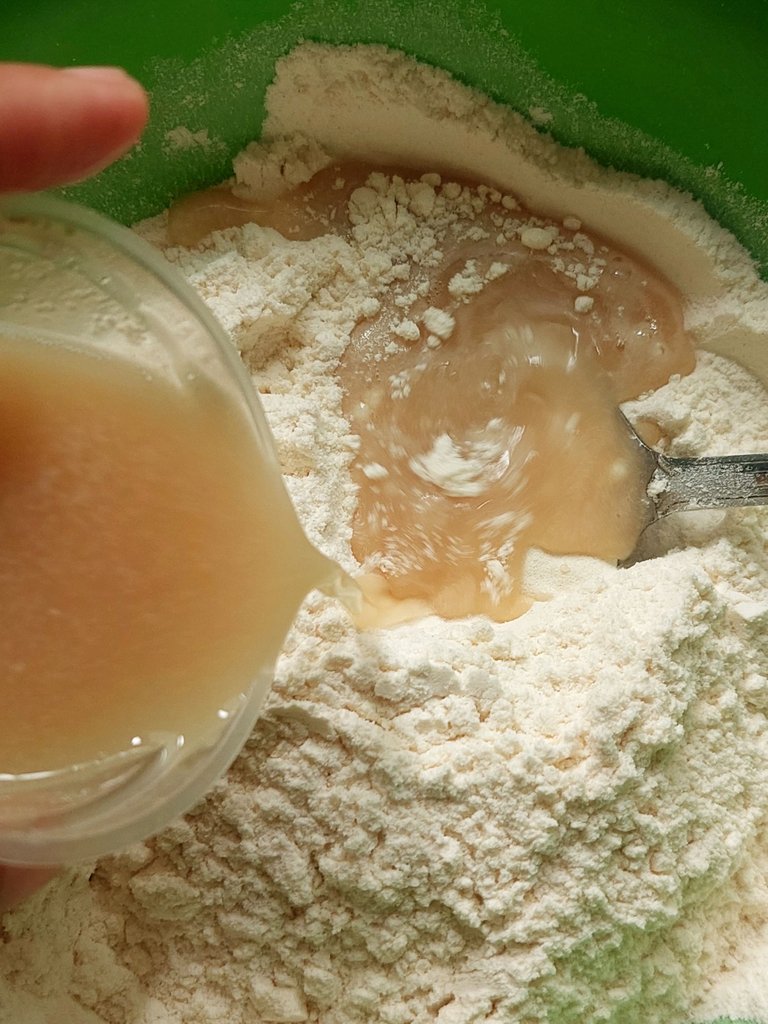 ---
Step 3
Now then add oil, and knead the dough until it is smooth then leave it for about 40 minutes and cover with a wet cloth.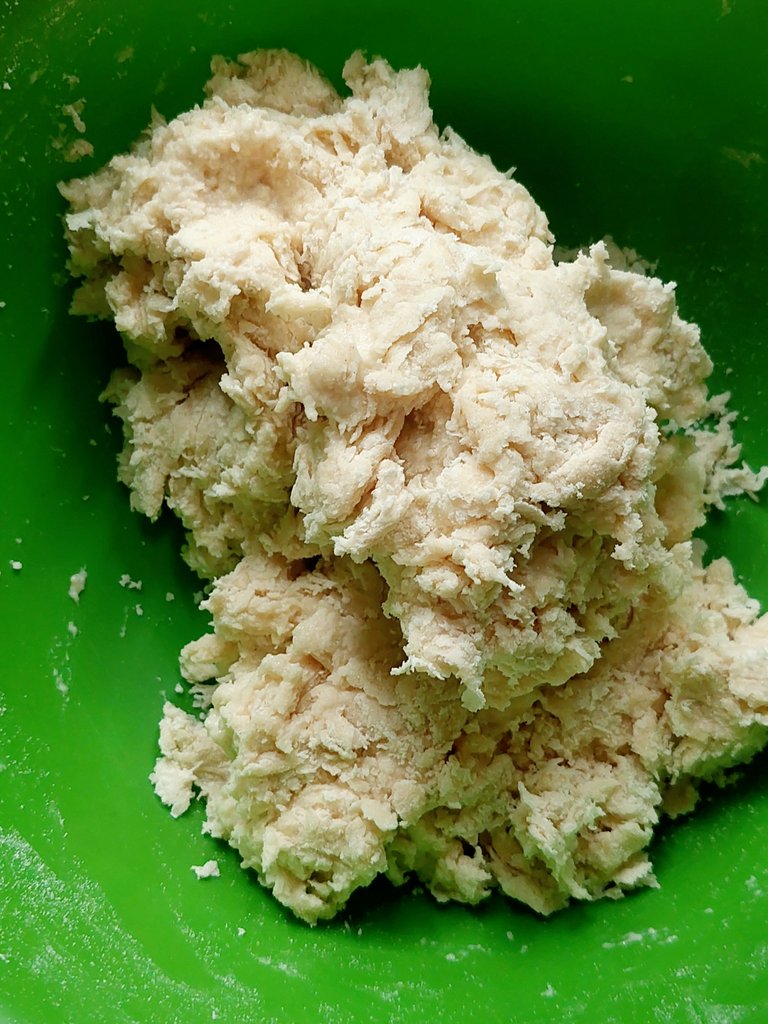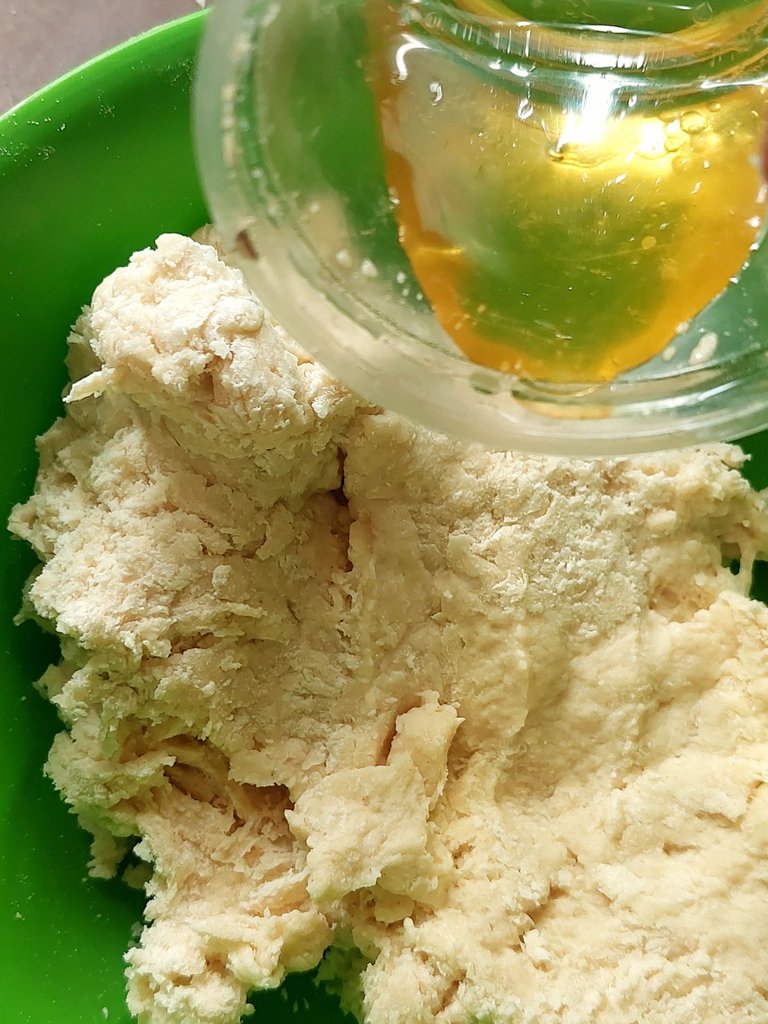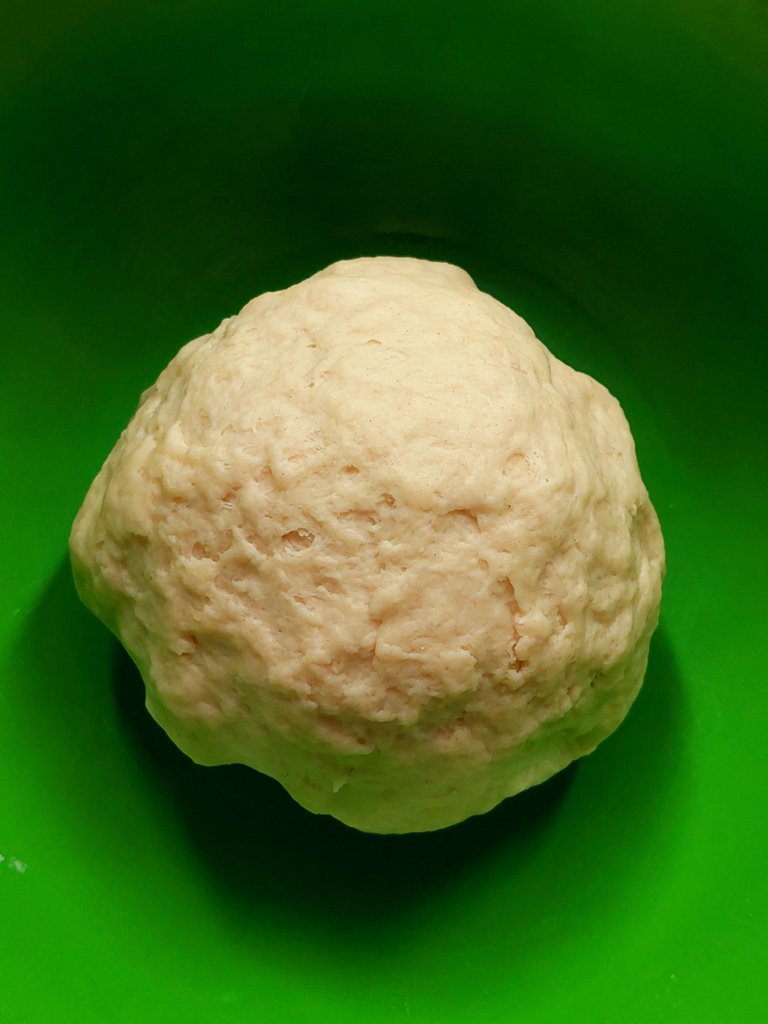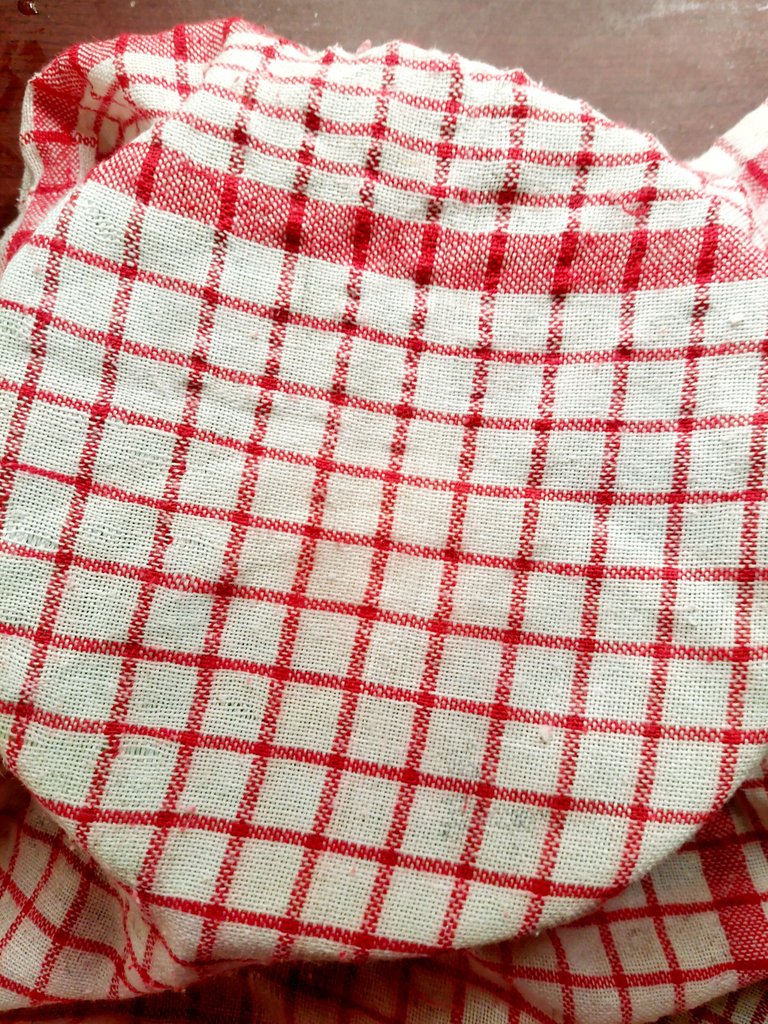 ---
Step 4
While waiting for the dough, now I prepared the topping first, cut the sweet corn, then cut the peppers into small pieces.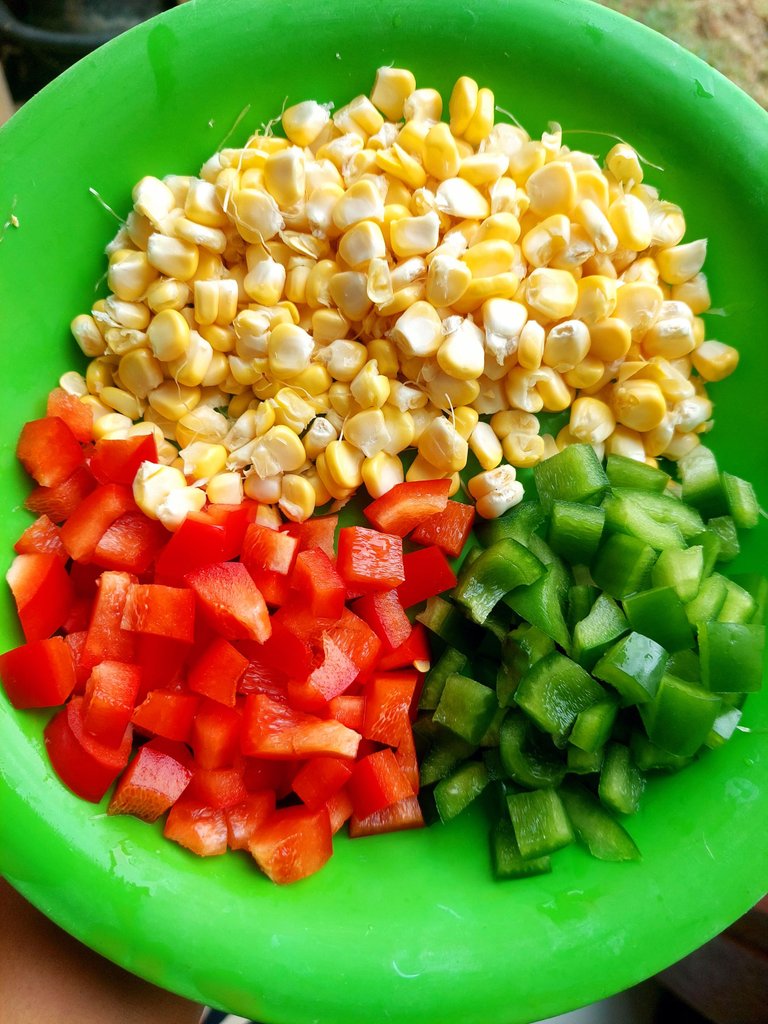 ---
Step 5
Then, slice the shallots, chilies and garlic according to taste, then sauté them in a little cooking oil.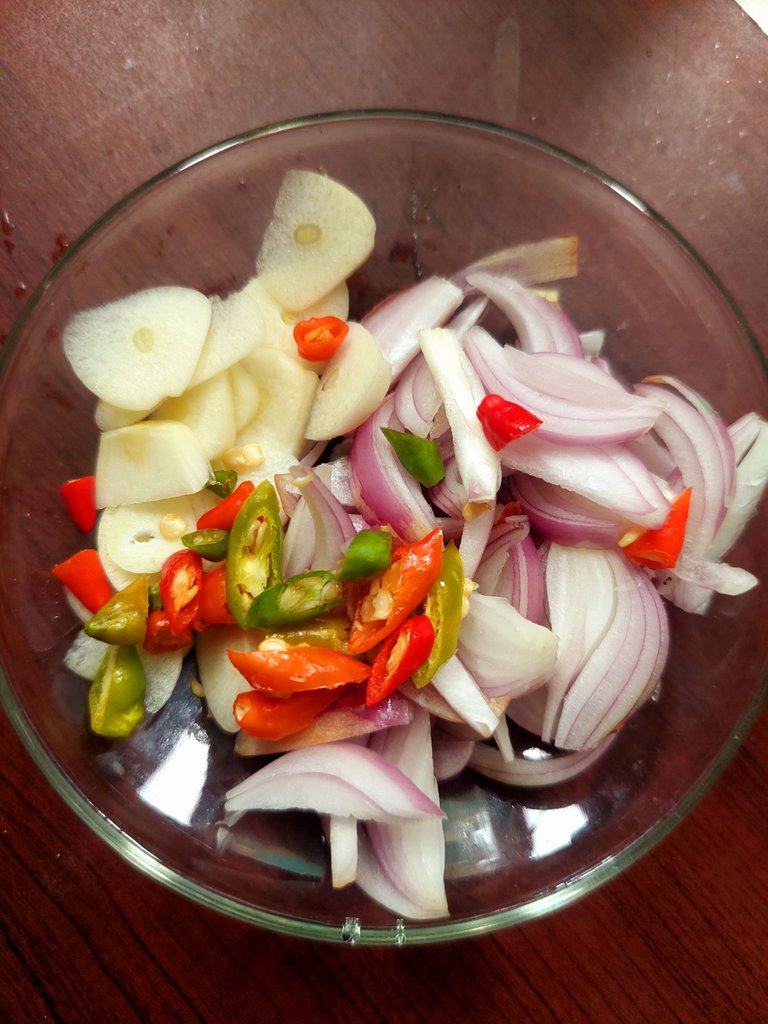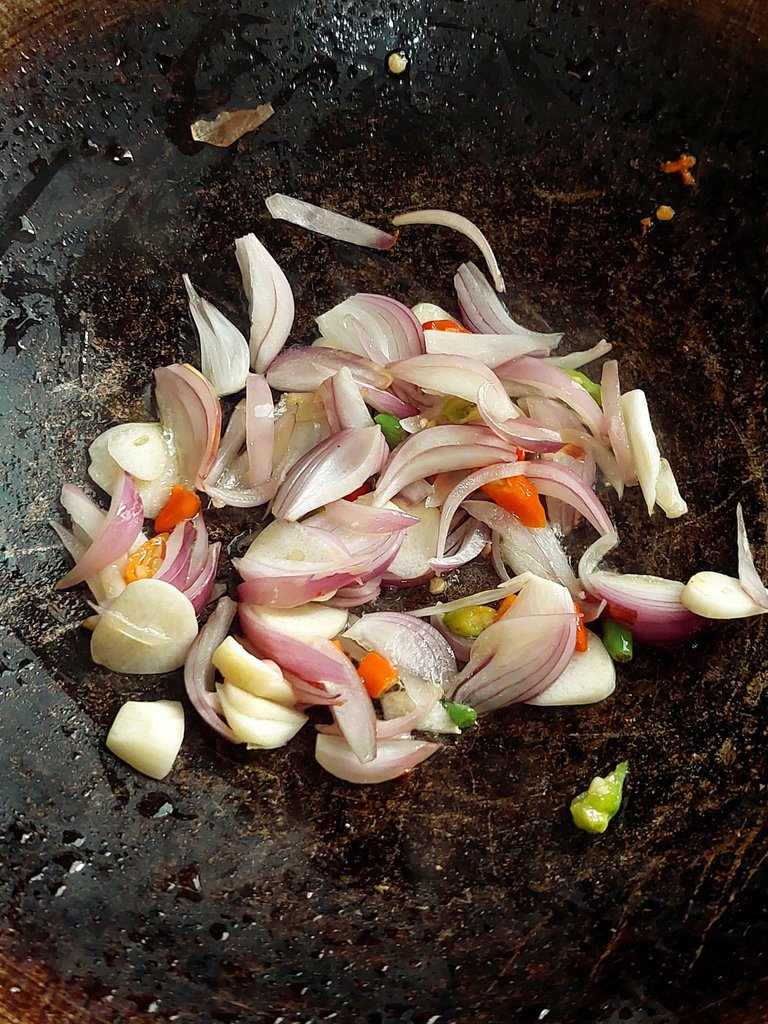 ---
Step 6
Then stir-fry until golden brown, then add the sweet corn, cook until half cooked, then add the paprika.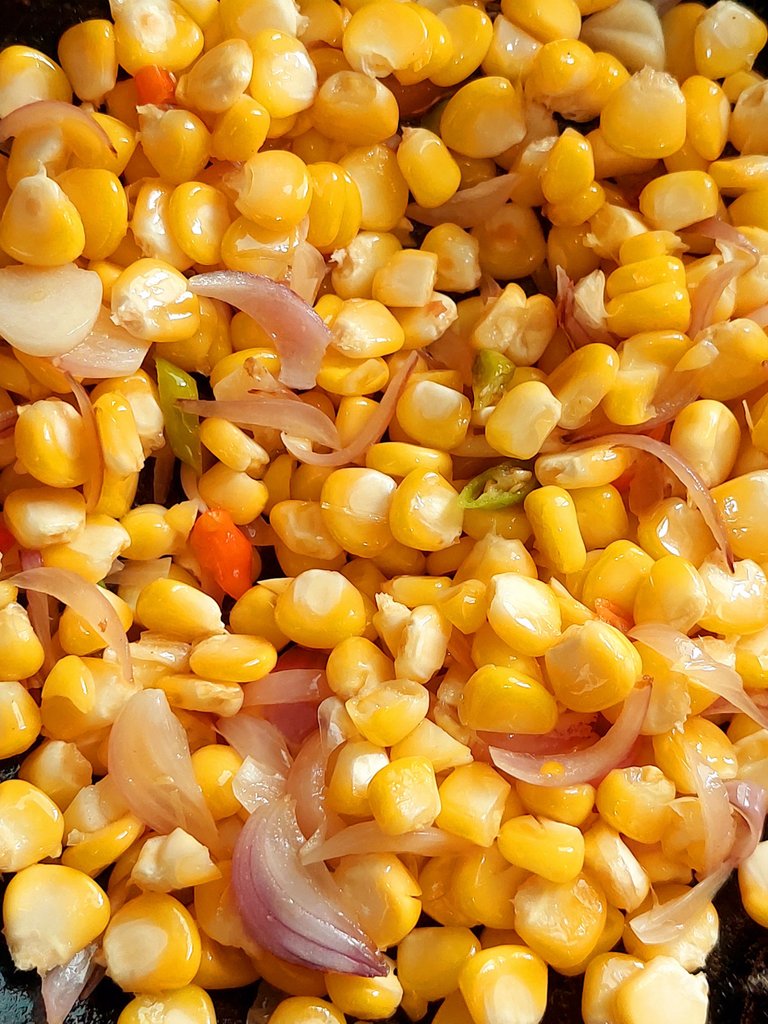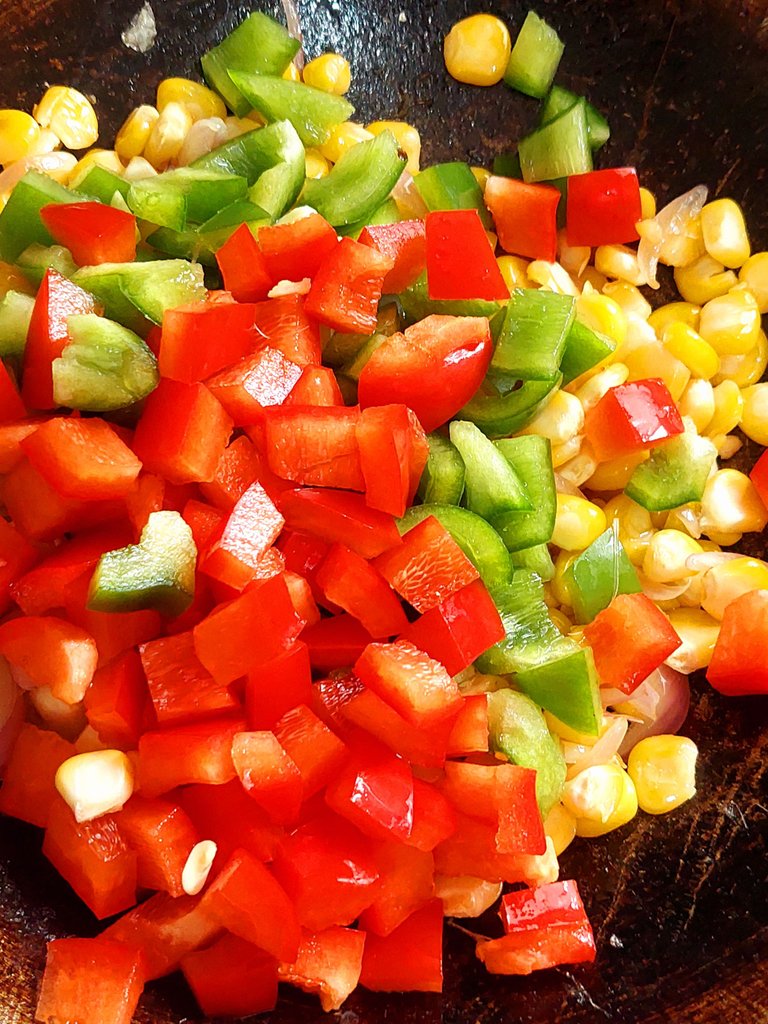 ---
Step 7
Add salt and cook until everything is wilted, so don't add water, let the cook with the ingredients in the vegetables.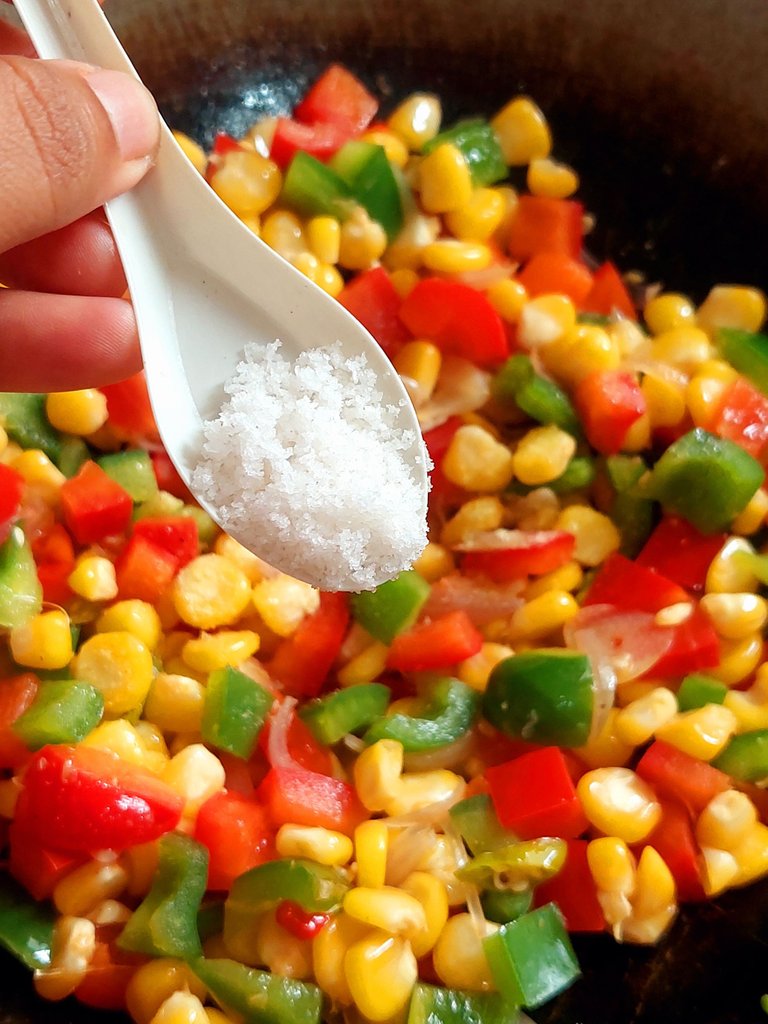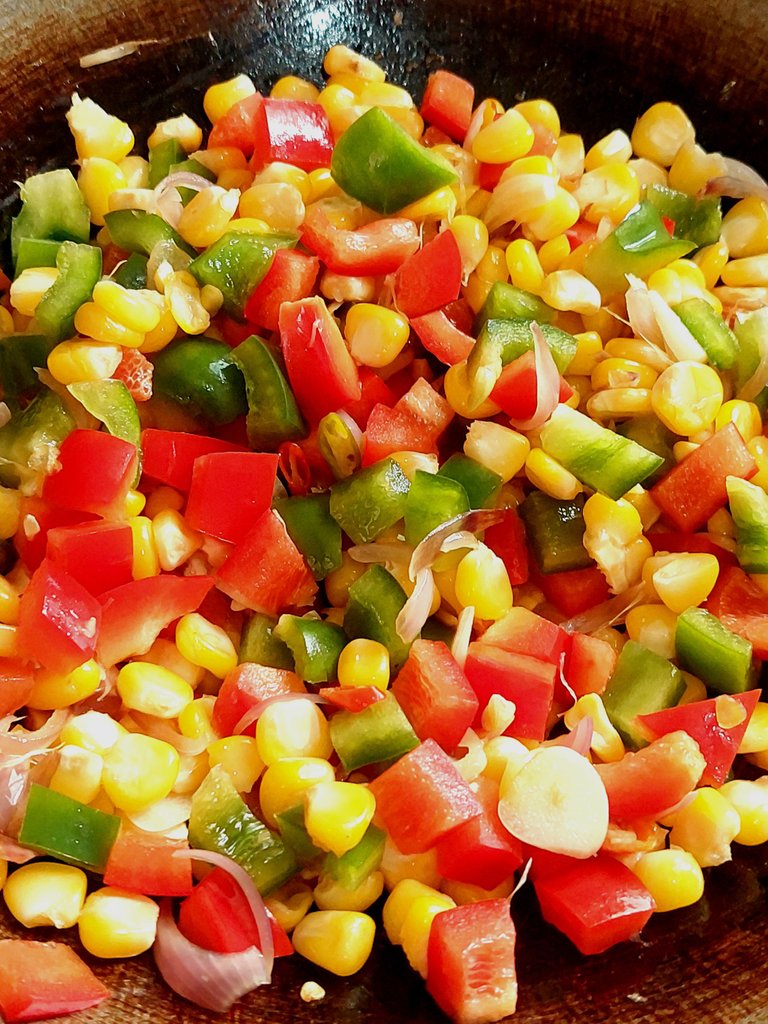 ---
Step 8
Now, after the pizza topping is ready, proceed to form the dough which has been left for 40 minutes. Form directly in Teflon, flatten the dough according to taste.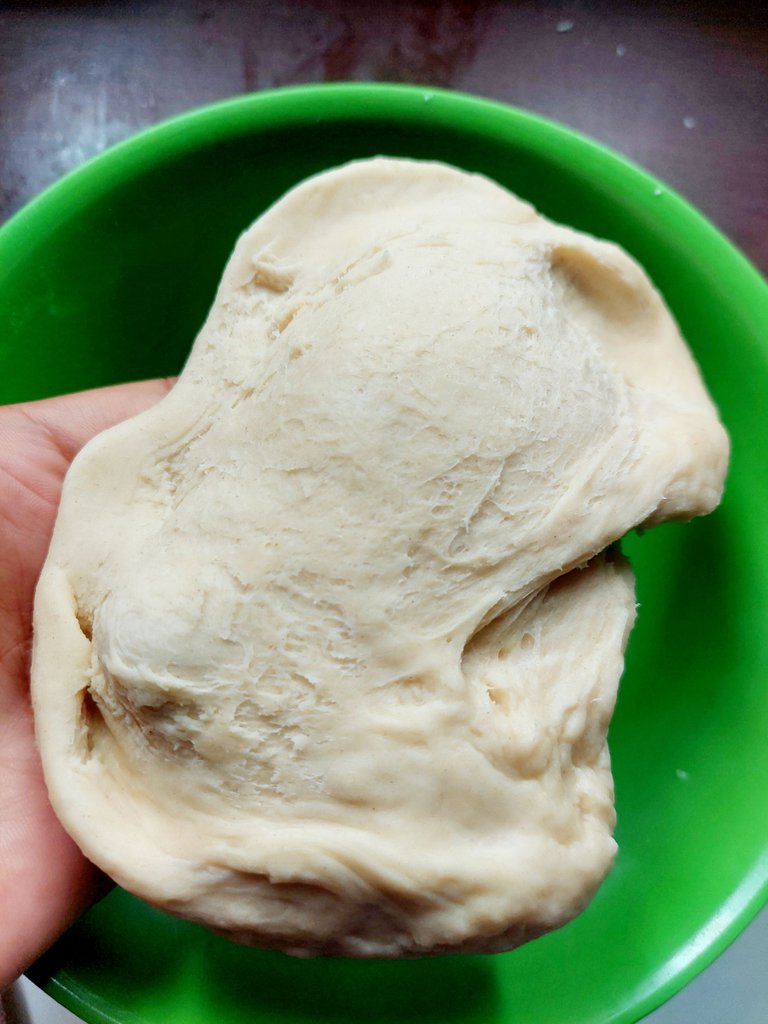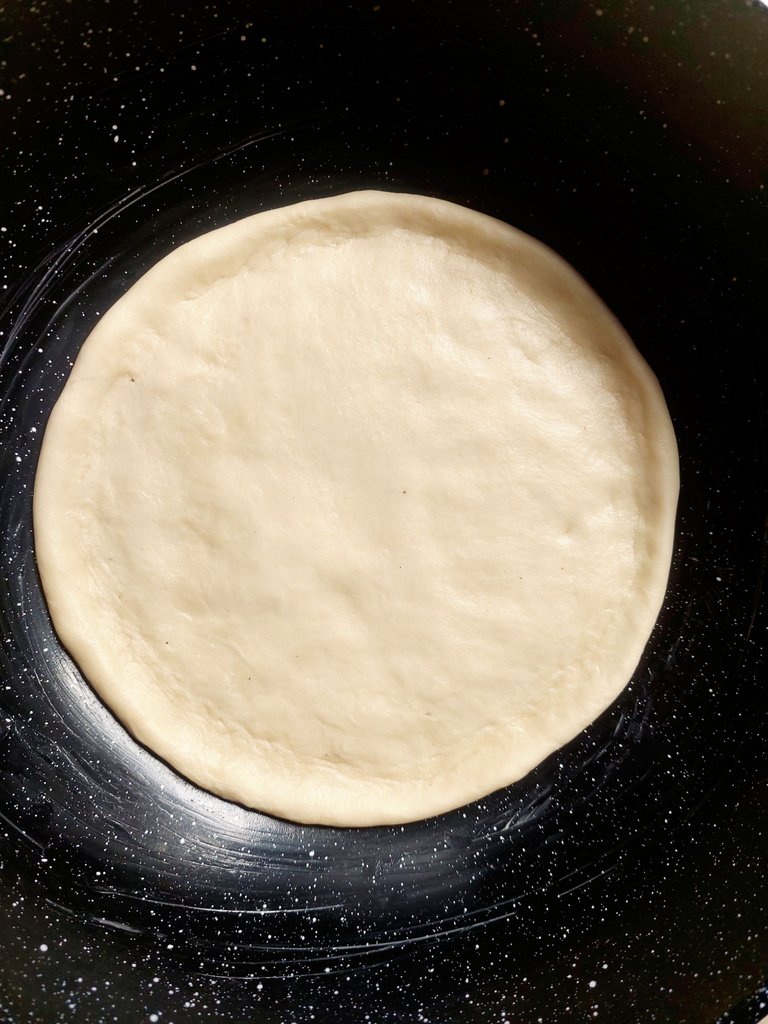 ---
Step 9
Then prick the dough using a fork on the surface of the bread.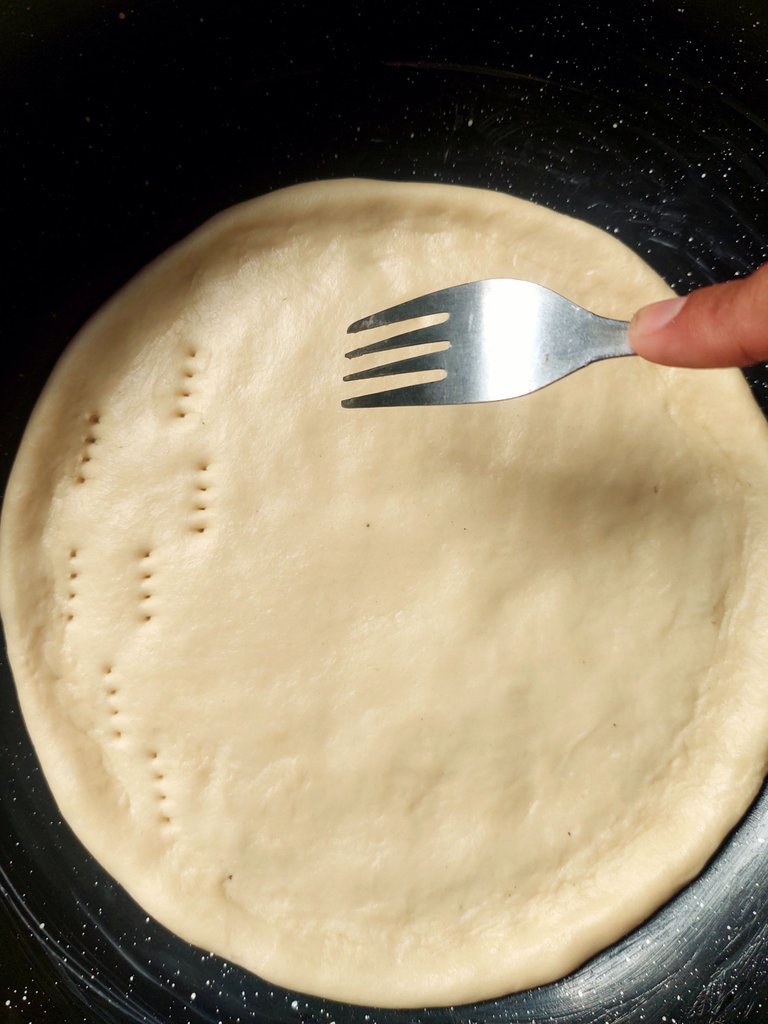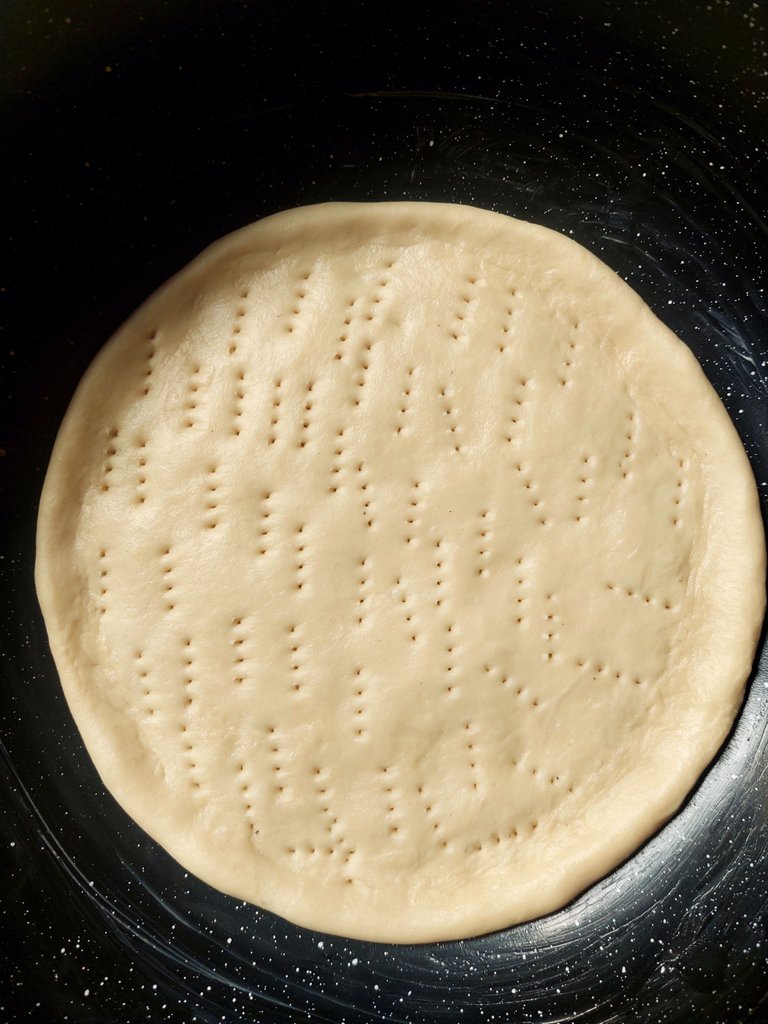 ---
Step 10
After the dough is skewered, add the chili and tomato sauce, spread evenly over the entire surface of the pizza.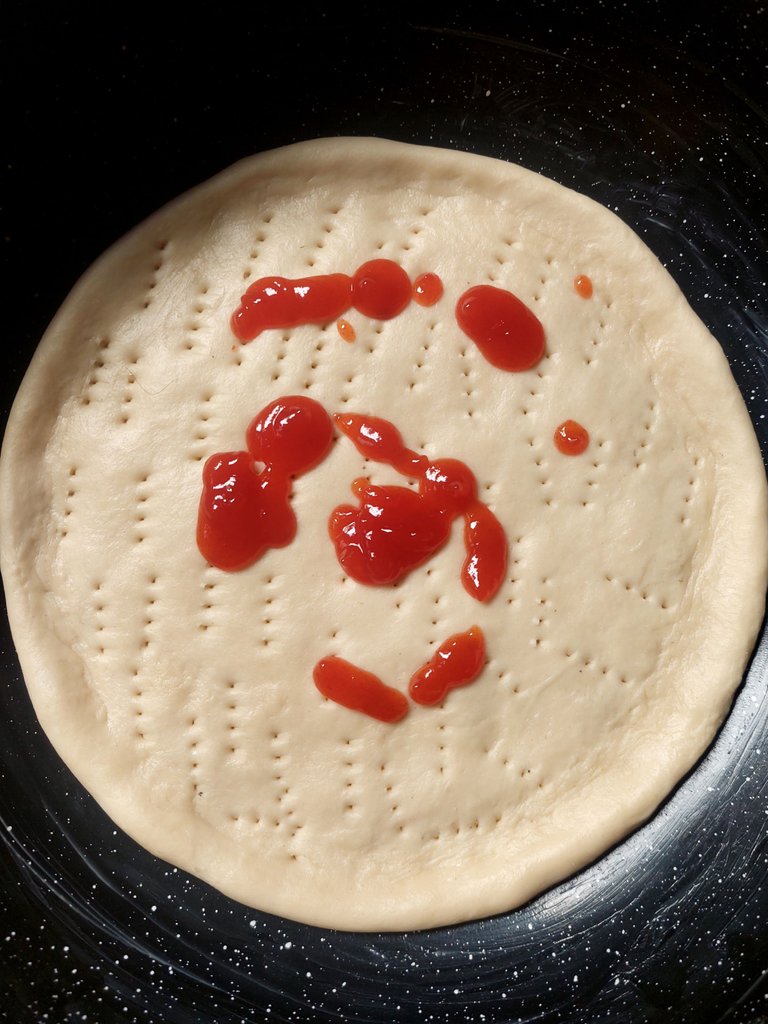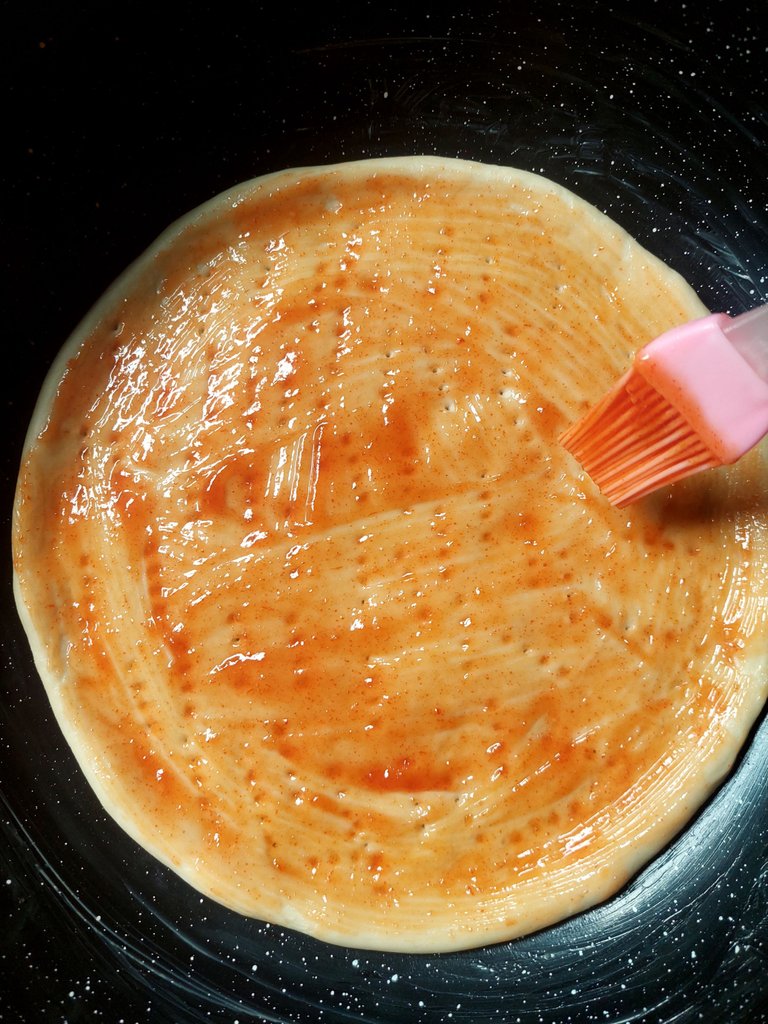 ---
Step 11
Then add the toppings, and cook the pizza on your teflon or grill. Close the pizza tightly so that it cooks perfectly. Now bake for about 15 minutes.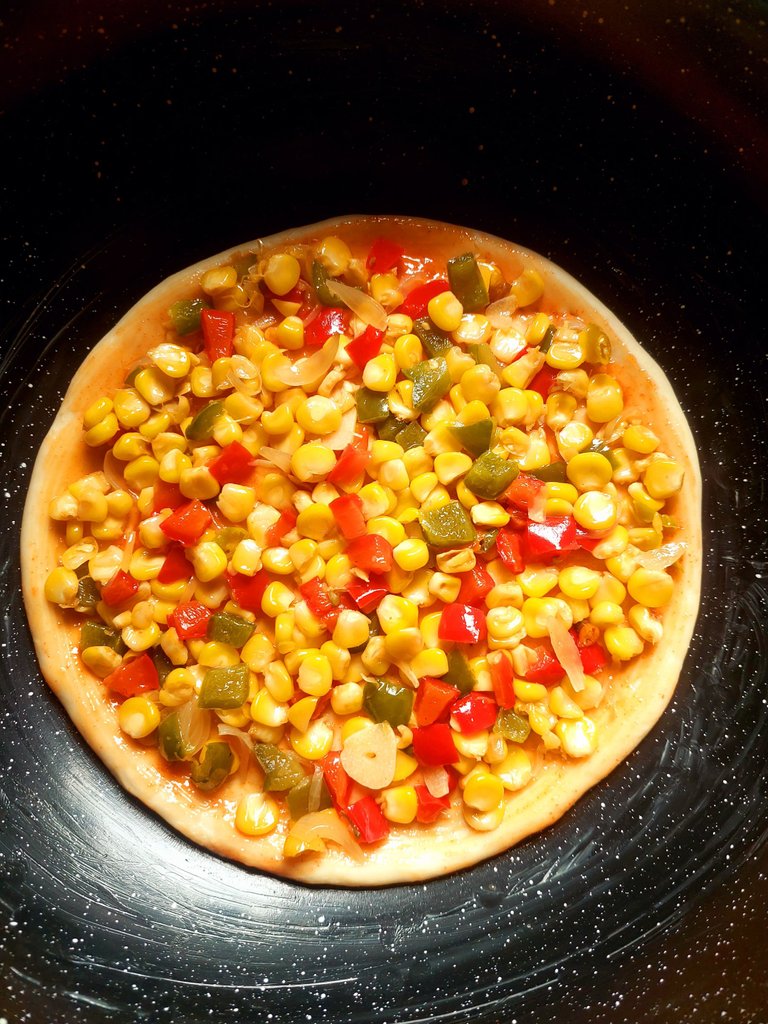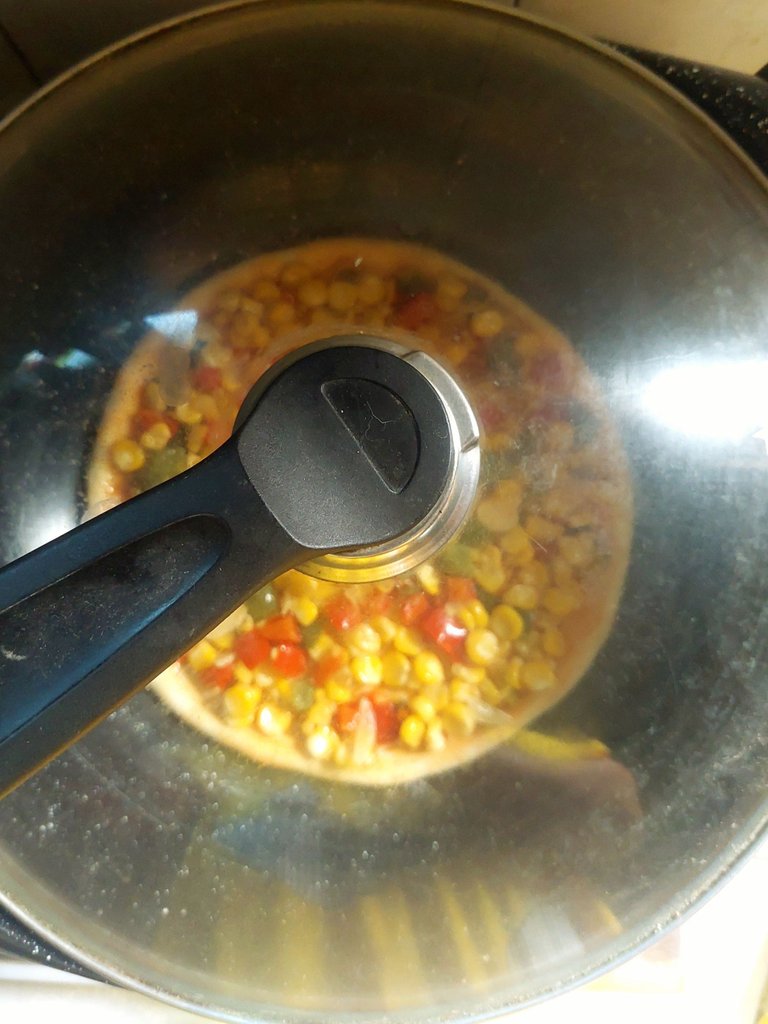 ---

Result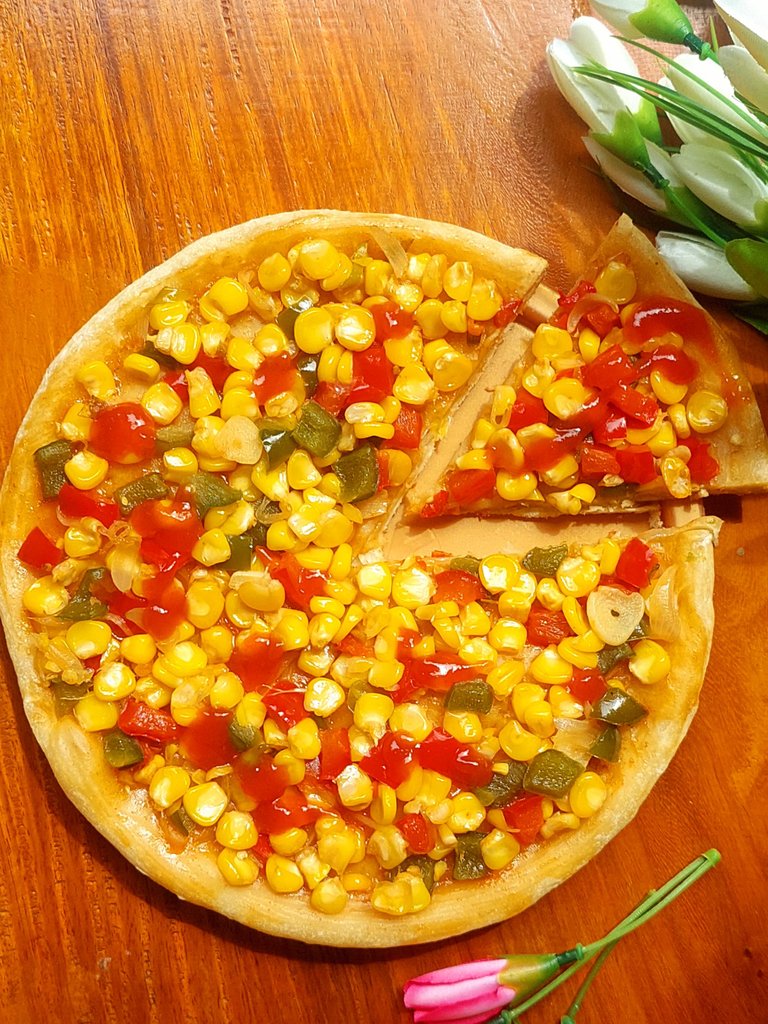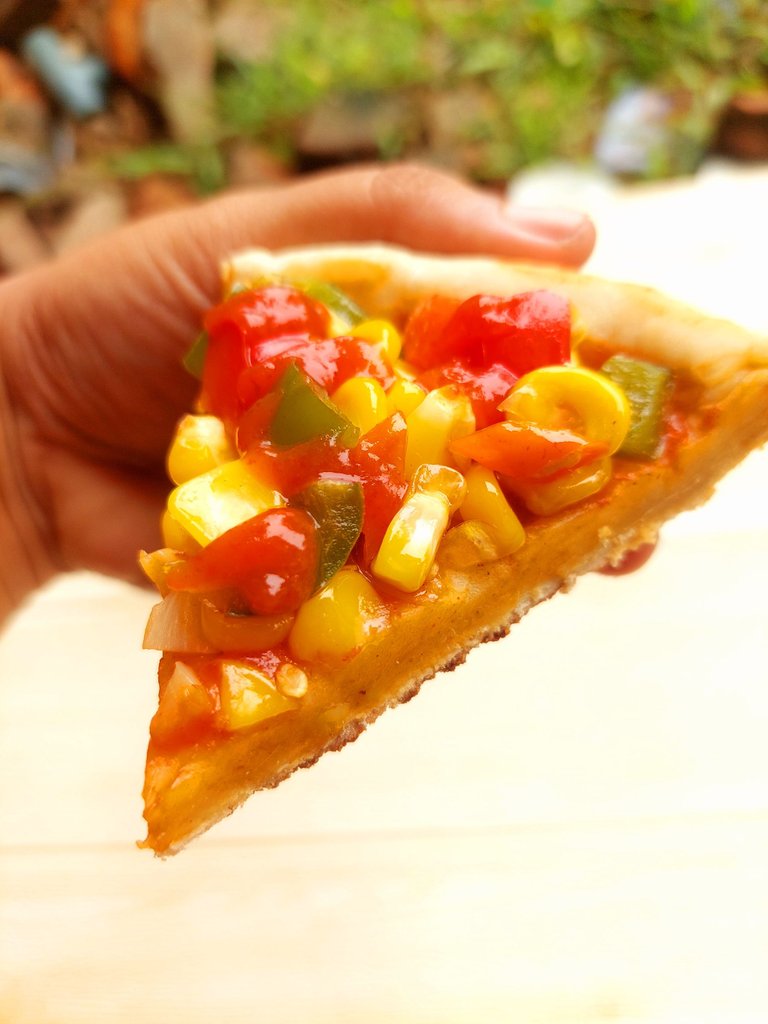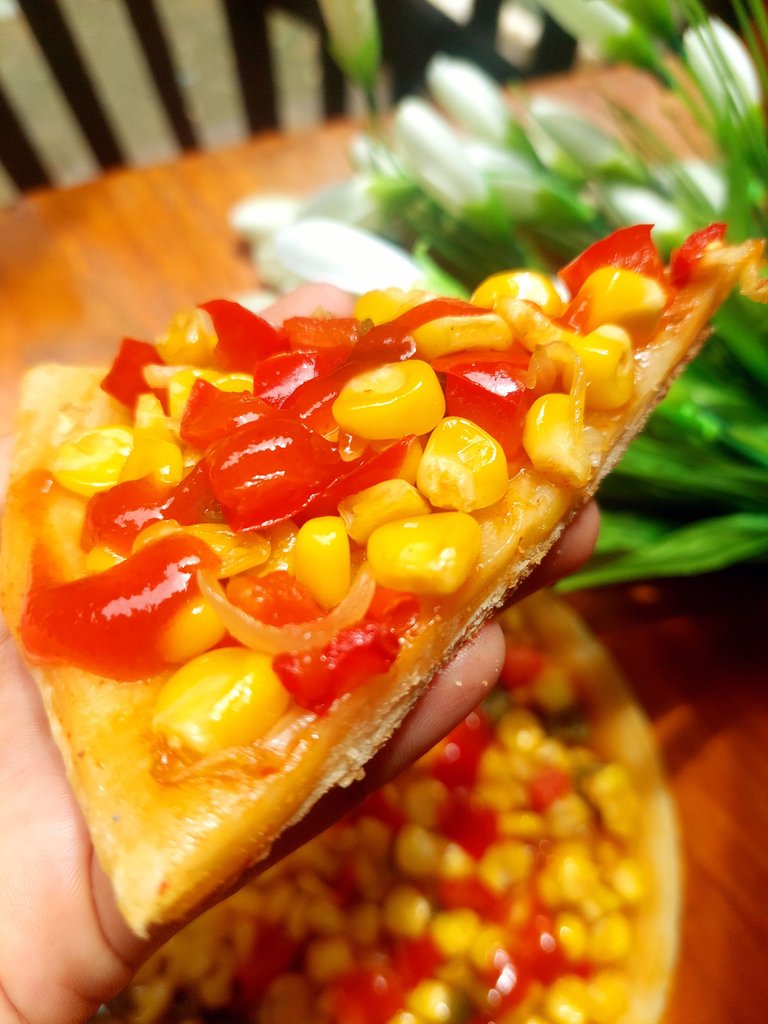 ---
Economical Teflon pizza is ready to serve, I made 2 pizza pans, the first made a slightly thick one, and the thin one. Both were very delicious. The taste of this pizza really suits my tongue, spicy sweet and savory. Which, as I said above, is very difficult to find pizza that suits my tongue. But this taste is the taste that I've been waiting for, it really tempts my tongue. I can finish half a pan of pizza in no time. lol.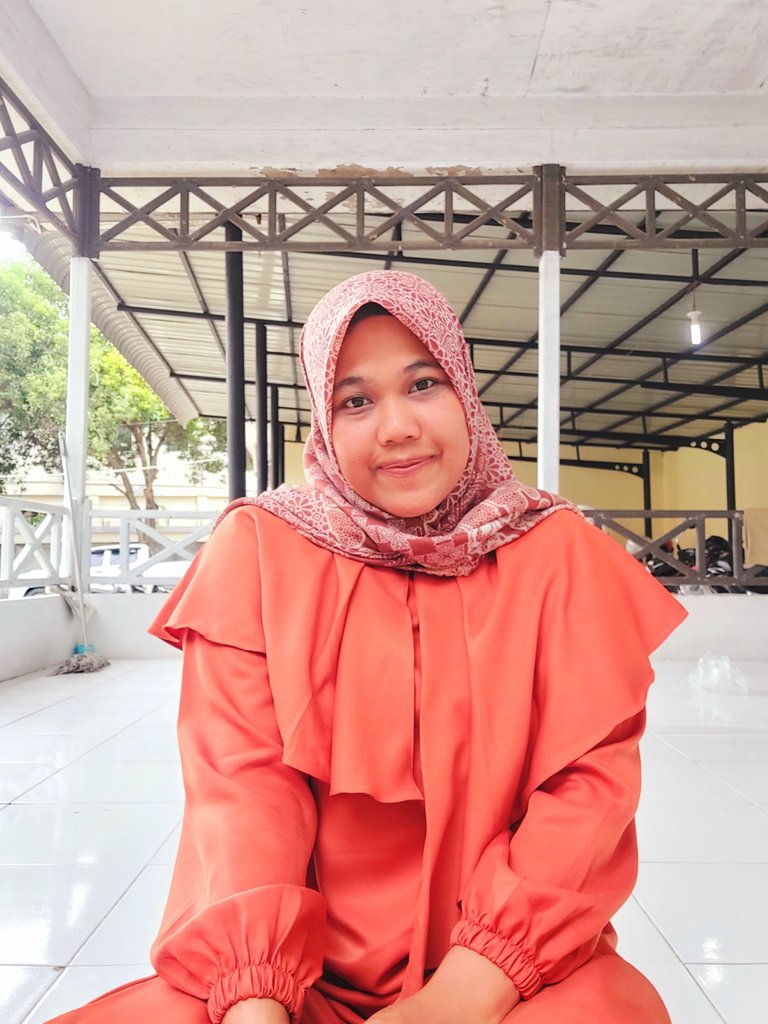 About The Author
A woman, firm and stubborn who is called "Nurul", born in July 1993, comes from Indonesia, Aceh province. My daily activity is work.
Besides working, I have several hobbies, namely reading, writing, cooking, gardening, making crafts, and traveling. From this hobby of mine, I will develop some inspiring content for all of you. I am also very happy to discuss positive new things with all of you.