Honestly, the first thing that comes up to my mind when I think of autumn is cinnamon, apples and the smell of freshly baked desserts when the weather is getting gloomy and cold.
My mom used to bake us apple pies each autumn, so I suppose that's why I immediately crave one once the autumn starts 😁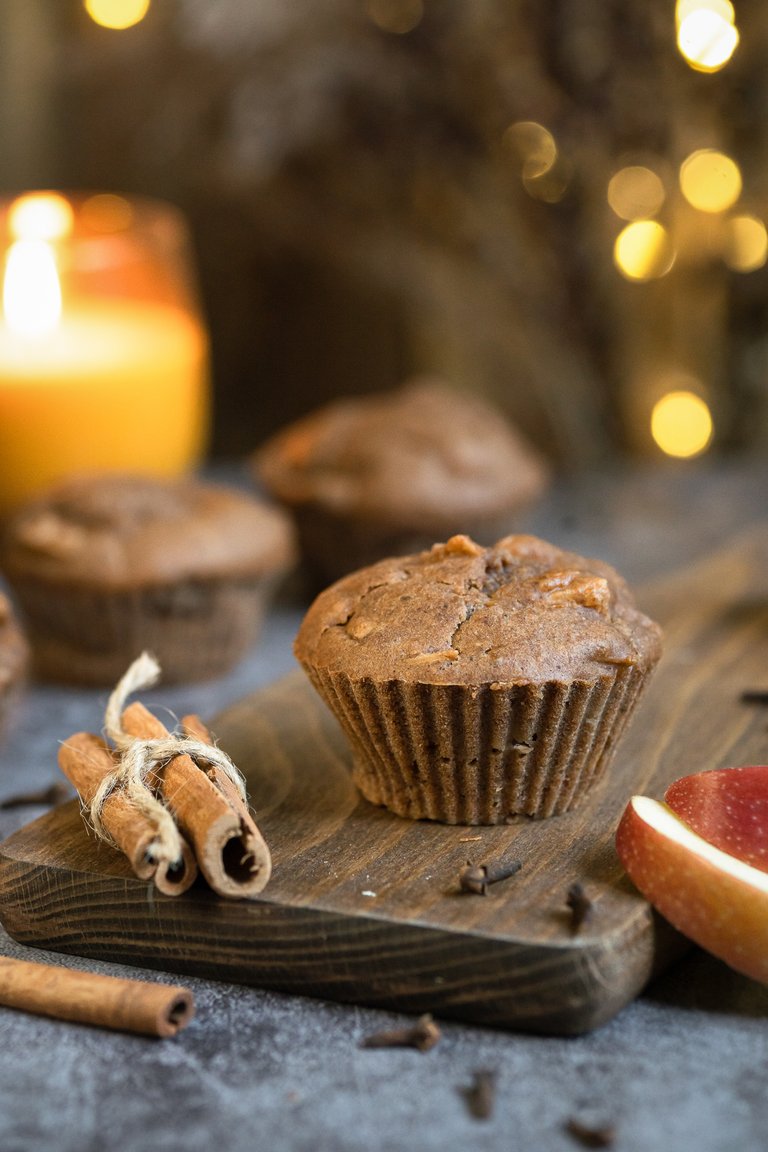 This recipe makes 12 moist, sweet and delicious muffins full with apples, cinnamon and other spices. I love both pies and muffins but muffins look a little bit more pleasant to me. They are like mini pies and you can take them with you if you are travelling or if you want to give them to friends, it is also easier to just take one for each rather than cut the pie and prepare the plates and cutlery - much more effort comes into that 😀
Since autumn in my country is full of apples, we use them a lot during this season! If you are living in another continent, you can try to add any other fruits of your choice that are seasonal right now. Maybe some pears, bananas or berries? 🍒🍓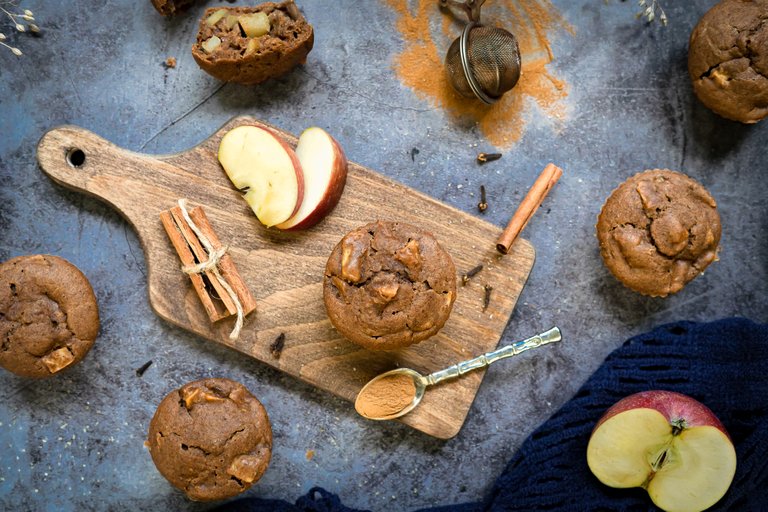 You will need:
For 12 muffins
110 g. wheat flour
110 g. spelt flour (if you don't have them - replace them with this amount of wheat flour)
60 g. brown sugar
0.5 teaspoon of salt
2 teaspoons of baking powder
2 teaspoons of cinnamon
1 teaspoon of ground nutmeg
1 teaspoon of ground cloves
1 teaspoon of ground ginger
240 ml. plant-based milk (I used almond milk)
2 teaspoons of apple cider vinegar
70 g. vegan margarine or butter
1 well-ripened banana
2 small/medium apples

Preparation:
Mix milk with apple cider vinegar and set aside.

Mix all dry ingredients (flour, sugar, salt and all spices).

Mash the banana with a fork until smooth.

Melt the margarine/butter until it is liquid (I did that in a microwave).

Pour margarine, mashed banana and milk with vinegar into the flour mixture. Mix everything well.

Preheat the oven to 200 degrees Celsius.
Peel the apples, remove the seeds and cut them into small pieces.

Mix them into the dough.

Divide the batter into twelve muffins in a baking tin. The batter can be poured into the lined paper/silicone cupcake tins or the tin itself can be greased with a little coconut oil/margarine. I put them into silicone tins without any grease and none of them stuck.

Bake the muffins for about 25-30 minutes. After baking, leave them to cool and then remove from the tin.

You can add some icing sugar on top of your muffins or eat them plain!