Pesto sauce is super popular in all kind of dishes and I'm sure some of you already tried to make some kind of pesto sauce by yourself. Or at least you bought some 😁
The sad thing is that most pesto sauces in the shops are not vegan as they contain some non-vegan ingredients. At least I basically can't find a vegan pesto to buy in a shop in my country. Unless I would be willing to pay double if not triple the price for a vegan pesto brand 🙃
That is really annoying, so I love just making pesto sauce by myself, at my home so I know exactly what ingredients I put into it and it is much healthier. Also you can add other ingredients depending on your preferences - more salt, more nutritional yeast for cheesy flavor, some more herbs, etc. Cooking at home opens endless possibilities 😁
If I am short on time or lazy, I just like to blend some basil, tofu, water, nutritional yeast and salt which makes me a lazy-pesto if I need it quickly for some pasta or other dish.
But if you have some more time (it's actually still quick), try out a simple vegan pesto recipe which makes a very nice pesto for your dishes, snacks or other meals!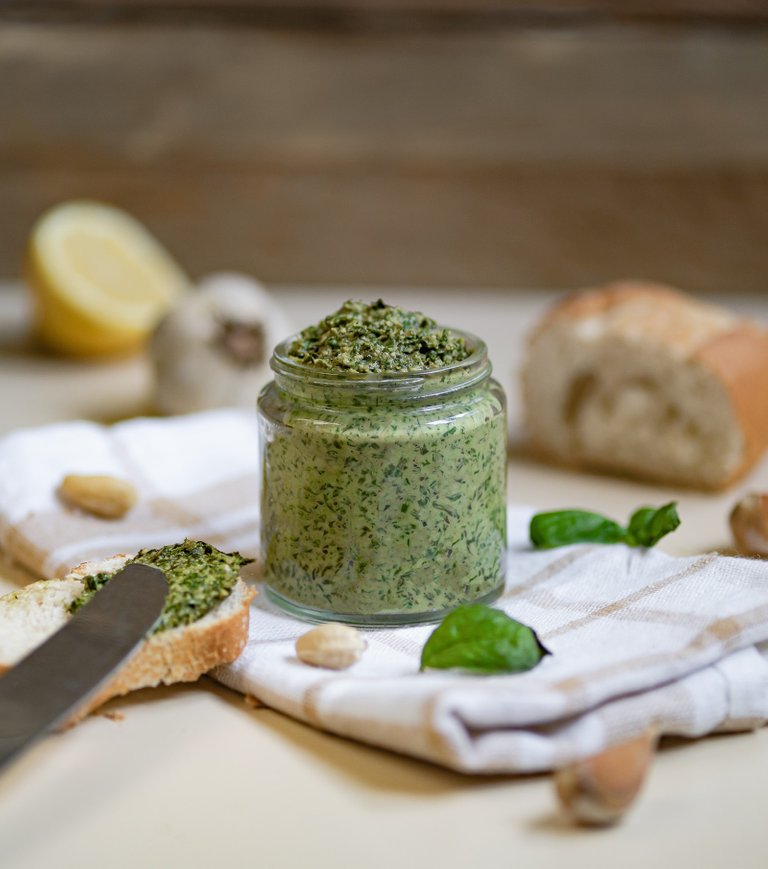 You will need:
This makes me a small/medium jar of pesto
55 g. raw cashews
70 g. fresh basil leaves
1 tablespoon of nutritional yeast
1 large clove of garlic
2 teaspoons of fresh lemon juice
¼ teaspoon of salt
2 tablespoons of olive oil
2 tablespoons of water

Preparation
Pour hot water over the cashews in a bowl to cover them all and keep them for about 30 minutes to soak.

Wash the basil leaves under the water.
Peel the garlic (garlic can also be chopped a little).
When the cashews have soaked, put all the ingredients in a blender (or food processor)

Blend everything until smooth. I used a hand blender.

The mixture should be thick but if you want to make it more fluid - add some more water and blend until the mixture looks well for you.

You can enjoy your pesto with some toast, pasta, snacks or as you like it!