Once you taste a muffin that is salty, at first it seems a little weird, not gonna lie 😁 but that is only because I (and probably most of us) am used to sweet muffins with fruits, chocolate or some tasty sugary toppings.
However, these muffins are one of the greatest snacks that I made!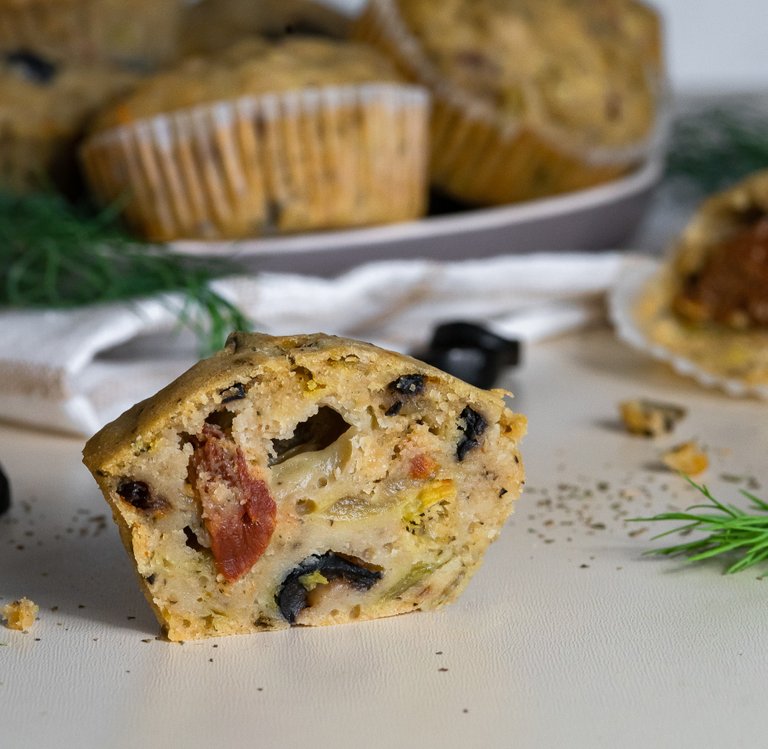 I first tasted white bread with olives and sundried tomatoes back in 2017 when I was living in Copenhagen, Denmark. My roommate made this bread and let me try it and afterwards I would just steal very little crumbles of it from the fridge as it was sooo tasty 😂
I don't want to promote stealing from your roommates at all of course and I hope that she won't read this 😂 But since then I really wanted to recreated such recipe myself. Probably simple laziness got in the way as I had a lot of time to recreate the recipe but I developed a passion for cooking not that long time ago. But I finally made something that tasted exactly like that roommate's bread in Copenhagen 😍
These muffins are perfect for picnics outside or to bring them to your friends as they are very easy to carry with you - they don't have any toppings so nothing would get ruined.
But to be honest, I would love to eat them all year around - even to make them for Christmas or other celebrations as a nice snack. 🌮
Also, you have probably seen such kind of muffins but with eggs and vegetables as they are quite popular for breakfast. So this is also a great recipe to make similar muffins but without eggs and if you add your desired vegetables - it should also work! 🌶️🥕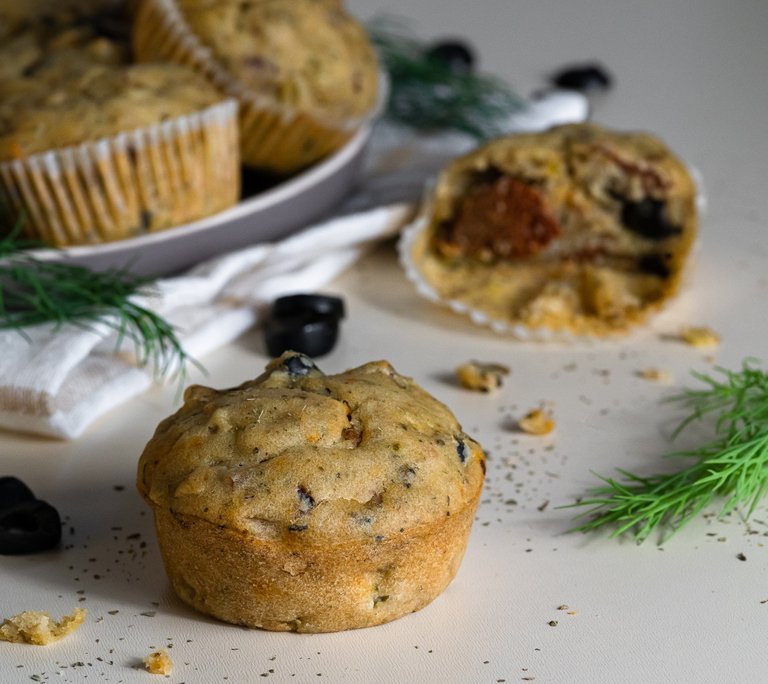 So, if you are keen to try a new way for making muffins, check out the recipe below!
---
You will need:
For 12 muffins
250 g. wheat flour
2 teaspoons of baking powder
0.5 teaspoon of salt
300 ml. warm water
1 teaspoon of apple cider vinegar
75 ml. of oil (in the recipe I used sunflower oil but it can be replaced with olive oil or rapeseed oil)
3-4 onions (about 200g)
1 teaspoon of dried oregano
1 teaspoon of dried basil (or fresh)
80 g. black olives without pits
90 g. sun-dried tomatoes (I used the ones that are in a jar, in oil)
a little oil for vegetables to cook
---
Preparation
Preheat the oven to 180 degrees Celsius.
Mix flour, baking powder and salt in a bowl.

Mix water, apple cider vinegar and oil (75 ml) in a separate container.

Add some oil (like a tablespoon) to the pan.

And fry the chopped onions mixing consistently, add a pinch of salt.

While the onions are cooking chop the olives and sun-dried tomatoes to somewhat small pieces.

When the onions are roasted (brown and soft), add the chopped olives to the pan, chopped sun-dried tomatoes and spices (basil, oregano). Bake for another 2-3 minutes.

Mix the flour mixture and a mixture of water, vinegar and oil in one bowl until smooth.

Then add the roasted vegetables from the pan to the batter and mix everything until well combined.

Distribute the batter in the baking tin for muffins (a total of 12 muffins will be obtained). It can be placed in paper/silicon baking cups, but without them the cupcakes should not stick. To be safe you can also grease the insides of the tray with a little oil.

Bake cupcakes for 20-25 minutes in a preheated oven. To check if the muffins are ready you can stick a wooden skewer inside the muffins and if it comes out dry - they are well cooked. Some moist might also be visible just because of the vegetables inside.

After baking, leave to cool.

You can easily take these muffins to your work, school, university or to friend's house!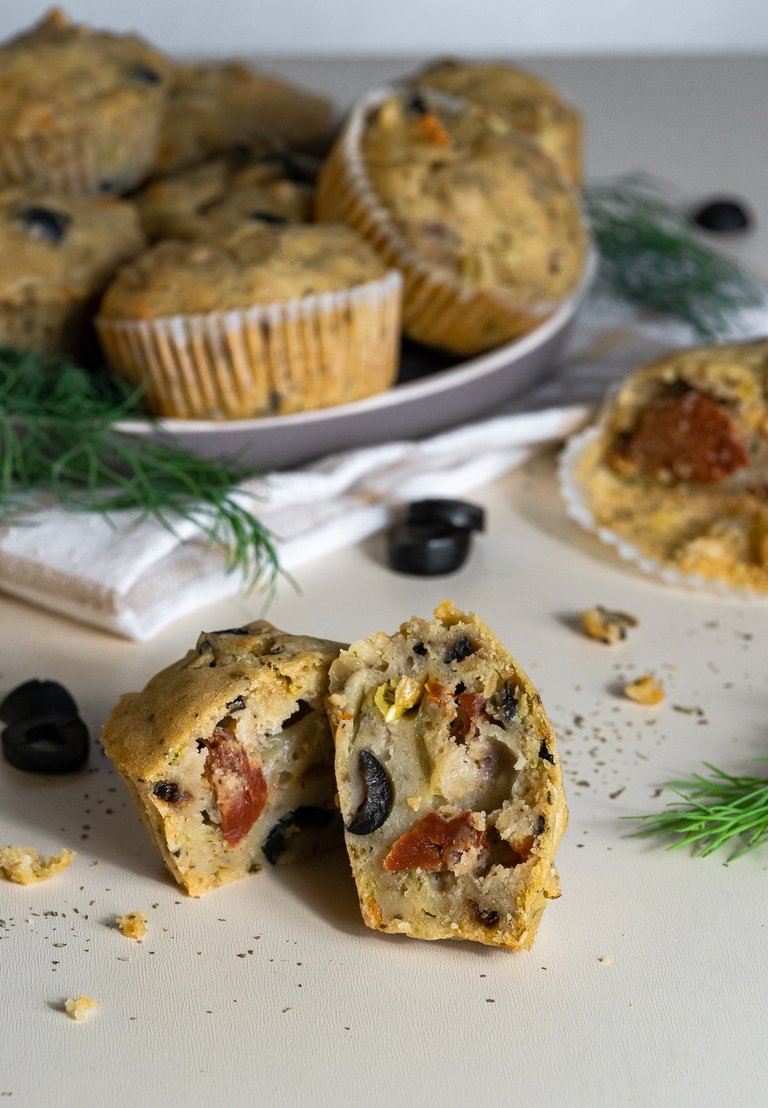 The final muffins were shot with Sony a7III, 100mm f/2.8 lens. The preparation process was shot with Sony a5100, kit lens.