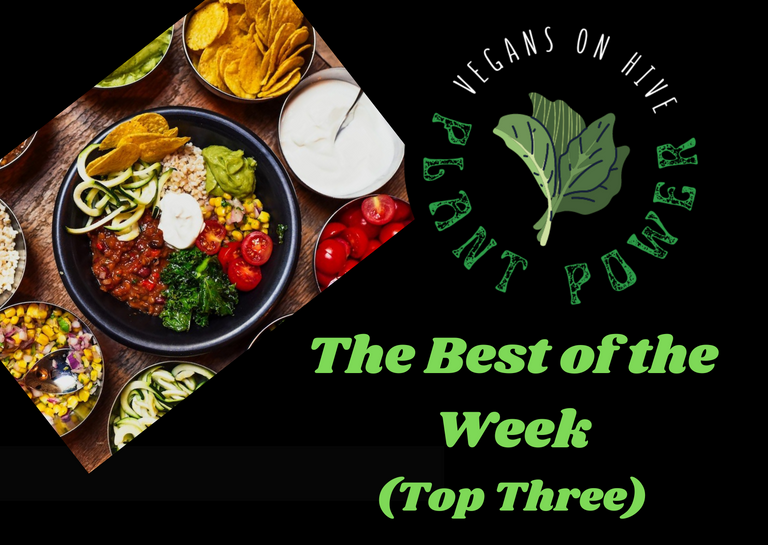 Photo by Nadine Primeau in Unsplash
Today we publish other edition of the special curatorship, which will complement the MEATLESS MONDAY; that we have called: THE BEST OF THE WEEK. Our intention with this post is to recognize the best of the best of the posts that you, friends of Hivers, share weekly in our Plant Power (Vegan) community, selecting the top three recipes from the previous week; which on this occasion corresponds to the period from Wednesday, November 23, to Tuesday, November 29, 2022.
---
Each of the selected publications will be reviewed in this curatorship, and in turn, its author will be awarded 0.5 Hive in order to give him/her a modest recognition for the excellence and quality of his/her work.

Having said all of the above, let's see which recipes are THE BEST OF THE WEEK in this edition

This week
@carolynstahl
shared a soup recipe, a delicious and comforting Vietnamese-inspired soup that she learned to make years ago from a Vietnamese girl who was her neighbor. In a beautiful post, with a nice story and excellent photos, she share this delicious recipe, so she deserves to be part of The Best of the Week.
https://images.ecency.com/p/YpihifdXP4WNbGMdjw7e3DuhJWBvCw4SfuLZsrnJYHEpsqZFkiGGNCPyjABknxZJJvUz9yun2Zy8ybpy8WHCoj98edMbC3n9p2LqFh5tTKs8ZKoB3WJhHKMfgMfx24SeH5BRdr7snD9yyn9gquYq1MQo89BDRUKznp4NXicA2see.webp?format=webp&mode=fit

Lately
@amy-goodrich
has shared great wild fermented recipes with us, and this week was no exception, as she made an excellent post with the technique she uses to make fermented garlic paste, which is delicious and at the same time provides great benefits for health; for which she is also part of The Best of the Week.
https://images.ecency.com/p/YpihifdXP4WNbGMdjw7e3DuhJWBvCw4SfuLZsrnJYHEpsqZFkiGGNCPw1oWATPLKinimPcGX6fNeHFQtjJ7LFR4bNpXRezo3wGhngL13cJUrrKV8eGURASUcvW7jUbY6x6Z4qtGT3kXVY9CuFYLo5KosGvFaz9Qy5EHWSvFB4MXt.webp?format=webp&mode=fit

Generally, the celebration of Christmas involves special recipes, which are made just at this time, and on this occasion,
@franciscana23
shared a recipe for hallacas, a very traditional Christmas dish from Venezuela. Although this dish in its original version is not vegan, she brings in a great post, a 100% vegan recipe for black bean hallacas, which are delicious, so she also deserves to be part of The Best of the Week.
https://images.ecency.com/p/RGgukq5E6HBNvuPpuJoWwfXPpi5ckcLESTB3nmmnJT16Hb3fGbcQpt7skHaSCKfEC55hYM7ZRwZ6yAQHqr6ZZqeqsqpNcMDrYd3KXzKXtG4V1pcq5iJPvvHu7bzJkiS.webp?format=webp&mode=fit

Below is the transfer made to each wallet, as a modest community recognition, to the extraordinary work done by these content creators



Delegations welcome!

Find our community here

Curation Trail