Good evening, all hive foodie friends.I hope everyone is well.Today you will enjoy absolutely unique vegan plantbased recipe: Coconut Roll recipe.Coconut roll recipe is so delicious and yummy recipe. You will get slight chilli, sweet soft tasty flavour from this recipe.It is a homemade and healthy vegan recipe.You will make this tasty Coconut nut recipe by my recipe process.Now i am going to share how to make delicious healthy coconut roll recipe.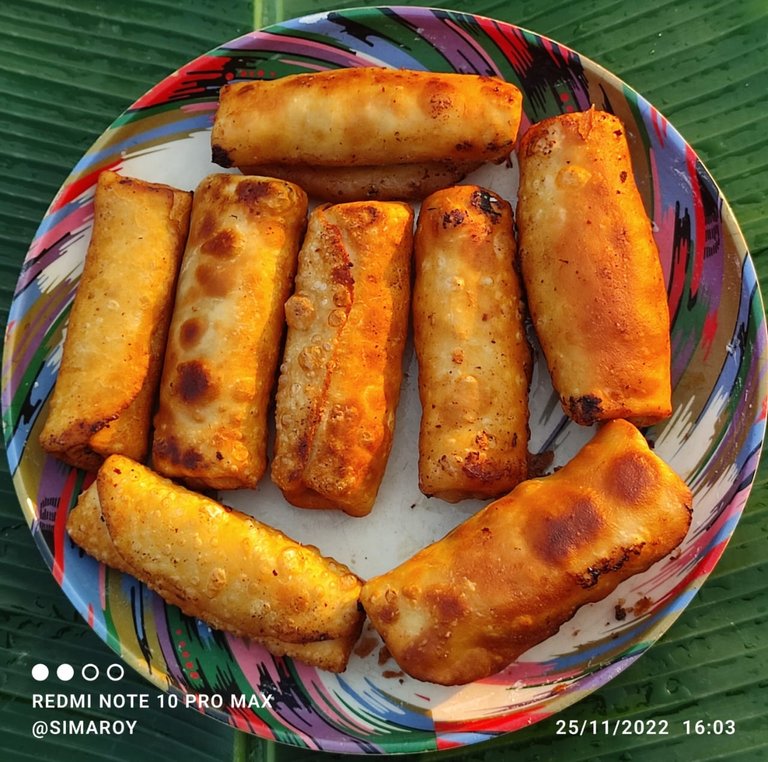 Let's start
Ingredients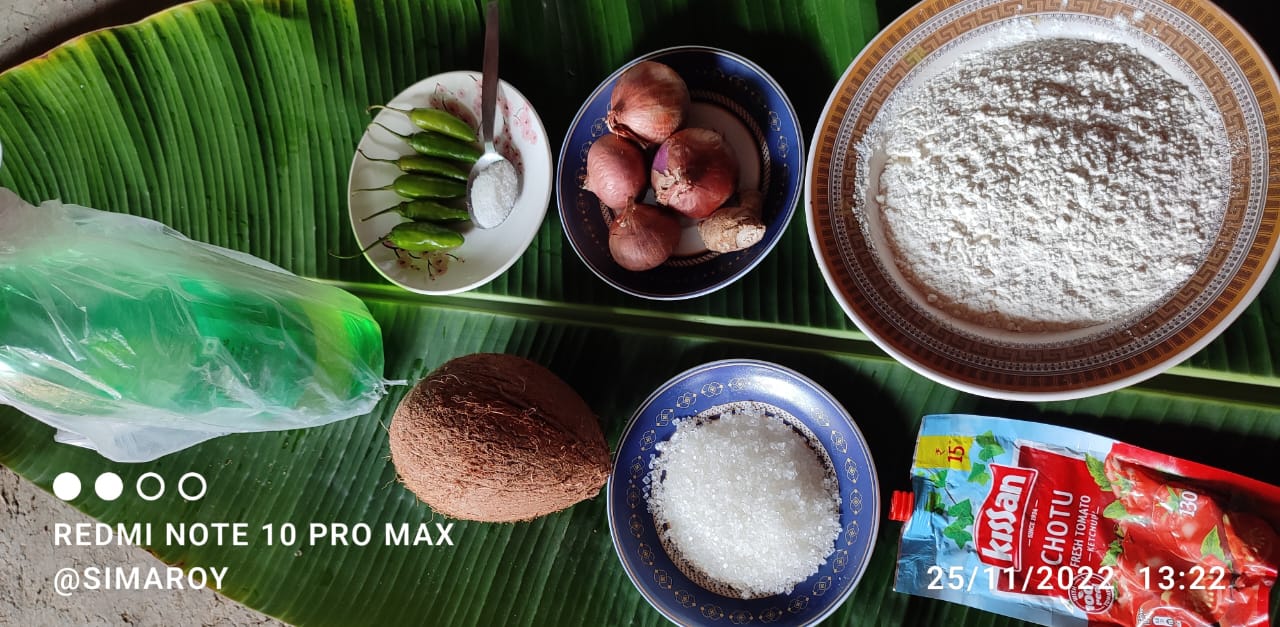 | Ingredients | Quantity |
| --- | --- |
| Coconut 🥥 | 1 piece |
| Coconut pure shells chopping | 1 Cup |
| Flour | 200 grams |
| Coconut water | 1/2 Cup |
| Onion | 4 pieces |
| Ginger | 25 grams |
| Raw chilli | 6 pieces |
| Salt | 1/2 tablespoons |
| Sugar | 5 tablespoons |
| Soyabean oil | 400 grams |
| Water | 1/2 Cup |
Preparation
First of all I gathered 1 piece of coconut 🥥.After cutting this coconut from middle portion.I collected coconut pure shells from coconut and did coconut pure shells chopping.
I collected onion chopping and ginger chopping.After that i collected raw chilli chopping and 1/2 tablespoons salt.
I took 1/2 Cup sugar and 200 grams flour for making coconut roll recipe.
First Process
At first I collected flour.After that i add 1/2 tablespoons salt with flour properly.
I mixed 1 tablespoons soyabean oil with flour.After blend it properly,i add slight water with flour at times.I made doo.I kept sometimes.
I took coconut pure shells chopping and add onion chopping .and blend it properly by my hand.
I add ginger chopping and mix Raw chilli chopping with coconut chopping.
I mixed sugar with coconut Chopping and blend it properly.
I collected flour doo and made small size ball structure.I made bread structure.
I kept mixing Coconut chopping on raw bread structure and covered it properly.I hope everyone can understand easily by seeing this images.
I made coconut roll and took preparation for making final frying coconut roll.
Final directions
I kept a pan on oven and took 400 grams soyabean oil in pan and heat this soyabean oil in pan.
I mixed 4 pieces coconut roll with heat Soybean oil and fried it properly.After that i pick up this coconut roll from pan.
I add 4 pieces coconut roll again with heat soyabean oil in pan and fried it properly and pick up this coconut roll from pan.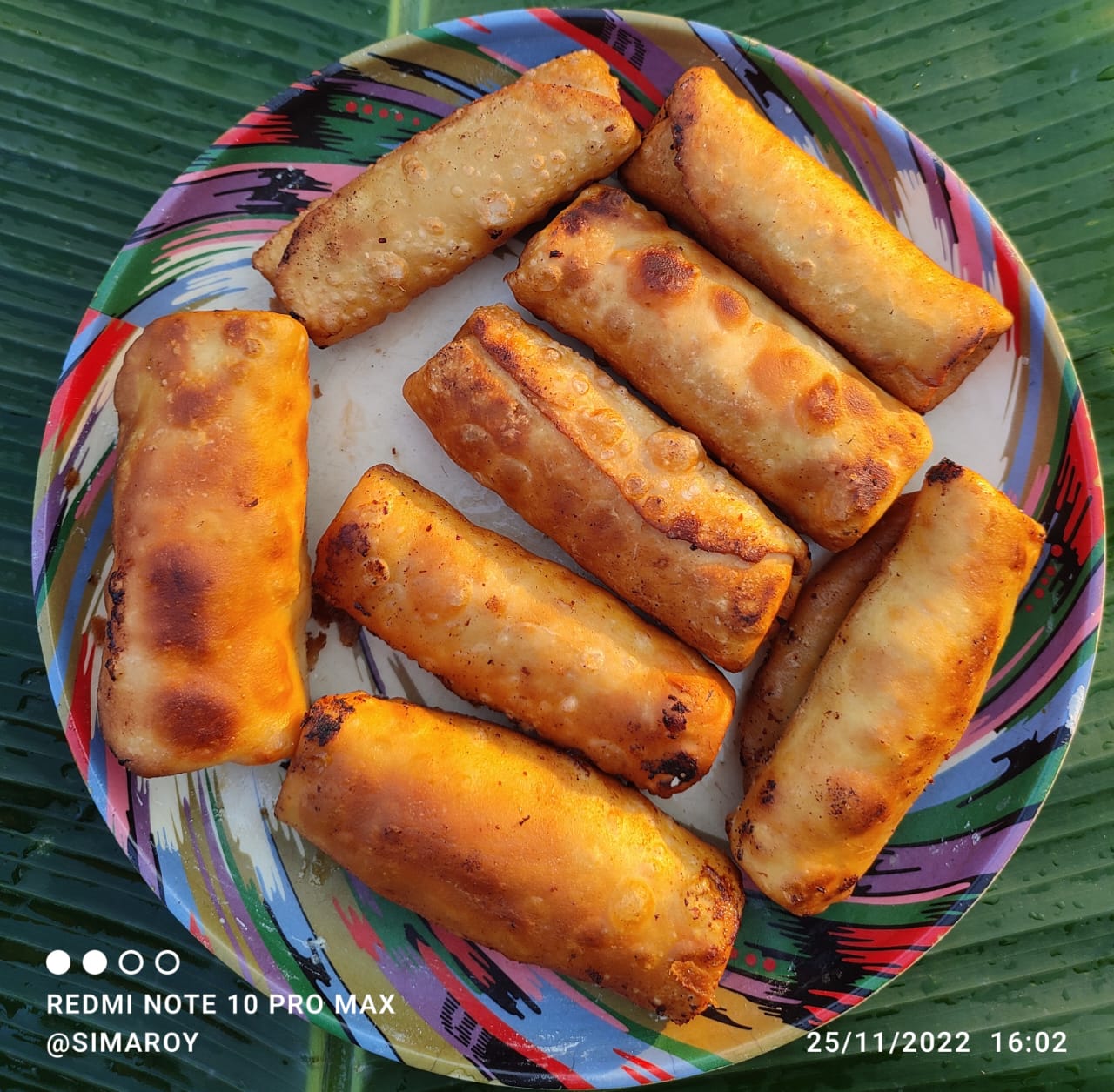 In this process, i make healthy delicious
Coconut roll recipe.Now this delicious coconut roll recipe is ready for serve.
| Device | Redmi note 10 pro max |
| --- | --- |
Sincerely thanking you for reading.