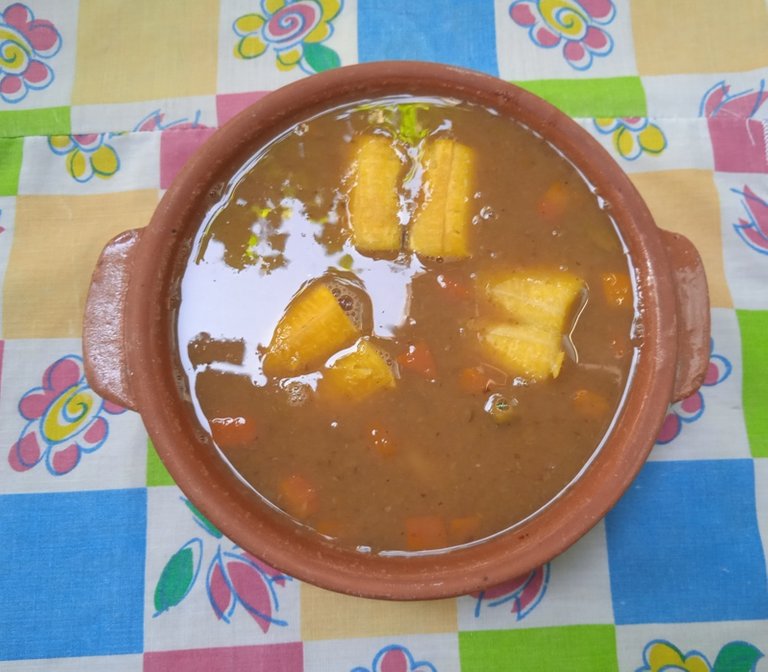 Greetings to all readers and friends of the Plant Power (Vegan) community. Today I'm back in my beloved vegan community, where to be honest I post less than I'd like, but my multiple schedules sometimes make it difficult for me to make recipes; well, the truth is that today I brought a very common dish in the area I live in (Venezuelan plains), and it is
PAINTED BEANS
, which are also called
TAPIRAMOS
, these being very peculiar grains, which I believe are eaten throughout Venezuela, but especially in the place where I live.
---
Saludos a todos los lectores y a los amigos de la comunidad Plant Power (Vegan). Estoy de vuelta hoy a mi amada comunidad vegana, en la cual para ser franca, publico menos de lo que quisiera, pero mis múltiples ocupaciones a veces dificultan que pueda hacer recetas; bueno lo cierto es que hoy he traído un plato muy común en la zona que habito (llanos venezolanos), y se trata de CARAOTAS PINTADAS , a las cuales también se les denominan TAPIRAMOS, siendo estos unos granos muy peculiares, que creo que se comen en toda Venezuela, pero especialmente en el lugar que vivo.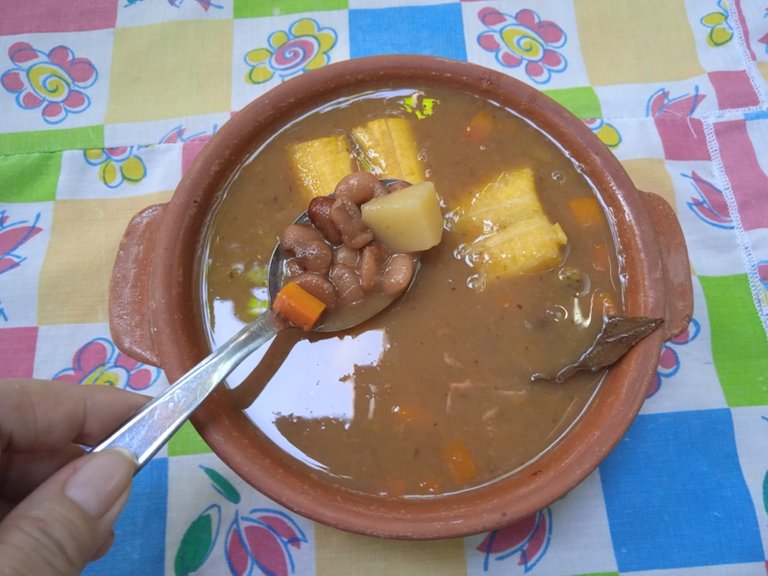 The scientific name of this legume is Phaselous lunatus L., and I suppose that this grain can be found in other countries and continents, perhaps with other common names; The truth is that in my country they are usually consumed in multiple ways, either alone or by adding legumes (potatoes, carrots, bananas), and even pasta; and in its non-vegan form pieces of meat are included. It can be said that its preparation is somewhat laborious, and this is due to the fact that these grains are bitter and require a pre-cooking process, to later rinse them several times, this being essential, since otherwise it would be impossible to eat them due to their bitterness; however the results are delicious. It should be noted that when the tapiramos are harvested young, when the pod begins to turn a brown color, they are even more flavorful than if you wait longer.
---
El nombre científico de esta leguminosa es Phaselous lunatus L., y supongo que este grano puede encontrarse en otros países y continentes, quizás con otros nombres comunes; lo cierto es que en mi país se suelen consumir de múltiples formas, ya sea solo o adicionándole legumbres, (papas, zanahorias, plátanos), e incluso pasta; y en su forma no vegana se incluyen trozos de carne. Puede decirse que su preparación es algo laboriosa, y esto se debe a que estos granos son amargos y requieren un proceso de precocción, para posteriormente enjuagarlos varias veces, siendo esto indispensable, pues de no hacerlo sería imposible comerlos por su amargor; sin embargo el resultados es delicioso. Cabe señalar que cuando los tapiramos se cosechan jóvenes, cuando la vaina comienza a tornarse de un color marrón, son aún más sabrosos que si se espera más tiempo.

THE RECIPE / LA RECETA
---
Time, ingredients and equipment
Preparation time: This recipe requires several hours of preparation, from cleaning the grains, pre-cooking them, rinsing them, and then cooking them and adding the other ingredients, so an average of 4 hours will be required, time that can be reduced with the use of an express pot; but it can also be extended if the grain is very hard (this is because it has been harvested for several months).

Servings: Depending on the appetite of the diners, but there are several servings, approximately 12 dishes, since I prepared 1 kilogram of tapiramos or painted beans.

1 kilogram of painted beans (tapiramos).
Below I will indicate the amounts of each ingredient, however, this may vary according to the taste of each person.
400 grams of onions (approximately 7 units).

400 grams of potatoes.

250 grams of banana (1 unit)

150 grams of carrot (a large unit).

120 grams of peppers. I generally use 4 units for every 250 grams of beans, so to cook a kilo, I need 16 peppers.

15 grams of garlic or a whole head.

Coriander and chives to taste. I substituted two vegan cubes for these ingredients, but also added 10 grams of garlic chives

7 dry bay leaves.

2 tablespoons of capers.

1 level tablespoon of ground cumin.

1 level tablespoon of ground oregano.

Salt to taste. You can add pepper too.

2 tablespoons of cornstarch (dissolved in 200 ml of water or broth).

1 tablespoon of white vinegar.

Oil for frying (approximately 150 ml).

Large pot, strainer, chopping board, knife, ladle, etc.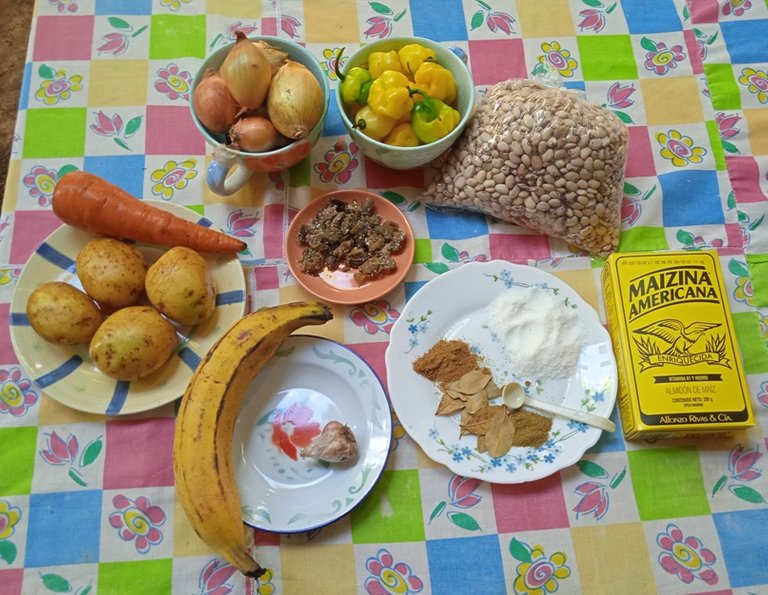 Tiempo, ingredientes y equipo
Tiempo de preparación: Esta receta requiere varias horas de preparación, desde limpiar los granos, precocerlos, enjuagarlos, para luego cocinarlos y adicionarles los otros ingredientes, por lo que en promedio se requerirán unas 4 horas, tiempo que puede reducirse con el uso de una olla exprés; pero también puede alargarse si el grano está muy duro, (esto se debe a que tiene varios meses de haber sido cosechado).

Raciones: Dependiendo del apetito de los comensales, pero salen varias raciones, aproximadamente 12 platos, ya que preparé 1 kilogramo de tapiramos o caraotas pintadas.

1 kilogramo de caraotas pintadas (tapiramos).
A continuación voy a indicar las cantidades de cada ingrediente, sin embargo, esto puede variar de acuerdo al gusto de cada persona.
400 gramos de cebollas (7 unidades aproximadamente).

400 gramos de papas.

250 gramos de plátano (1 unidad)

150 gramos de zanahoria (una unidad grande).

120 gramos de ajíes. Yo por lo general empleo 4 unidades por cada 250 gramos de granos, así que para cocinar un kilo, requiero 16 ajíes.

15 gramos de ajo o una cabeza entera.

Cilantro y cebollín al gusto. Yo sustituí estos ingredientes por dos cubos veganos, pero también añadí 10 gramos de ajo cebollino.

7 hojas de laurel seco.

2 cucharadas de alcaparras.

1 cucharada rasa de comino molido.

1 cucharada rasa de orégano molido.

Sal al gusto. Puedes añadir pimienta también.

2 cucharadas de maicena (disueltas en 200 ml de agua o caldo).

1 cucharada de vinagre blanco.

Aceite para freír (150 ml aproximadamente).

Olla grande, colador, tabla de picar, cuchillo, cucharón, etc.

---
THE PROCEDURE / EL PROCESO
---
To optimize the process and times, it is advisable to have all the measured ingredients and the utensils available. We begin by extracting the impurities in the grains (stones, sticks, damaged grains). As these grains go through a pre-cooking and rinsing process, they do not need to be washed before putting them on the fire (unless they are very dirty or full of dirt). We cover them with water and put them over high heat, until the grains soften slightly and the water turns dark, at which point we proceed to remove them from the heat, strain them and rinse them at least three times with clean water. This allows you to remove the characteristic bitter taste as much as possible.
---
Para optimizar el proceso y los tiempos, es recomendable tener todos los ingredientes medidos y los utensilios disponibles. Comenzamos extrayendo las impurezas en los granos (piedritas, palitos, granos dañados). Como estos granos llevan un proceso de precocción y enjuague, no requieren ser lavados antes de ponerlos al fuego, (a menos que estén muy sucios o llenos de tierra). Los cubrimos con agua y los ponemos a fuego alto, hasta que los granos se ablanden ligeramente y el agua oscurezca, momento en el cual procedemos a retirarlos del fuego, colarlos y enjuagarlos al menos tres veces, con agua limpia. Esto permite retirarles al máximo el característico sabor amargo.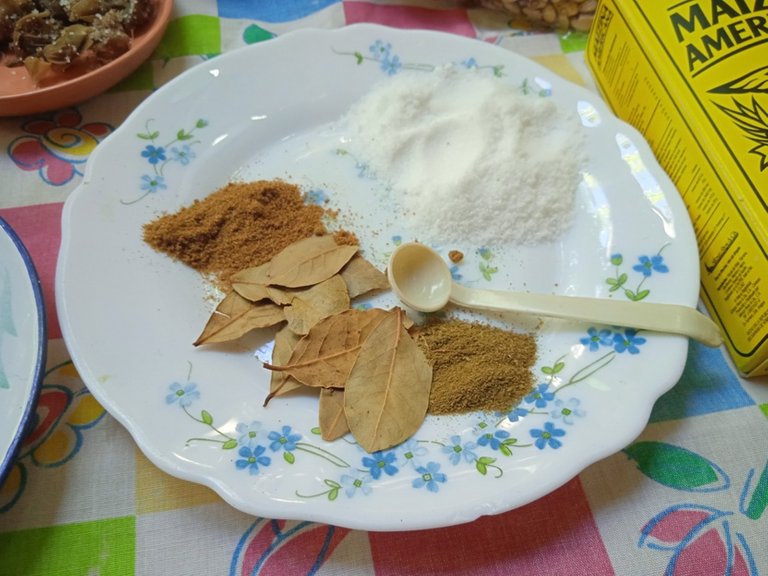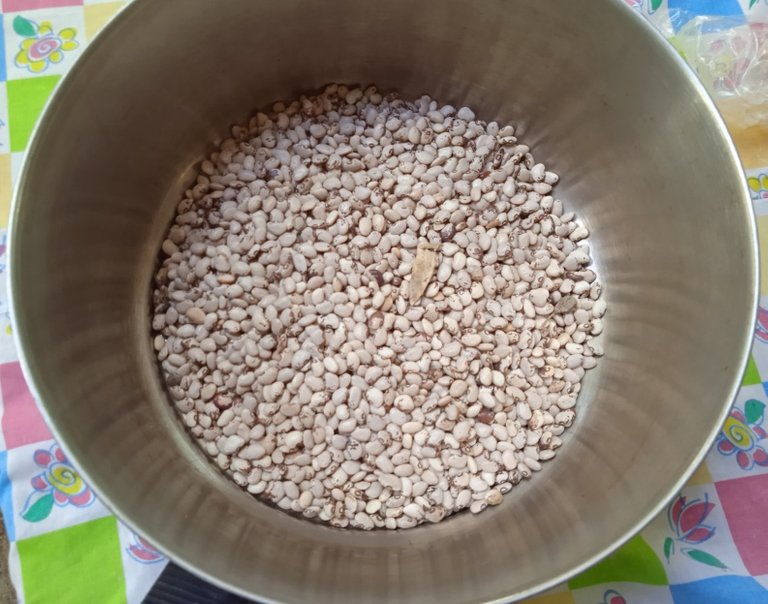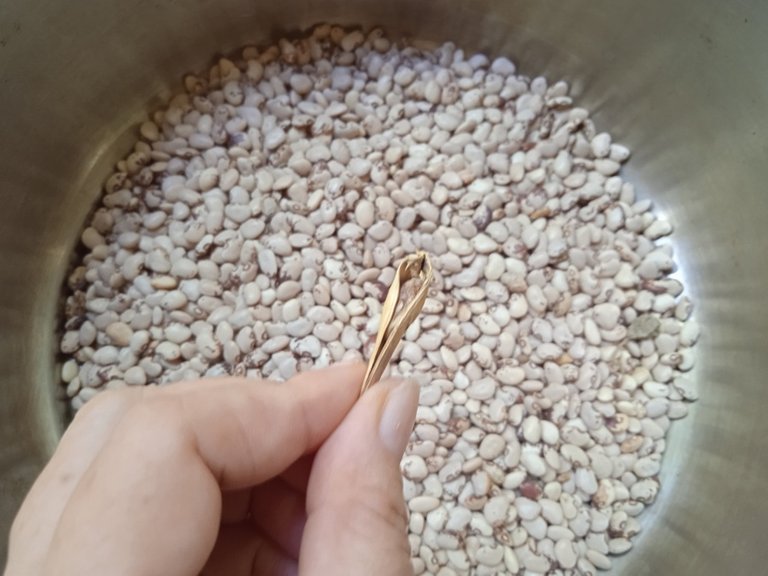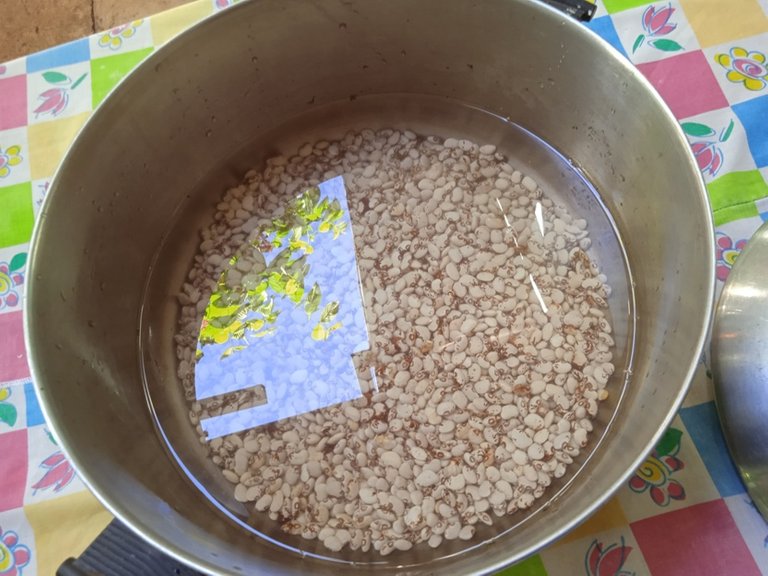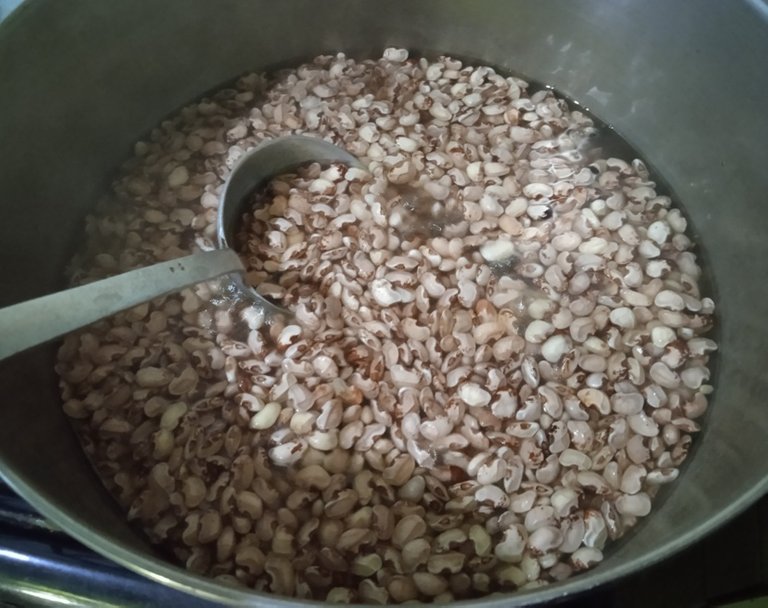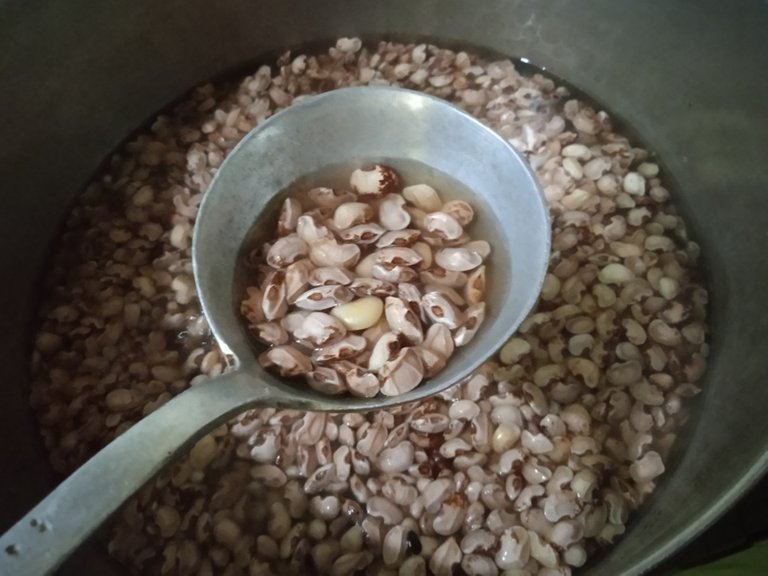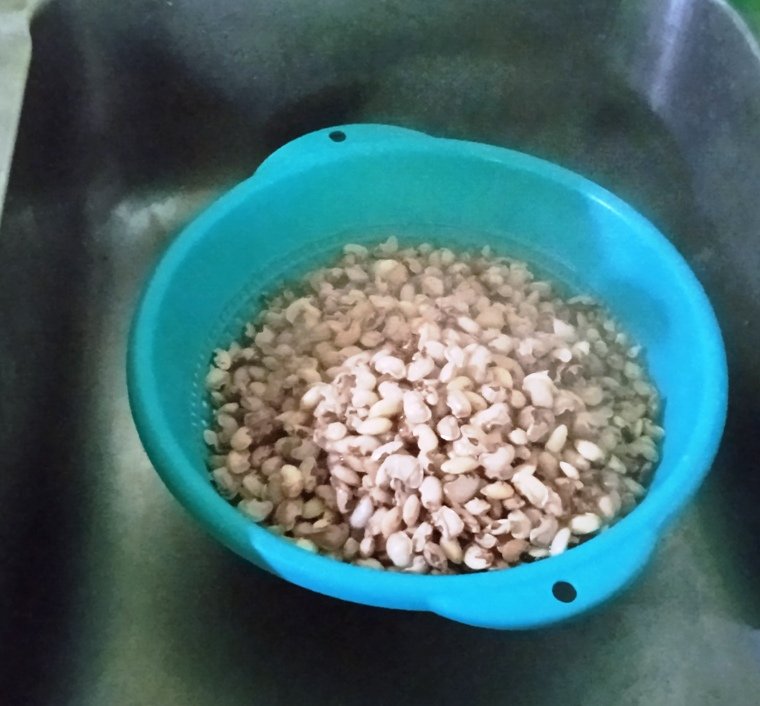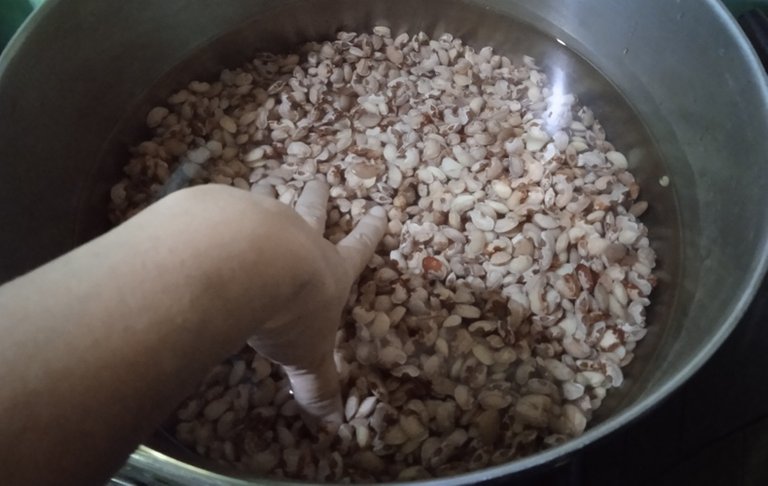 As you can see, my kitchen is very dark, the photos are not very sharp because of this
Como pueden ver, mi cocina es muy oscura, las fotos salen poco nítidas por ello

Cover the grains again with enough water, and bring them to cook over high heat. At this time, salt, cumin, oregano, bay leaf and vegan cubes can be added. Stir, cover and let cook.
---
Cubrimos los tapiramos nuevamente con suficiente agua, y los llevamos a cocción a fuego alto. En este momento pueden añadirse la sal, comino, orégano, laurel y los cubos veganos. Revolver, tapar y dejar cocer.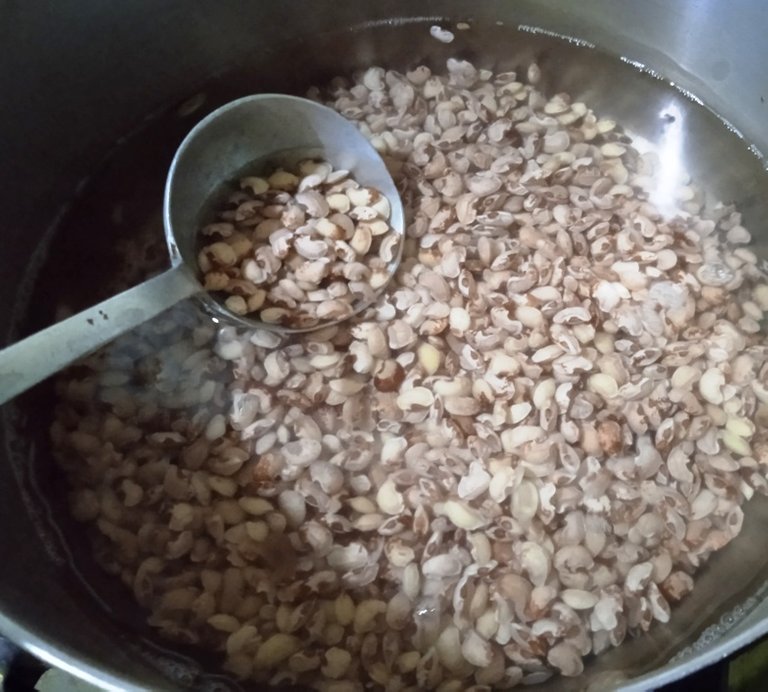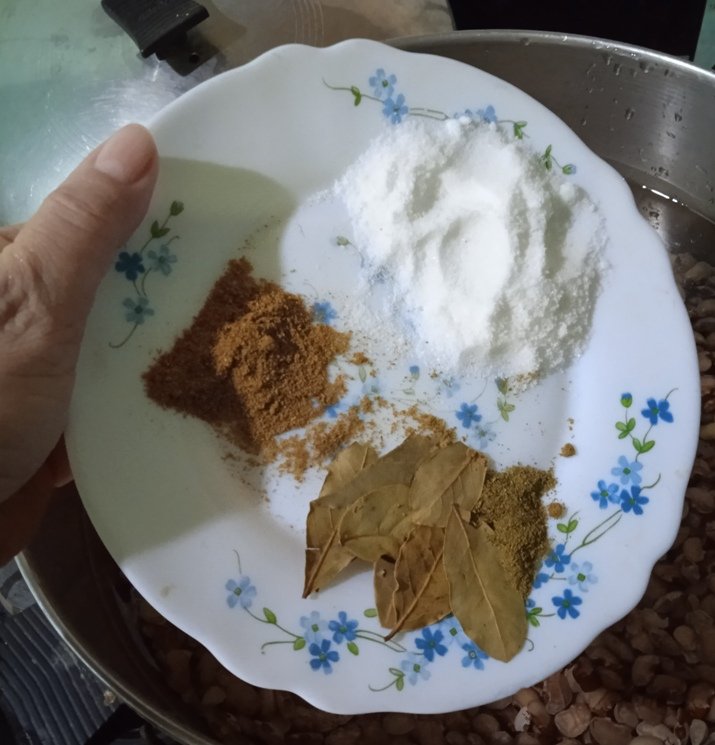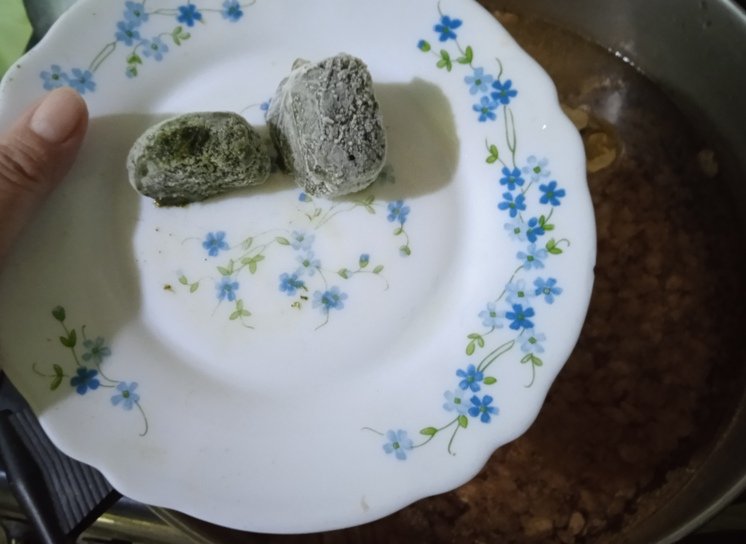 Meanwhile, chop the capers, chili peppers, onions, garlic and garlic chives into small squares and place them in a cauldron, frying pan or pot, and add oil. I used colored oil (whit achiote), because it gives a better appearance and flavor to the recipe. Next, the vinegar is added, which will allow a better flavor to be extracted from the ingredients. Bring this mixture to the fire and fry until the onion is transparent.
---
Mientras tanto picar las alcaparras, ajíes, cebollas, ajos y ajo cebolino, en cuadros pequeños y colocarlos en un caldero, sartén u olla, y añadir aceite. Yo usé aceite coloreado (onotado), porque da un mejor aspecto y sabor a la receta. Seguidamente se adiciona el vinagre, el cual permitirá extraer un mejor sabor al sofrito. Llevar esta mezcla al fuego y sofreír hasta que la cebolla transparente.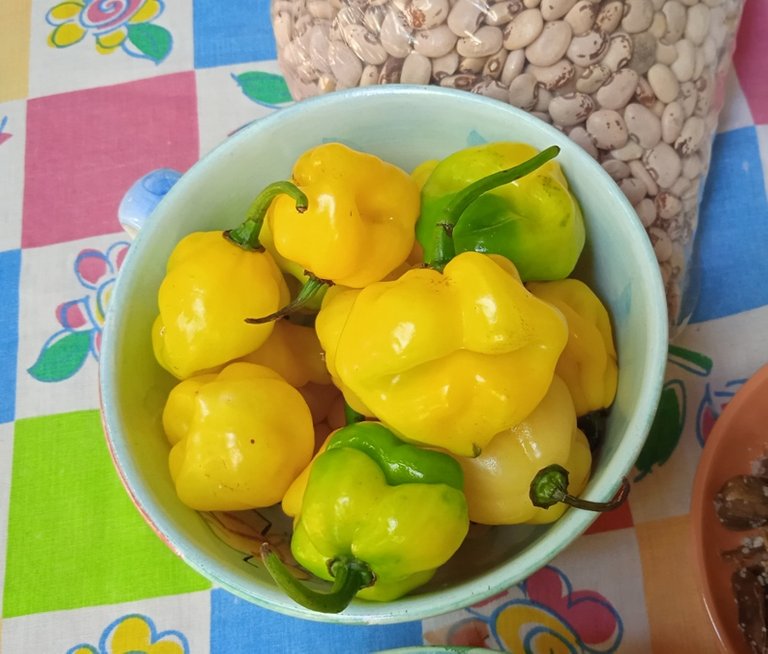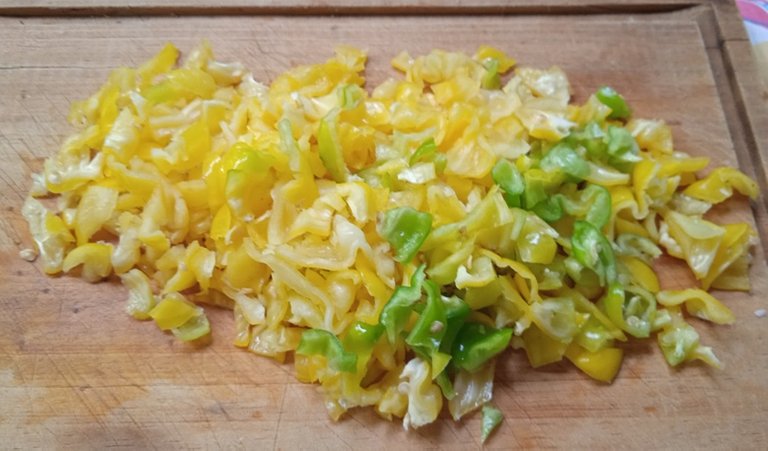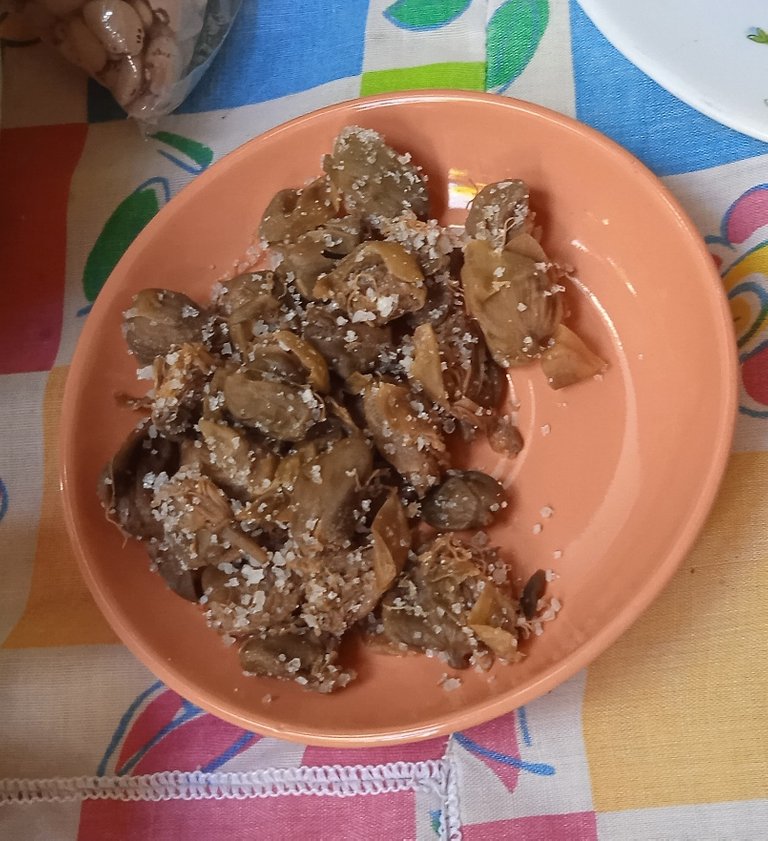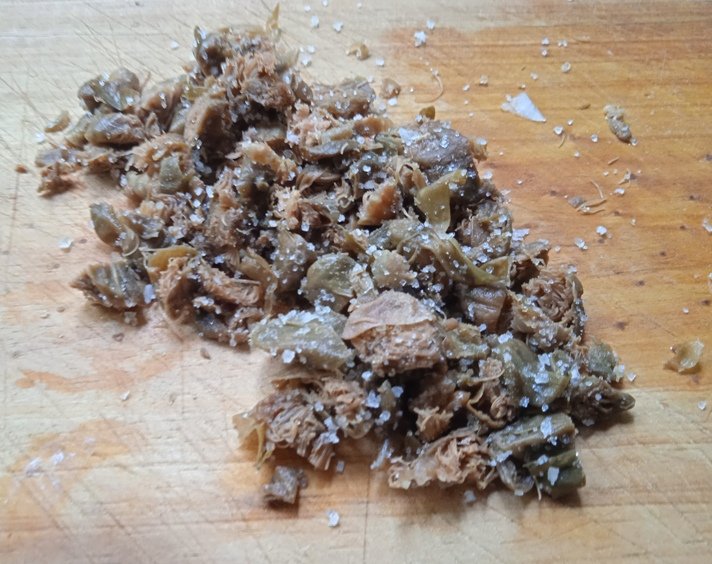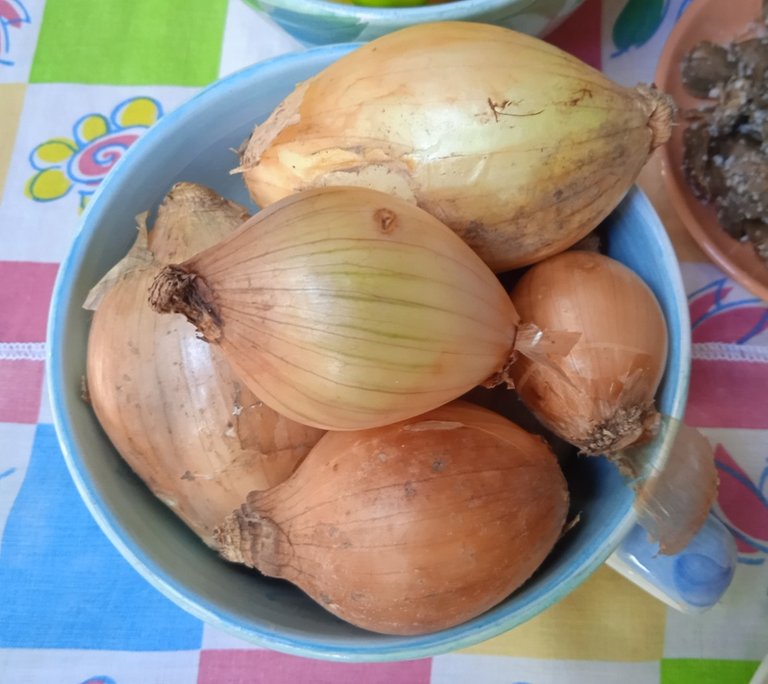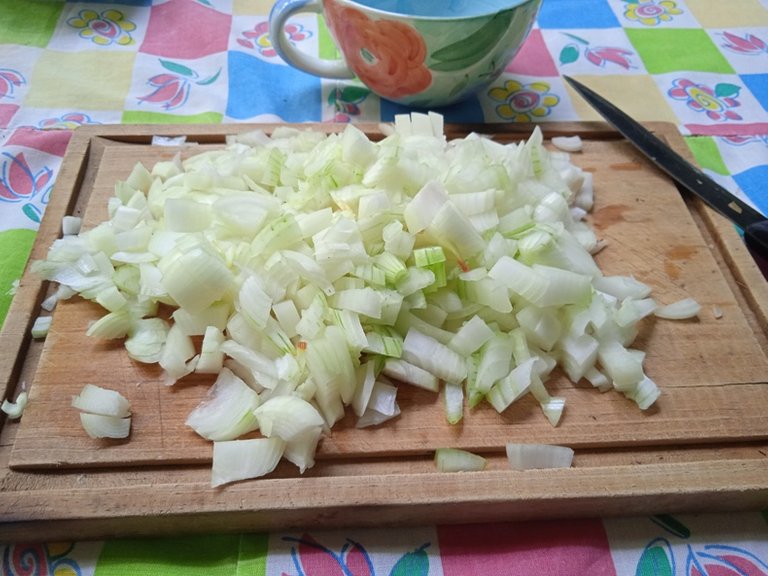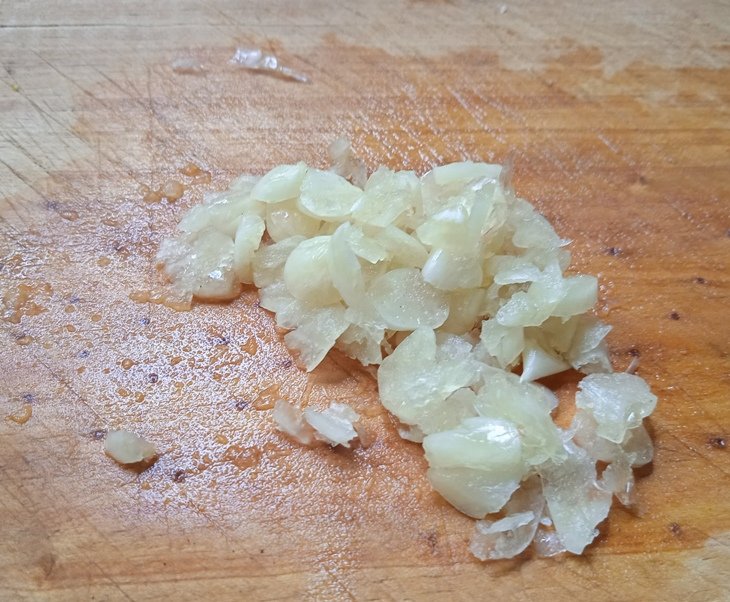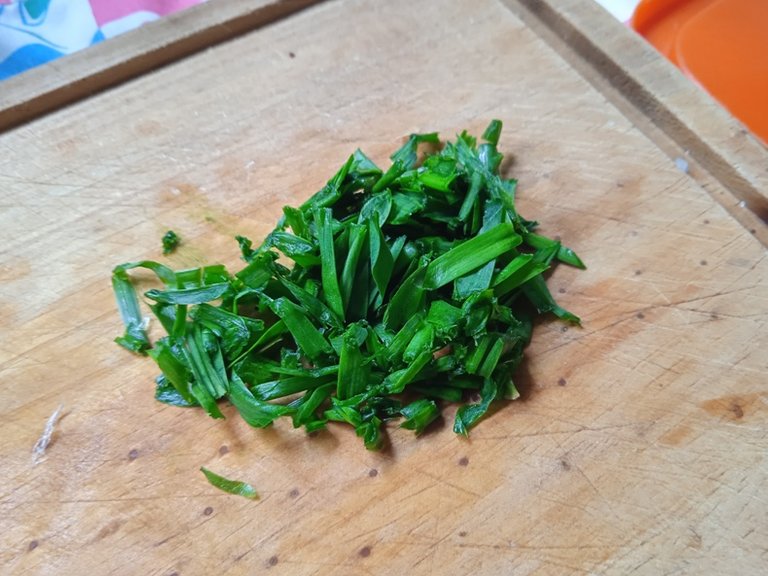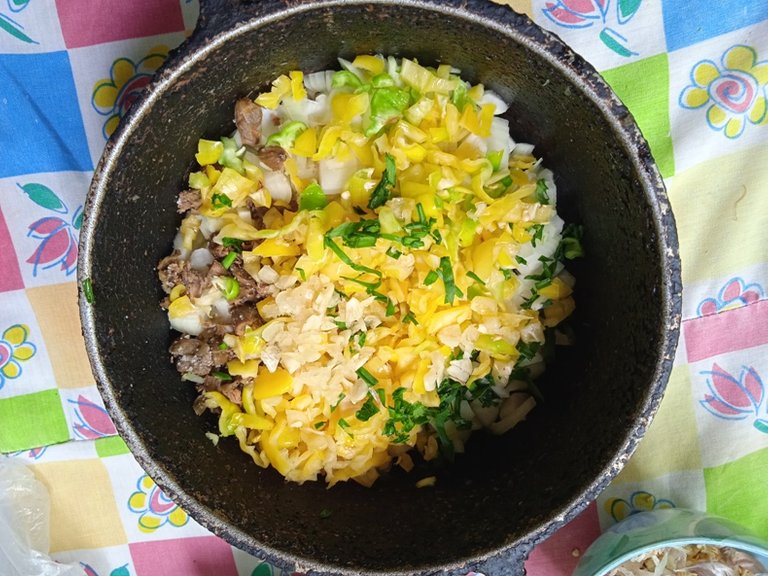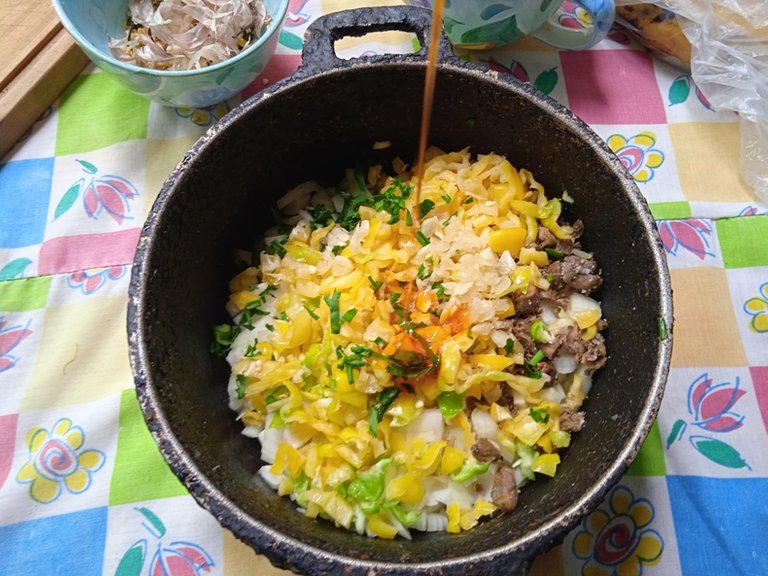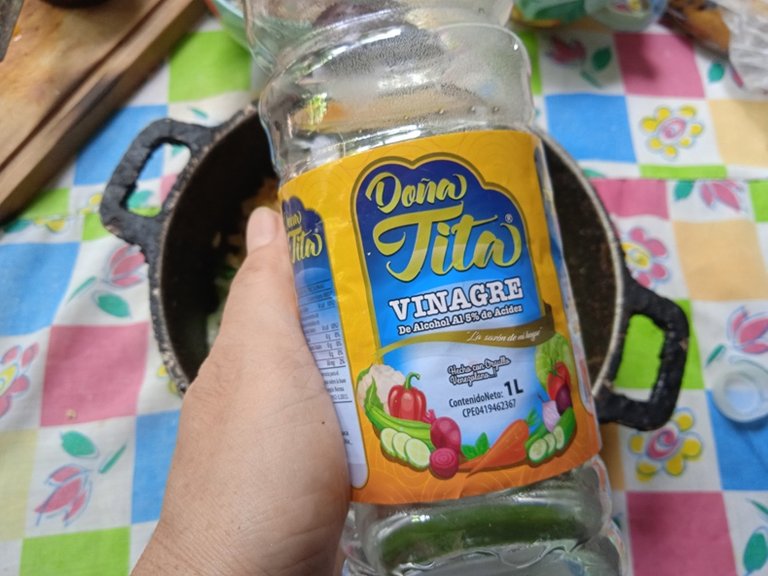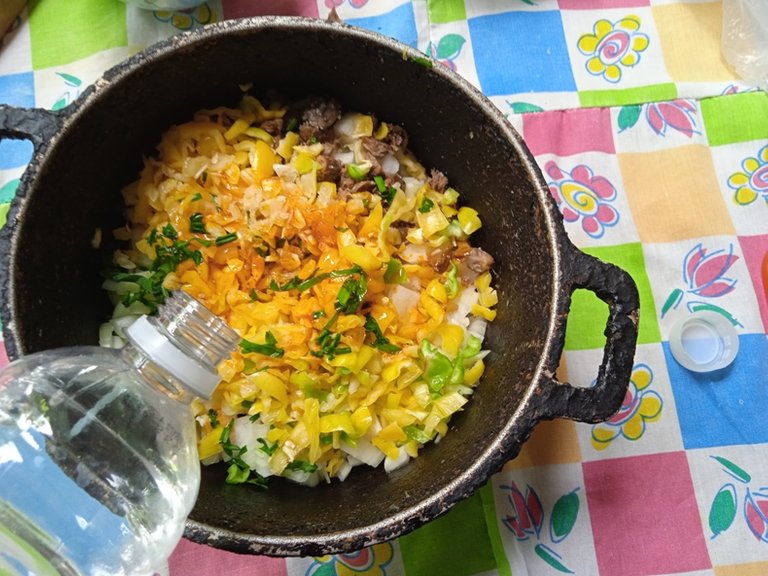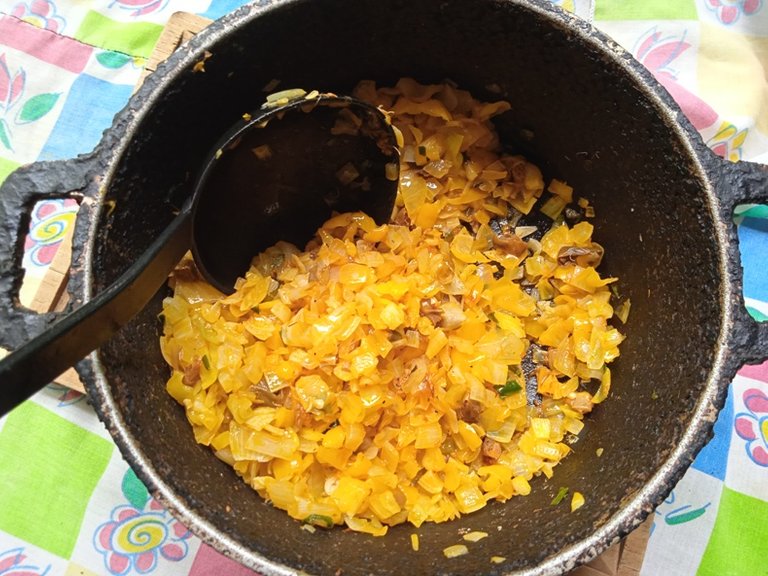 At this point the painted beans should be softer, so a portion is extracted (300 grams of grains and broth), which is added to the previously made stir-fried, and blended in a blender or processor. This mixture is added to the pot with the rest of the grains, which will add body and flavor to the dish. Cover and cook over medium-low heat for an hour or an hour and a half. Check the amount of liquid from time to time and add more water if necessary. Meanwhile, peel and dice the carrots, potatoes, and plantain. Reserve.
---
Ya en este punto deben estar más blandas las caraotas pintadas, por lo que se extrae una porción (300 gramos de granos y caldo), la cual se adiciona al sofrito hecho previamente, y se licúa en una licuadora o procesador. Esta mezcla adiciona a la olla con el resto de los granos, lo que le aportará cuerpo y sabor al plato. Tapar y dejar cocer a fuego medio-bajo por una hora u hora y media. Verificar la cantidad de líquido de vez en cuando y adicionar más agua de ser necesario. Mientras tanto, pelar y picar en cuadros las zanahorias, papas y plátano. Reservar.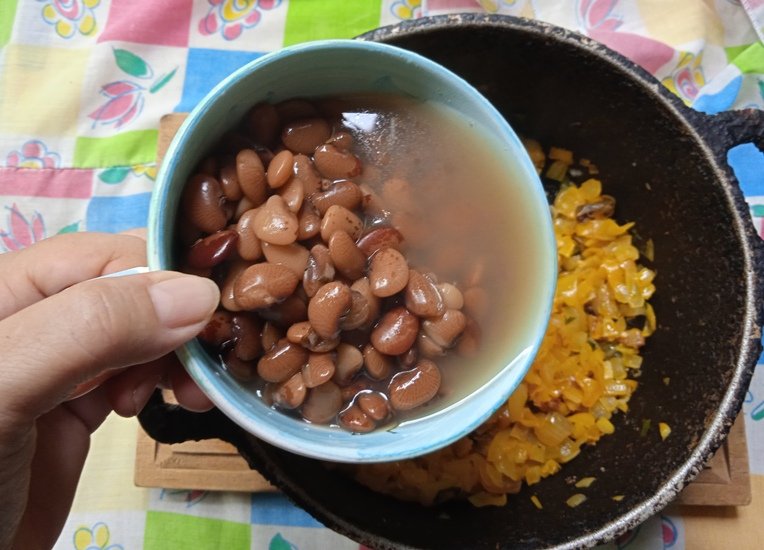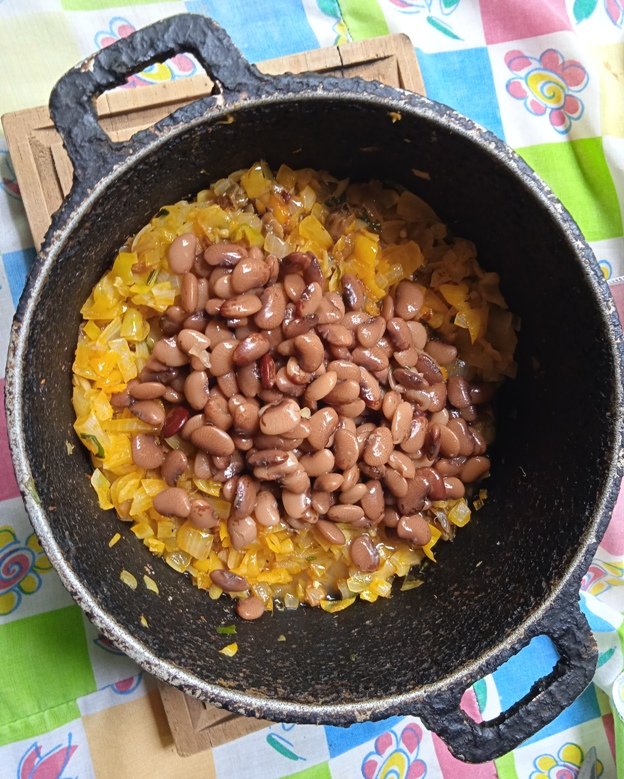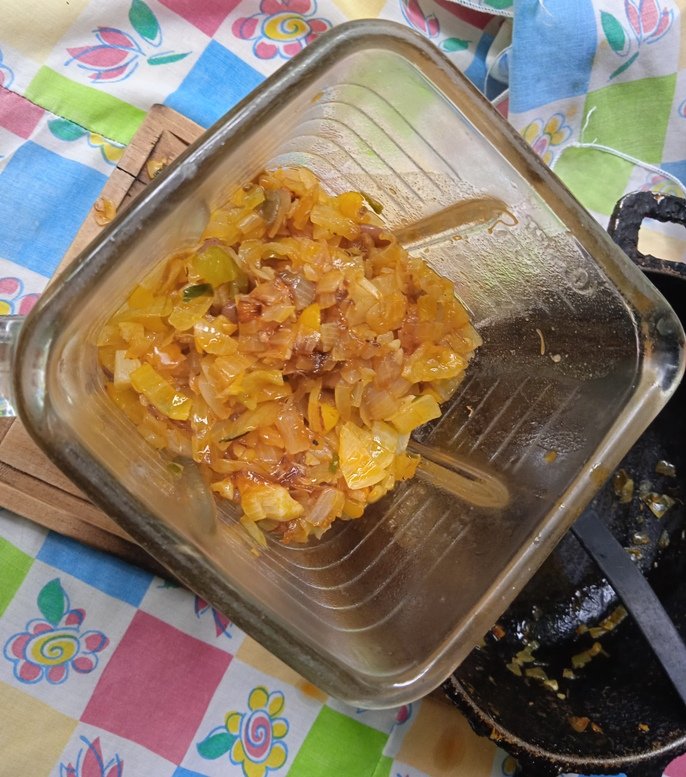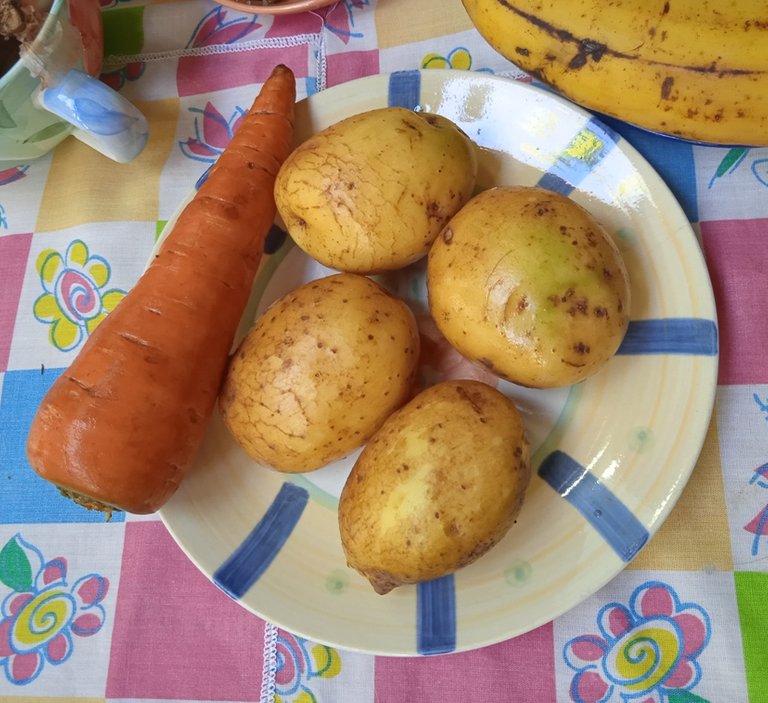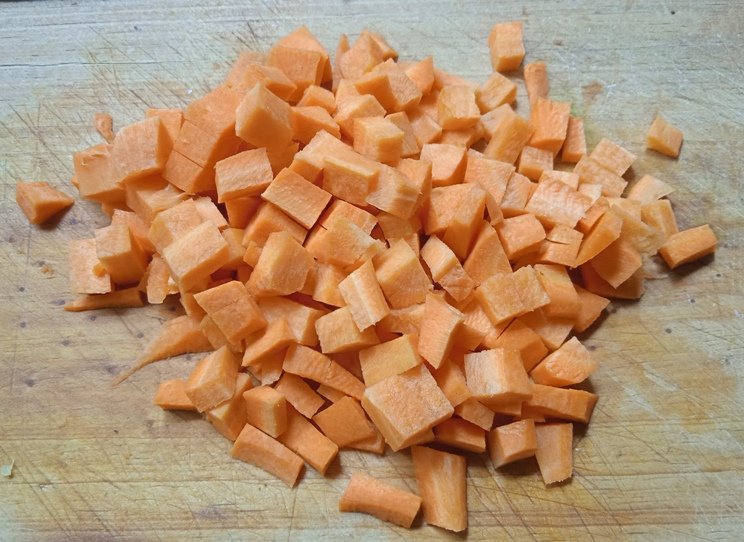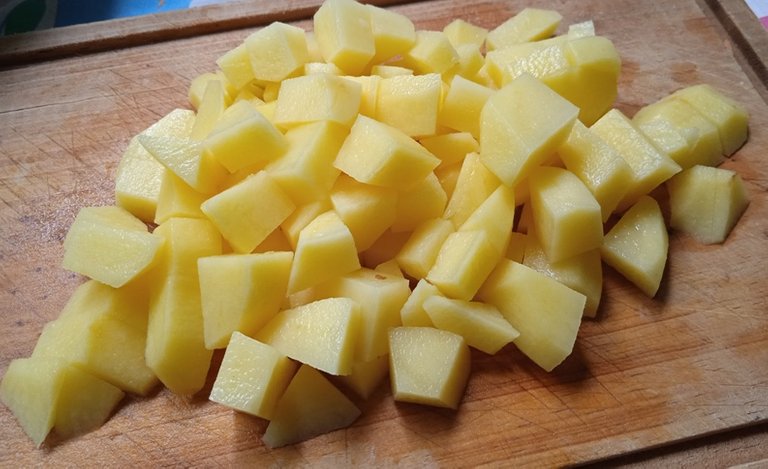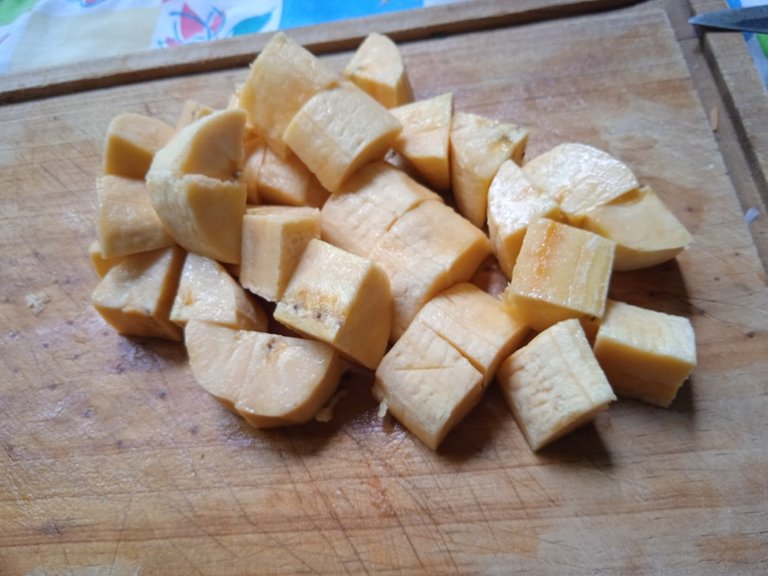 After the time, proceed to add to the preparation, the chopped legumes. First the carrot is incorporated, because it takes longer to cook. After 5 minutes, add the potatoes and banana. Also at this time, 100 ml of broth is removed, which can be mixed with 100 ml of water to cool it. Dissolve the cornstarch in this liquid. This mixture is then incorporated into the grains, stirring very well. Wait 10 minutes until the legumes and cornstarch are already cooked. Turn off and let the preparation rest. I recommend waiting until the next day to eat it, since it is a dish with different layers of flavor, it takes time for its flavors to settle and integrate properly.
---
Transcurrido el tiempo, se proceden a añadir a la preparación, las legumbres picadas. Primero se incorpora la zanahoria, porque tarda más en cocinarse. Transcurridos 5 minutos, se añaden las papas y el plátano. También en este momento, se extraen 100 ml de caldo, que se puede mezclar con 100 ml de agua para enfriarlo. Disolver en este líquido la maicena. Seguidamente se incorpora esta mezcla a los granos, removiendo muy bien. Esperar 10 minutos a que las legumbres y la maicena estén ya cocidas. Apagar y dejar que repose la preparación. Yo recomiendo esperar al día siguiente para comerla, ya que por ser un plato con diversas capas de sabor, requiere tiempo para que sus sabores se asienten y se integren adecuadamente.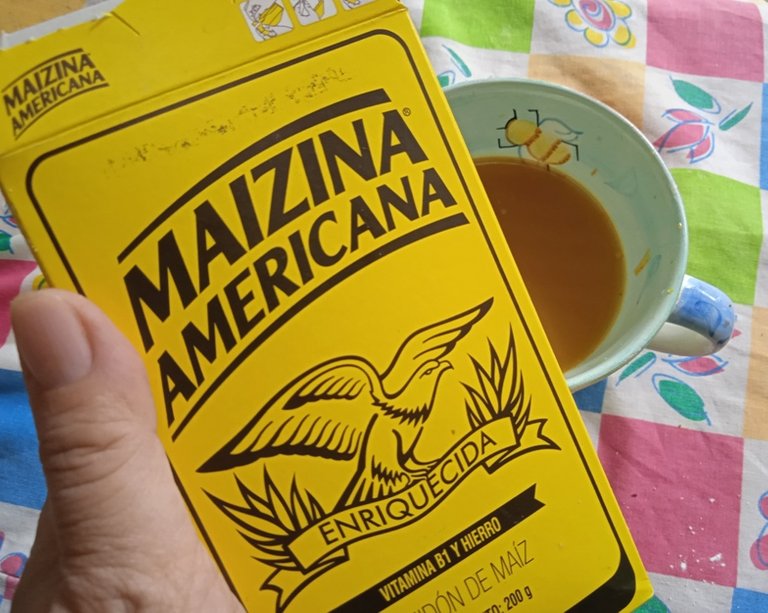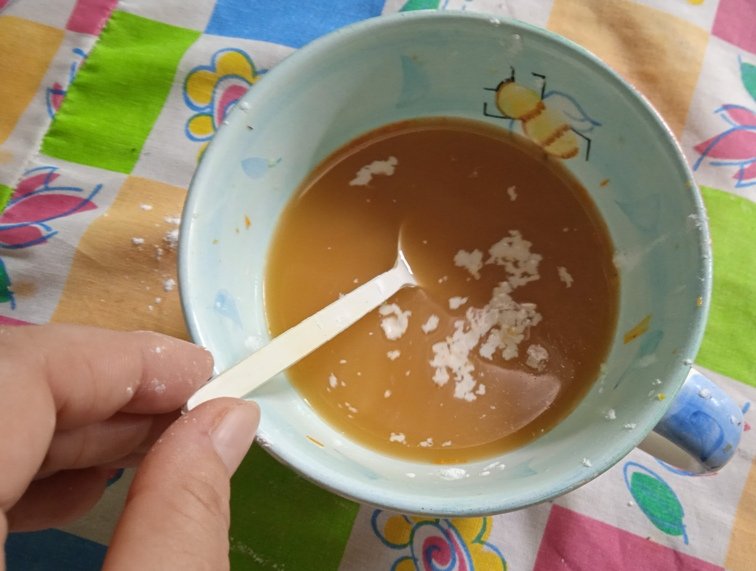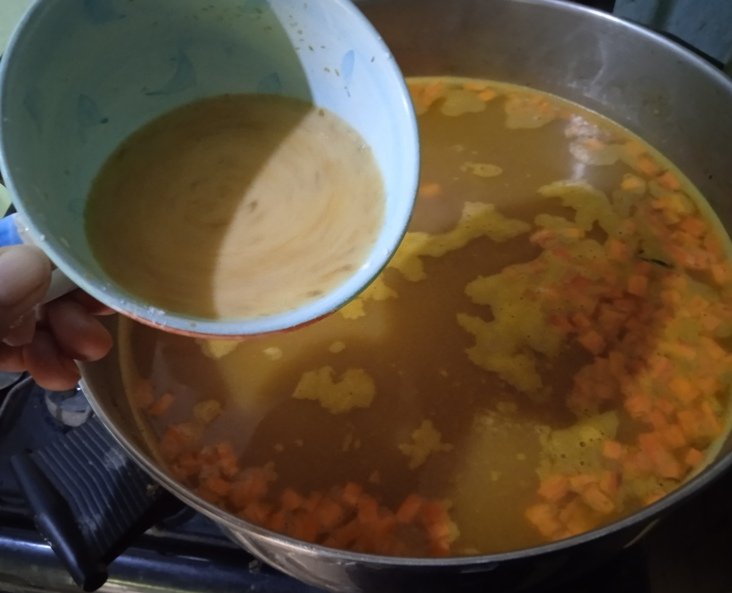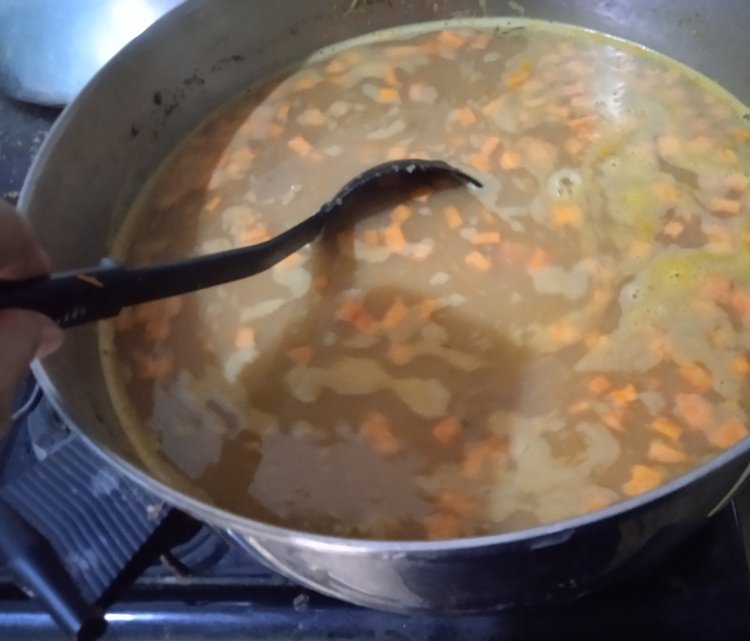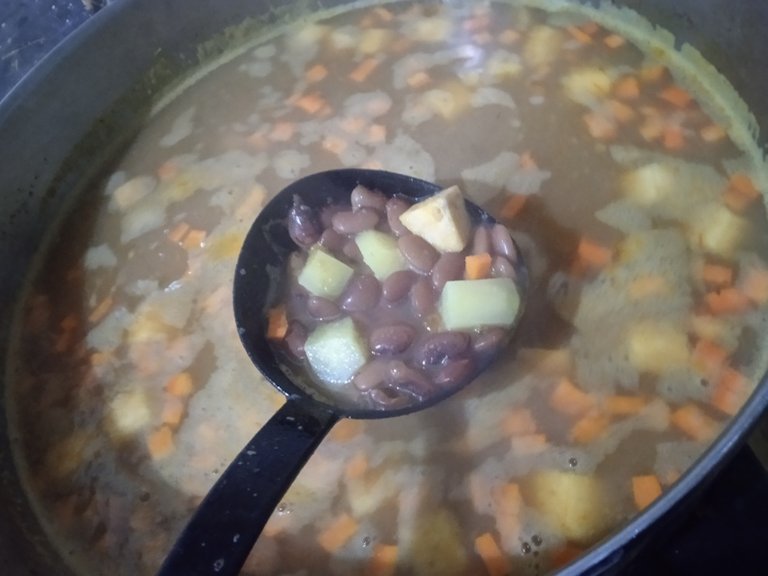 This dish can be eaten alone or accompanied. This time I ate them without outline, but they can be accompanied with white rice, bread, arepas, etc., it all depends on the taste of each person. These grains can be frozen to eat later. They can also be cooked longer until they get a thicker consistency. They will always be delicious. Bon Appetite!
---
Este plato puede comerse solo o acompañado. Yo en esta oportunidad las comí sin contorno, pero pueden acompañarse con arroz blanco, pan, arepas, etc., todo depende del gusto de cada quien. Estos granos pueden congelarse para comer después. También pueden cocinarse más tiempo hasta obtener una consistencia más densa. Siempre serán deliciosos. ¡Buen provecho!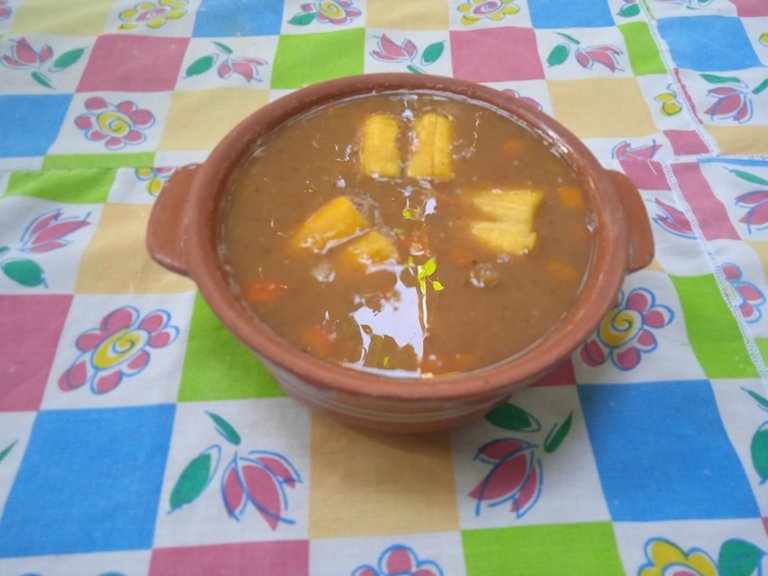 Here I end my post today, in which I have brought you a very common, but forceful recipe. I hope you are encouraged to continue making vegan recipes, which are delicious, nutritious and compassionate with Mother Earth.
Aquí termino mi post de hoy, en el cual les he traído una receta muy común, pero contundente. Espero que se animen a seguir haciendo recetas veganas, que son deliciosas, nutritivas y compasivas con la Madre Tierra.

Image sources
These photos are my own, and were taken with a Xiomi REDMI 8 A phone

The dividers used are courtesy of @eve66 who shares beautiful designs that embellish the layout of our post.

In case it is required to use the content or images of this post and of my other publications, I would appreciate if you could refer to my authorship (Fabiola Martínez) and cite the corresponding link. Thanks.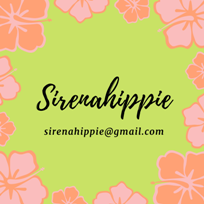 Delegations welcome!
Find our community here IICuration Trail