HOW TO FIGHT AGAINST THE WIND
As the last day of July quietly passes by and the quarantine protocols in our province have been downgraded back to GCQ (General Community Quarantine) along with 12 other areas, I feel a sense of foreboding that more people will get infected because of the lack of social distancing in public places.
I was saddened to see people neglecting basic health measures set by the government. These guidelines were created to help protect us from the virus. On the other hand, my trip to the city center and market earlier in the day contained a silver lining as most of the people I encountered wore face masks and face shields, which helped calm down my nerves.
Speaking with a saleslady at my favorite maruya(banana fritters) stand, she said that the number of people is the same as it was pre-covid-19. And except for the lower sales and strict enforcement of quarantine protocols in public areas, she observed that people were already going around and doing their business. Something that I fear will help the virus spread.
The government said that downgrading the quarantine status to GCQ is a preventive measure to quell the increase of infections, which is a welcome development, but it also has to take into account people's behavior and reaction to these measures.
Working to slow down the Coronavirus pandemic is like fighting against the wind. We cannot stop it using a gun or a knife. We must be creative in approach and use all the necessary resources to stop it until a vaccine comes out.
So, I think I've said enough about the current COVID-19 situation and go to the topic at hand, my #veganricebowl. :)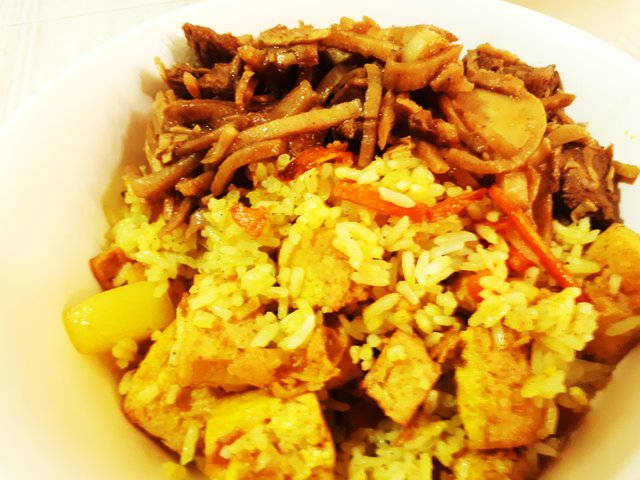 VEGAN RICE TOPPINGS
It's mid-afternoon, and I'm sipping my second cup of #coffee. I just finished my favorite fried rice toppings and am now resting my tummy; hoping that I don't get tummy ache for eating too much.
The culprit: curry rice topped with adobong labong. It's one of those dishes that takes me back to my childhood growing up in the province and just enjoying life without the typical adult responsibilities.
Part 1. Here is my version of curry rice.
CURRY RICE INGREDIENTS
| Ingredients | Photo |
| --- | --- |
| Steamed rice, potato, carrot, tofu, lauric oil, mushroom powder, curry powder, salt & pepper | |
PROCEDURE
| No. | Procedure | Photo |
| --- | --- | --- |
| 1 | Wash thoroughly and peel the skin of the potato, then cut to your desired size. | |
| 2 | Do the same with the carrot. | |
| 3 | Clean and cut the tofu into cubes. | |
| 4 | Heat two tablespoons of lauric oil in a wok and fry the tofu till crispy. Add in the potato afterwards; stir-fry till cooked. Add in the carrots last. | |
| 5 | Season with salt and pepper. You may add cayenne to add a little heat. Continue to stir till the vegetables are nicely cooked. | |
| 6 | Add in the rice and slowly stir into vegetables and tofu. | |
| 7 | Season with salt and pepper, curry powder and mushroom powder. Serve hot. | |
My simplified curry rice without the other Indian spices was nice. It did lack that kick that I enjoy tasting when I eat out at #LittleIndia, my favorite Indian vegetarian restaurant in Quezon City.
Part 2. For the toppings, I cooked: ADOBONG LABONG!
In the local language, we call bamboo shoots Labong. These are 'baby' bamboo just starting to grow so it has a nice sweet and crisp texture. It contains plenty of vitamins and minerals, which is an added bonus to this specialty food. Raw bamboo shoots contain toxins that can be easily removed by thoroughly cooking or boiling prior to using it for the dish you are preparing.
ADOBONG LABONG INGREDIENTS
| Ingredients | Photo |
| --- | --- |
| Labong (bamboo shoots), Meat magic(meat substitute), lauric oil, salt and pepper, paprika, ginger, bay leaves, curry powder, cayenne pepper, mushroom powder. | |
PROCEDURE
| No. | Procedure | Photo |
| --- | --- | --- |
| 1 | Rehydrate a few pieces of meat magic | |
| 2 | Marinate meat magic. Season with salt and pepper, cayenne, curry powder, soy sauce and vinegar. Add in the bay leaf and put in the refrigerator for at least 10 minutes. | |
| 3 | Wash and cut the bamboo shoots. Set aside. | |
| 4 | Bring out the meat magic from the refrigerator. Fry in 3 tablespoons of oil. | |
| 5 | Add in sliced ginger. | |
| 6 | Put in the bamboo shoots and stir in slowly. | |
| 7 | Cover and let cook for 15 minutes. | |
| 8 | Add in the marinade and cook in low fire for another 5 minutes. | |
| 9 | Add all purpose flour dissolved in 1/2 cup of cold water to thicken the sauce. | |
| 10 | Season with salt and pepper and mushroom powder. Add in a dash of cayenne just to feel the heat of the dish. | |
And here it is again, my version of a vegan curry rice topped with adobong labong. Serve immediately for maximum #deliciousness!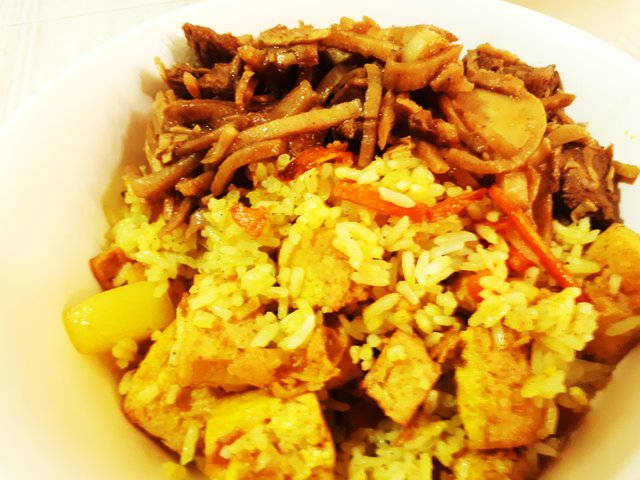 CONCLUSION
It was a normal everyday thing for me to eat bamboo shoots when I was young. Having grown up in a bamboo growing region south of Manila, this wasn't special in any way because we always had it in abundance; until it wasn't available to me when I moved to the capital city of Manila.
I love eating labong, especially when my mom cooked up a ginataan(coconut milk), or added saluyot(jute leaves) in her own version of dinengdeng(fermented fish/shrimp based soup and vegetables) or just adding it to pork dinuguan, back when I wasn't a vegetarian yet.
Cooking up vegetarian or veganized versions of food that I grew up loving is one of my passions in life. It makes the passing of time easier during these troubled times.
It's a special treat for me to cook a dish that my mom loved to prepare. In a way, it's an homage to all the moms who always happily prepared a delicious and nutritious meal for their family.
So, shout out to all the mothers out there who nourished us with hearty meals, genuine care and affection.
That's it for now. Keep safe and healthy everyone. Cheers!
---