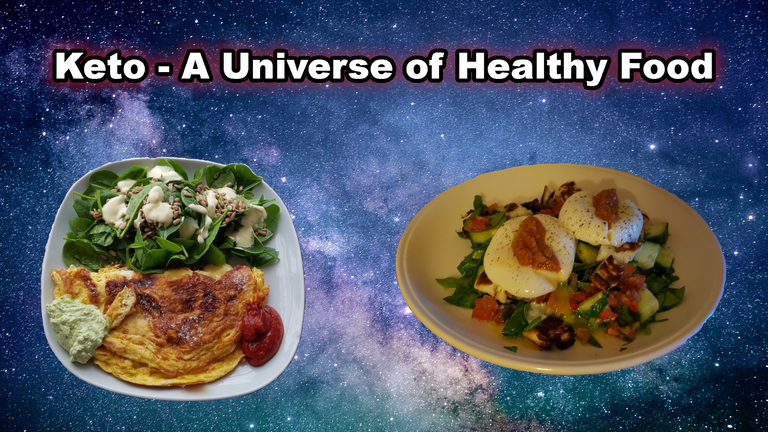 is literally 90% of what I've been eating for the past 21 days!
To follow the ketogenic diet is not an easy task, you have to like eggs! And fish! And be willing to throw all conventional wisdom about fat being bad out of the window. Seriously, I've been consuming butter, cream, olive oil, avocados and coconut oil by the bucket load! God knows how vegans follow this diet successfully.
But lets rewind a little.

What is the ketogenic diet?
A keto, or ketogenic, diet is a low-carb, moderate protein, high-fat diet that puts your body into a state of ketosis. During
ketosis,
your bodies metabolism changes to burn fat as it's primary source of energy, rather than glucose from carbohydrates. Many studies show that the keto diet provides benefits for weight loss, health, and performance.
1
2
3
I haven't had a chance to weigh myself yet as I don't own a set of scales. Lol, lame I know... but I didn't start this diet only to lose weight. I undertook the keto diet, along with giving up alcohol and caffeine, as part of a drive to heal chronic illness. There is a whole method to my ketogenic madness that you can read about in this post:
Healing Holistically - Lets Get Ketogenic
Before taking up this self-improvement challenge I was eating a diet with around a 20/30/50 % protein/fat/carb ratio, and was two stone (28 pounds or 448 ounces) over weight. This has effected my life in a number of ways, but most importantly has contributed to a liver disease that has undoubtedly exacerbated my other chronic illnesses. But I'm on a mission to heal... naturally 🙂
What do my daily eating habits look like now?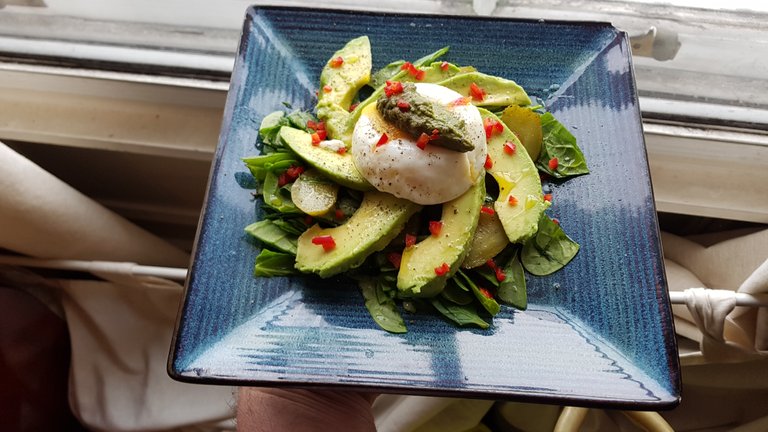 Avocado, Spinach, Pickle and a Poached Egg with Home Made Pesto & Chilli.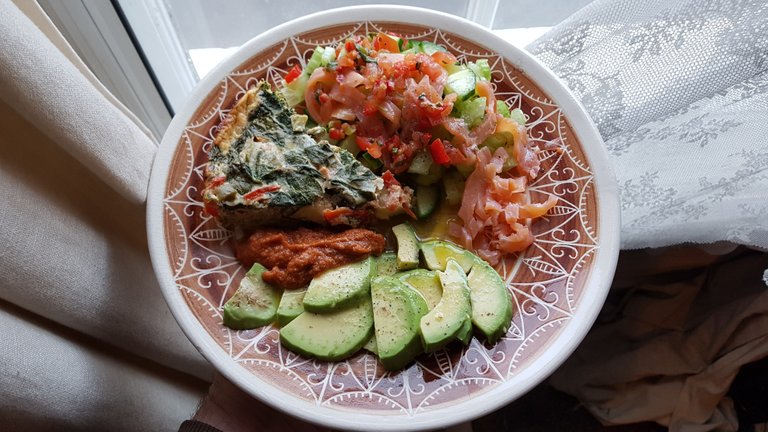 Frittata with Home Made ketchup, Avocado and Mixed Salad with Smoked Salmon and Salsa.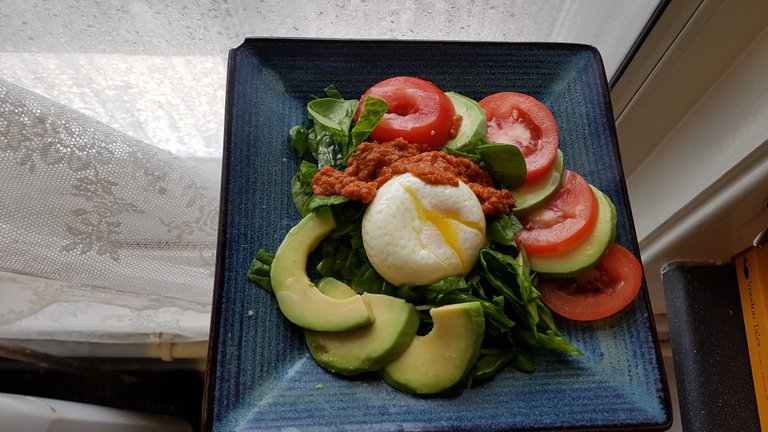 Mixed Salad of Avocado, Tomato and Spinach with Poached Egg and Home Made Ketchup.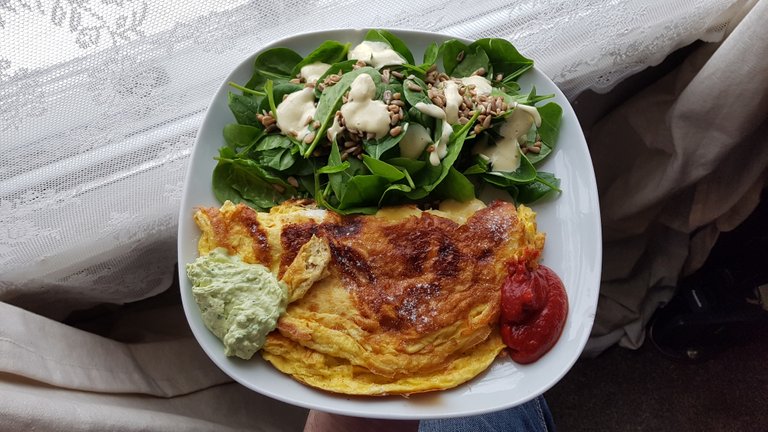 Cheese Omelette, with Ketchup and Basil Mascarpone + Spinach Salad with Home Made Mayo and Sunflower Seeds.
Tools to Maintain Ketosis
An important practice is to track your calories and nutritional intake (macros) when you begin the keto diet.
I found a handy (FREE) calorie tracking website called
fatsecret.com
where you can keep a daily food diary, adding amounts and ingredients that go into your meals.
Why is this important?
Because it is imperative that you stick to the proportions of fat/protein/carbohydrates to maintain the state of ketosis. My plan is to stick roughly to 70% fat, 20% protein and 10% carbohydrates.
Tracking your meals daily is an easy way to make sure that you don't go off track and waste all that time, and effort, by dropping out of ketosis.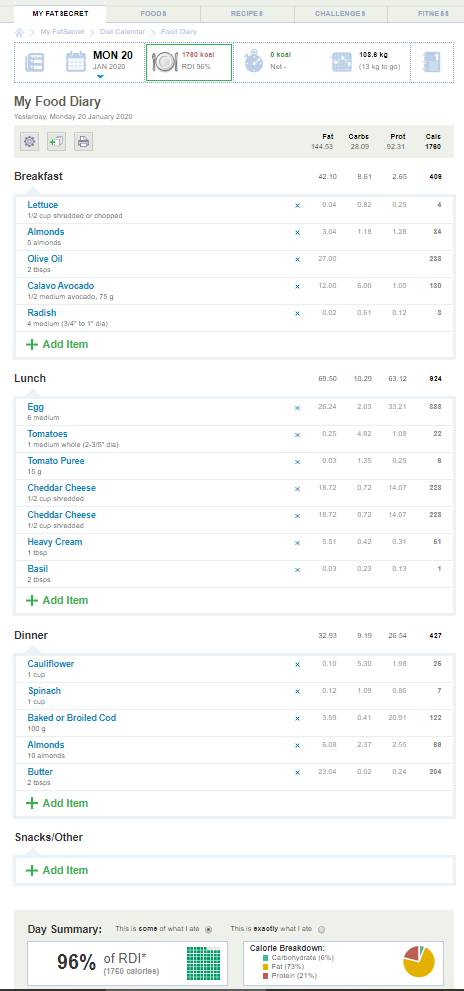 This is my full meal plan from yesterday.
As you can see, it makes hitting your macro targets easy, and allows for balancing between meals if you eat too much of one food group at breakfast.
I hope that this article has provided some resources for those considering the keto diet as a means to lose weight or help with health in general.
Thanks for reading 🌿
---
Sources of research:
https://www.ncbi.nlm.nih.gov/pubmed/26768850
https://www.nejm.org/doi/full/10.1056/NEJMoa0708681
https://annals.org/aim/article-abstract/1900694/effects-low-carbohydrate-low-fat-diets-randomized-trial
https://www.dietdoctor.com/low-carb/ketosis
---
💓If You Have Found Value From this Post and Want to Tip, Crypto Donations Are Welcomed
💎►Donate Ether and Ethereum-Based Tokens: 0x32321615174AF3Da6074Cf79DED8269cA7a8eB24
💎►Donate Bitcoin: 169qZrPJgMNE8GXgMQy7rtJfnxPDh9PZjV
💎►Donate Bitcoin Cash: qzt7c0czw0q988h93jvcz2rq5gy0s3h9pg2pk700ev
💎►Donate Litecoin: Lfsnz3pbT5V9N6WWGRaBsgKs9EvFeqzcPm
💎►Donate Dash: XoY1XqPUvmdM26p4jKp8nKfpnECspVHmRR
💎►Donate Monero: 49PovXGcM9Y7JYeRJ35W9xZGrdivvLaMbVtGc3WDv6amCm5wqA854SvJNWxaEqjTz18K5YVPj5D6619C3bvNHsrG7oD1whb
💎►Donate Using Paypal: https://paypal.me/rj2468