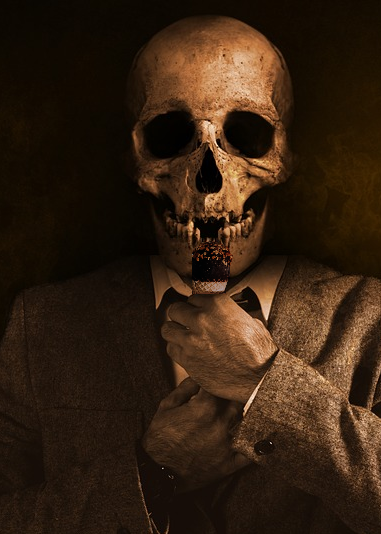 Back in the day when I was reading the second book from Harry Potter, it's wisdom enlightened me: apparently, eating chocolate makes you feel better. Not just when you're sad, but also when you're confused or feeling down. Or at least, that's what Harry's teacher told him. "Eat this, it'll make you feel better".
Years later (since I didn't bother looking it up at the time), the internet confirmed to me it was true. Chocolate helps your brain release endorphine hormones, which help us calm down. Well, it's all about the sugar. Processed sugar, specifically. It has an analgesic effect.
It's no wonder sweets are omnipresent in our everyday lives, specially in the big cities. It helps people get through one more stressful day, just like alcohol or smoking. Although at the same cost as the other options: disease.
Cirrhosis, diabetes, lung cancer. Who would have thought sugar can lead to ailments as deadly as cancer? Diabetes can kill you too. If it doesn't, you sure as hell won't have that much quality left in your life anyway. Any of these options lead to the 30-yo worst friend... Medications.
Industries are entwined. During all of your life, you're other people's slave.
You work doing something for a CEO who probably couldn't do anything himself. Even though you're as entitled as a rich kid is to all of the quality and entertainment life has to offer, too many people have it better than you.
But this system is not a problem if you play your cards right. You can escape from it right under their noses. Even though you're taught to live by "golden rule", money is not all-powerful. In fact, having too much money without the proper people skills would make them turn against you.
That's when a human's real strength can shine: we are not alone. It might feel so, specially in this socially disconnected era of digital "communities", but we can find support in others.
You can receive money as payment for products of your knowledge, but you can also receive other products directly from manufacturers, other people like yourself. By making bonds, or "expanding your personal network", you create your own system. You create more freedom within your life.
---
Start playing Splinterlands | Buy games, pay with steem on DGameShop