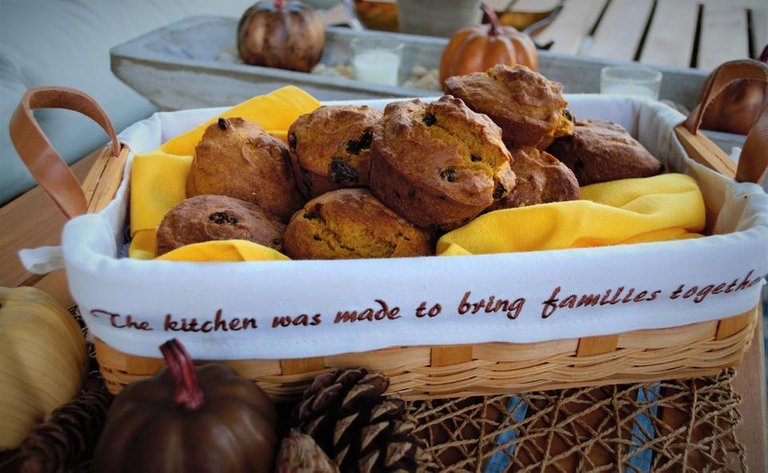 ---
Today is Thanksgiving Day!
---
A day typically spent with friends and family celebrating a holiday established many years ago. A day established to give thanks to our rich harvests and blessings. Over the past 43 years most of our holiday celebrations have been held in our home. Now as our children have married and established homes and families of their own, the celebrations are shifting to be shared in their homes.
---
As I baked fresh pumpkin bread and muffins…
to share with my daughters it made me think about how my family celebrated our holidays. Pumpkin bread was always part of Thanksgiving dinner. My mother had a fabulous bread recipe which we would bake and then share with all of our neighbors. We would stop at house after house on the way to our grandparents, dropping off the brightly packaged loaves of bread.
I always thought it was pretty exciting!
---
My mother's recipe has been massaged just a bit…
to make them just a bit more healthy! Almond flour (1 ¾ cups), Tapioca starch (1/4 cup) and Coconut flour (1 tbsp.) in place of All Purpose flour; combined with Baking soda (1 tsp), Pumpkin pie spice (1 tbsp.), Cinnamon (1/2 tsp) and just a pinch of salt. Stirred with 3 flax or 3 regular eggs, Pumpkin (1 ¼ cup), full-fat coconut milk (1/3 cup fat only) and Vanilla (1 tsp). No need to use white sugar, I substituted with Organic Maple Syrup (1/3 cup). Of course we always included raisins (1/3 cup) and chopped walnuts (1/3 cup). I'm sure my mom would approve. She was always my biggest fan!
I loved helping her make bread…
working side by side in the kitchen. She saved empty coffee cans all year long, perfect molds to make her breads. The kitchen; as you may imagine is my favorite place to be. A place where there was no need to talk, just enjoying one another and creating delicious treats. Today final preparations were in order, something perfect for "little hands". Baked at 350 degrees for about 23 minutes, the house smelled just like the holidays. We're ready to go!
When we arrived in Denver the snow began…
accumulating about 16 inches of snow within 8 hours! Something hard to believe when you're just 30" tall!
Needless to say, he was a bit tentative.
Of course a warm cup of chocolate…
and a muffin would be nice after that cold outing.
As they say, home is where the heart is!
---
So, as I think about what future may bring, I'm excited about our holidays together. Wherever we are sharing wonderful family time, baking and cooking together in the kitchen will be such a blessing. Family traditions massaged and refined with each generation. Made with love, as always!
---
photo thanks to pixabay
And as always, blessings to you all!
---
---
---