Hello community of @steemit is a pleasure to be with you again and bring you another very simple and exquisite recipe, for everyone in general.
This dish consists of a portion of gratin vegetables, beef (Solomo de cueritos) with onions and toast.
As we already know, vegetables are very nutritious foods and provide our organism with vitamins, minerals and fibre. They are beneficial foods for health that should not be missing from our meals. Many times we find it difficult to work with them due to lack of information about them, but there are infinite ways to make them, for the youngest there are also unique techniques for their good consumption.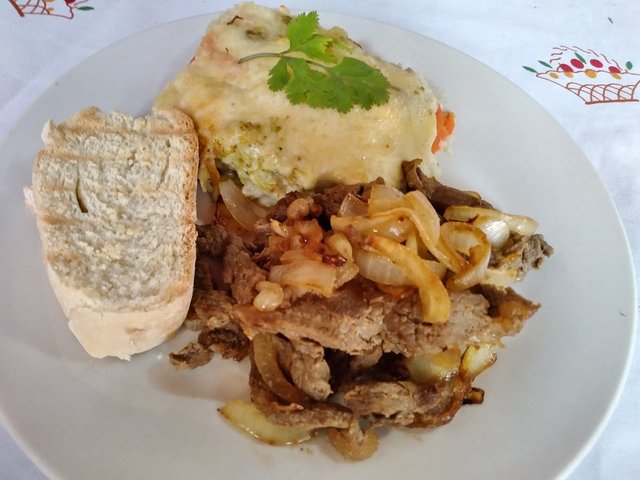 Vegetables au gratin, the preparation: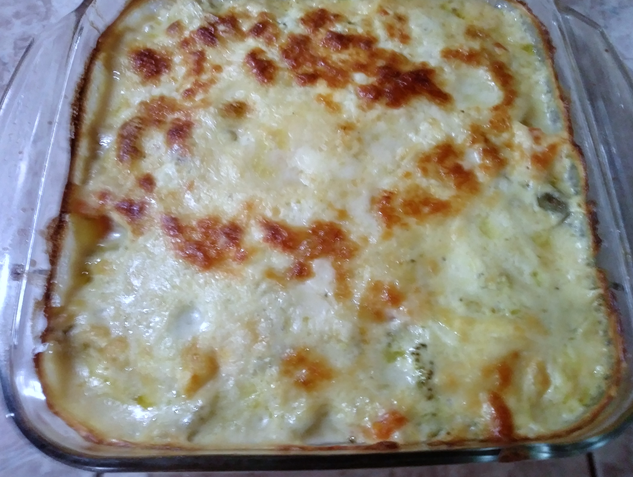 Preparation
First we wash the vegetables. The broccoli sticks in small pieces that are not thick, the eggplants, the zucchini and the carrot.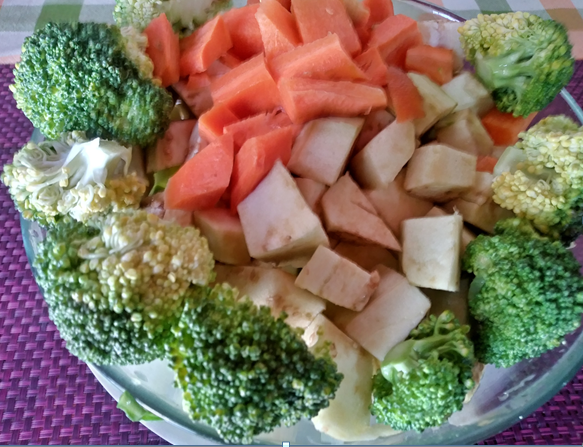 Then they're peeled and diced and steamed

We take the vegetables out when they're ready.

Now let's make a light béchamel


Sieve the flour with a sieve.

In a pot put half a litre of milk for 4-5 minutes without boiling

In another pot put the butter and heat it over low heat until it melts, it has to turn to a hazelnut color.

Then we add the sifted flour, add the nutmeg, salt and pepper.

We let it mix until they form small masses with a golden color.

The béchamel cream is ready.

In a baking dish we'll put a layer of vegetables, then add béchamel cream. Again another layer of vegetables. Then we add again bechamel cream and we add the mozzarella cheese on top, so that it is gratinated.

Bake at 180 degrees for 30 minutes.


Flesh (Solomo de Cuerito)
Chop it up and season it with salt and vinegar , in a hot frying pan add a little oil and then add the meat already seasoned, stir it with a spoon and then add the onion and cook it.
Ready to taste this delicious dish
Good appetite!
---
Photos of my property taken by:
Camera: Cell phone LG K20 Plus 4g Lte
Rear: 13 Mpx
Location: Venezuela

Greetings friend @qurator if you want to participate click here:
https://steemit.com/hive-102880/@qurator/qurator-s-tasty-tuesday-110-or-8-days-left-for-the-special-monthly-cook-off