Chilaquiles Classic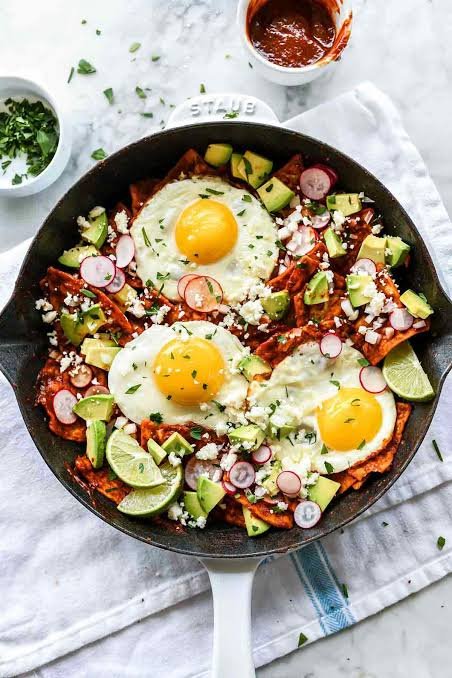 Chilaquiles are a Mexican classic. It has three of the most iconic ingredients: corn, chiles and herbs. There are a wide variety of chilaquiles styles. In fact, I think I have never tasted an identical version anywhere, even if I make them myself at home, every preparation is slightly different because the use of fresh ingredients, but the principle of how the dish works remains the same.
If you've never had chilaquiles before they seem deceptively simple to make, although significant details in the preparation make a very big difference to the final result. Sad to say, the truth is that Chilaquiles are commonly poorly made and misunderstood.
What is this Chilaquiles Manifesto all about?…
~Manifesto//: a written statement that describes the policies, goals, and opinions of a person or group~
~Chilaquil//: come from the word "Chilaquiltl" in Nahuatlt. It is of what Mexican historians refer as an "aztequismo" which are words that have their roots in Nahuatl and are used today in a modernized way. Chilaquilitl comes from the word "Chilli" that means "Chile"; and "atl", used to mean water, and "quilitl" that refers to a combination of herbs, like a sauce. This term was also used to describe an old woven hat. With time this word acquired a connotation for describing a careless manner towards a texture~
This Chilaquiles Manifesto is my proclamation of texture, flavor and sauce. For me, that is what Chilaquiles are all about. I want to rescue the Chilaquiles reputation. Despite their "careless texture" in name's origin, I believe the dish is all about the balance of texture, sauce, spice and attention to detail. I hope this manifesto will make you appreciate the difference between average and exceptional Chilaquiles.
The Chilaquiles Principle: Texture, Flavor, and Balance.
For me a good plate of Chilaquiles is the one in which the crunchy tortillas preserve some of their crunchy texture and the sauce is thick enough to cover the tortillas without weighing them down. It remains saucy and there is a bit of salsa running on the side of the plate like a little emergency puddle that get mixed into the refried beans to keep them company. The sauce can be red or green usually with a good level of pleasant spiciness, unless you have a hangover, you might ask for extra hot. Chilaquiles are most commonly eaten as a breakfast or brunch. Therefore a perfect sunny side up egg ,runny and tender, is the perfect complement to this dish. Chilaquiles must be garnished with crumbs of slightly salty queso fresco, creamy clumps of Mexican Crema (similar to Creme fraishe) that mellows the warm and spicy sauce. Top this with raw or pickled onions to add acidity and a sharp pungent of flavor every other bite. There you have it.
This is what dreamy Chilaquiles should be.
A great plate of Chilaquiles should always have the following four components:
The Sauce:
Fresh ingredients for the sauce are a must. The basic salsas are so easy to make. In my opinion, there is no comparison between the flavor of store bought compared with fresh. Freshly cooked saucy salsas thick enough to cover deep fried tortillas are the best option. Using Red Roma tomatoes, in combination with dry chiles, and or tomatillos and fresh chiles will make a huge difference, moving the sauce quality from good to Great.
Tortillas:
White Corn tortillas are the best option. Typically cut into a triangle shape or small squares these tend to fry more evenly. They must be pan fried the same morning, using corn oil or grape seed oil to preserve the corn flavor intact is the best bet. Use machine made tortillas for this preparation. Most handmade tortillas are too moist and have the wrong texture once fried, and besides,handmade fresh tortillas taste awesome as they are, to precious to use on chilaquiles.
The Egg:
Farm eggs, scrambled into the tortillas, or a Sunny side up eggs in my opinion are a must. Some other versions are served with shredded chicken or both. To be honest, I like mine with egg only. Leave the chicken for enchiladas.
The Accoutrements:
Mexican Crema, Crumbly Queso fresco (Please will you do me a kindness?… no melted cheese on my chilaquiles, thank you!), a side of re-fried beans are a must. And last but not least: Quick pickled onions* this give the chilaquiles a great bite and accent.
*Quick pickled onions or cebollitas desflemadas: Slice onions thinly, rinse them thoroughly in cold water strain them. Place the onion slices in a little bowl add 2 tablespoons of apple cider vinegar or the juice of one lemon. Add a pinch of salt, pinch of dry oregano, toss them, set aside for 5-10minutes, or until ready to serve. I love this simple onion preparation, usually chilaquiles are served with raw onions, I think is to harsh, and for my luck I will be having onion breath for the rest of the day. With this simple quick pickled the onions are tender not overly sharp, they add a good bite and acid element to the dish. try them, you are gonna love them.
Chilaquiles Manifesto
Let's start by Choosing and Preparing your Salsa, then choose the style of chilaquiles you want.
For the Salsa VERDE:
1 lbs. Tomatillos peeled and washed. I used tomatillo milpero, the smaller the tomatillos the best flavor.
½ small or ¼ medium white onion
4 Chiles Serranos or 2 large Jalapenos remove stems.
Small bunch of cilantro about 14-18 sprigs upon size.
1 teaspoon sea salt
2-3 tablespoons of the reminder oil from were the tortillas were fried.
In a small-medium sauce pan place tomatillos, chiles,onion, cilantro, and barely cover with water. Place lid and simmer until they are cooked, about 12-15 minutes. Once they are cooked, remove ¾ of the liquid add salt and blend.
For the Salsa ROJA:
5-6 Roma Tomatoes choose the reddest and ripest for best flavor.
½ small or ¼ medium white onion
1 garlic Clove
3 dry chiles Cascabel toasted, seeds and stems removed.
8 dry chiles de Arbol toasted, stems removed.
2 dry chiles Guajillos remove seeds and stem and boil along with the tomatoes.
1 teaspoon sea salt
1 pinch of sugar
2 tablespoons of the reminder oil from were the tortillas were fried.
In a medium sauce pan place tomatoes, chiles guajillos,and onion. Cover with water. Cover and simmer until they are cooked, about 8-10 minutes or until a knife easily inserted. Once they are cooked, save 1-1/2 cups of the water in which they cook, toss the rest of the liquid. Remove tomato skins, add the toasted chiles, garlic, salt and blend with one cup of the reserved water until smooth. Taste and adjust water and salt if necessary. See picture for consistency.
Ingredients
1 lbs. Tomatillos, I used tomatillo milpero, they have the best flavor, if you can't find this kind, choose the smallest tomatillos from the bunch.
1/2 small white onion
3-4 Serrano chiles, fresh
1 small Bunch of Cilantro
1 teaspoon Sea salt
2-3 tablespoons Corn, or sunflower oil, you can use the reminder oil you use to fry the tortillas.
1-2 eggs per person, sunny side up or over easy
To fry the tortillas
12 White corn tortillas
1/2 cup Grapeseed oil, sunflower or corn oil, to pan fry the tortillas.
Garnish with:
1/2 cup Queso Fresco
1/2 cup Crema Mexicana
1/2 cup White or red onions, diced
Refried beans, its a must!
Instructions
Prepare the salsa verde:
In a small-medium sauce pan place tomatillos, chiles,onion, cilantro, and barely cover with water. Place lid and simmer until they are cooked, about 12-15 minutes. Once they are cooked, remove ¾ of the liquid add salt and blend.
Set aside.
The Semi-Crunchy Chilaquiles Preparation:
1.Prepare one recipe of your choice of salsa VERDE Set aside.
2.Cut the tortillas into triangles, separate them. Heat up a frying pan add ¾ cup of the oil wait until the oil is starting to ripple, add the tortillas in two batches and pan fry them until evenly golden light brown as possible. Remove from pan and drain them into a pan lined with a paper towel.
3.Start cooking the sunny side up or over easy eggs. Set them aside, on a tray to keep them warm. Do this just before the final step so they don't get cold.
4.Remove the excess oil from the pan, and leave about 2 tablespoons of oil into the pan. Once the oil is hot, add the salsa VERDE and cook for 1-2 minutes, stir constantly until bubbly. Add the tortilla triangles you just panfried and toss into the salsa for 1-2 minutes. Plate them immediately. Top with an Sunny side up egg or over easy egg. Garnish with Crema, Queso Fresco and Onions, and a side of refried beans. Enjoy!
Read more here. .
http://recipes.cordtwain.info/2019/10/chilaquiles-classic-mexican-recipe.html
Happy cooking!
Recipe Notes
If you need a tutorial on How to make the best beans you ever had!
Check our recipe: Mexican Beans Manifesto