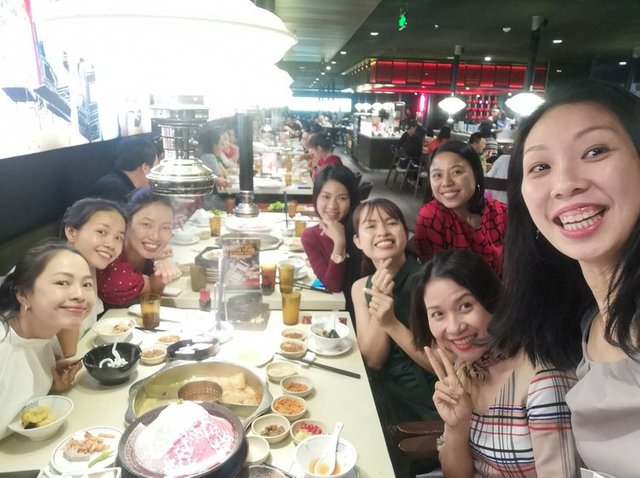 What can I say about this restaurant ?
i) It's very famous amongst the local Vietnamese
ii) Located at 19, Cao Thang Street, Ward 2, District 3, HCMC
iii) Buffet Taiwanese Hot Pot ; so it's a Eat All You Can
iv) Cost VND 329,000 per person for dinner ( USD 14.20 or MYR 58.79 )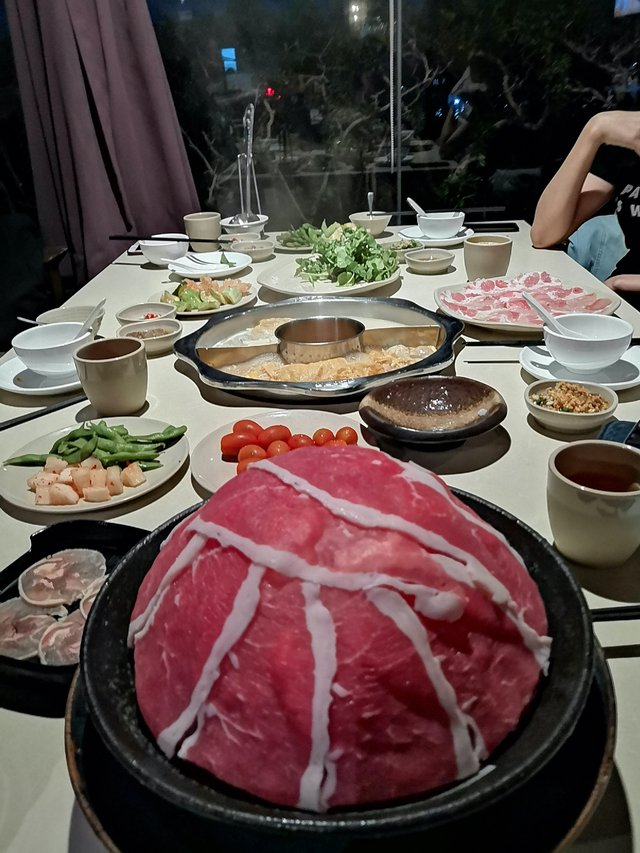 This is my second time to this restaurant and both was because it's a celebration. The interior is a bit crowded and over the limit on decorations if you ask me. Also, the ceiling lights can be improved and it gets too dark in some parts of the restaurant. Thankfully, the air conditioning is good so even if we have the hot pots on our table, we don't really feel the heat from it.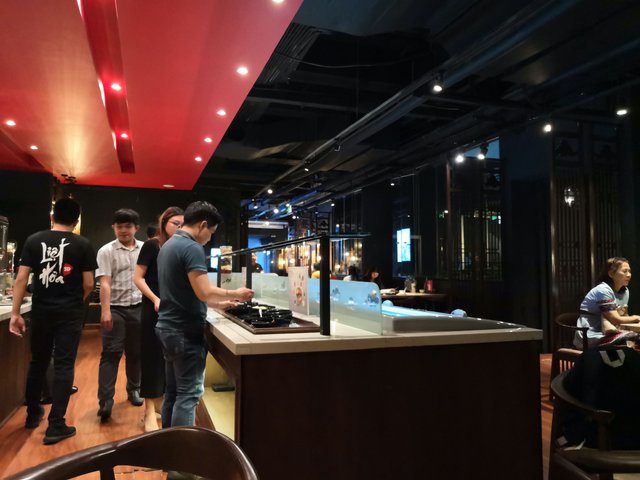 We managed to get two tables near to the buffet counter; which was good then we didn't need to walk to far. Walking in between the tables, isn't easy since the restaurant don't really have a luxury of space. On the buffet counter, we can find appertizer, salads, sauces, condiments, desserts, fruits and drinks for all to enjoy. Absolutely unlimited which is also a concern if you ask me; many tend to just take without thinking if can finish - resulting plenty of wasted food and drinks on the table when they leave.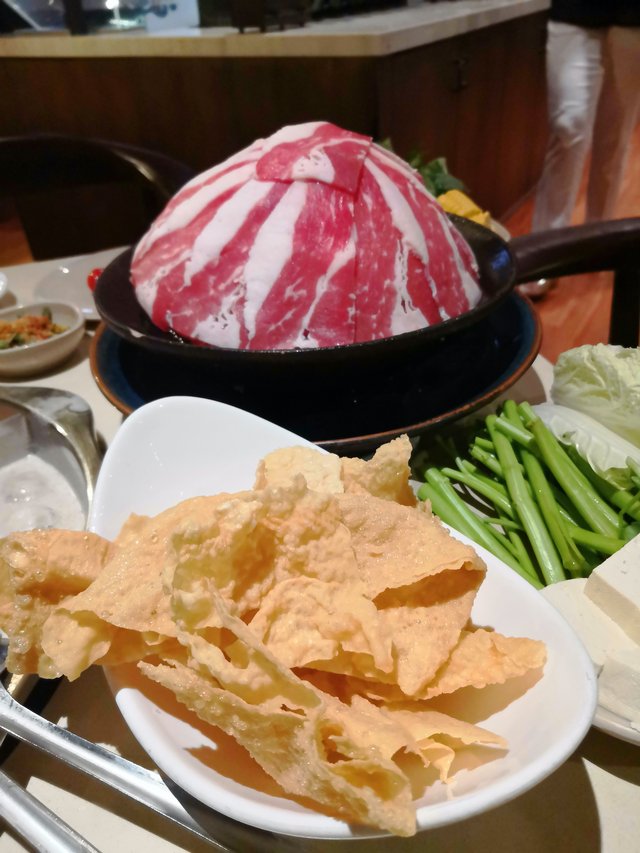 As for the meat, vegetables and seafood; it's all ordered from the menu. Unfortunately, the menu is all in Vietnamese so for someone like me, it just ins't helpful at all. Perhaps they have an English menu that we can choose from or even better a picture menu. No one can go wrong with that! I do think having to order from the menu is best so as to manage any wasted food and also to ensure that when the meat and seafood is served, it is always cold & fresh. Just look at the amount of pork slice, beef slice and they even have some unique servings to add to the soup stock. Many tables order too much meat and it can never finish unfortunately, though I'm not sure if they recycle it for another table? I always remind everyone who dines with me to be mindful of the food ordered. Only order, if you can finish; not because you can order everything and not worry about food wastage.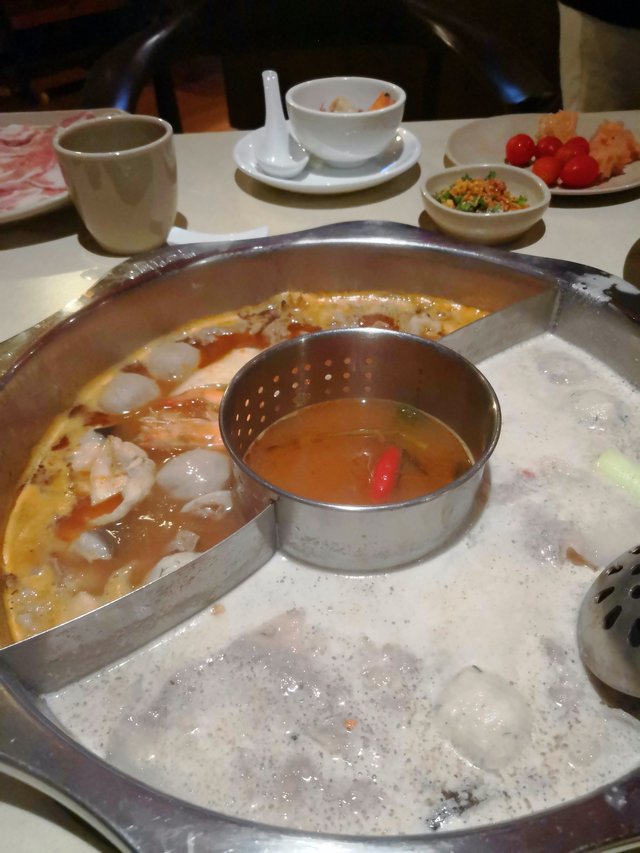 On the menu selection, there were at least 6 to 8 different variety of soup stock to choose from. We opted for something safer like Ginseng Chicken Soup & Shanghainese Ma Lat Soup; and added other secret ingredients as well. Yes ! We could choose to have two different soup stock in one hot pot. That way we can enjoy best of both worlds - something like East meets West in culinary!
All in all, dinner was great ! We move around the two tables to try out each other's soup stock and after mixing so many fresh meat and vegetables in it, it taste so much better. Now, we know who is the better chef within the company and who's table to sit with when it comes to self cooking.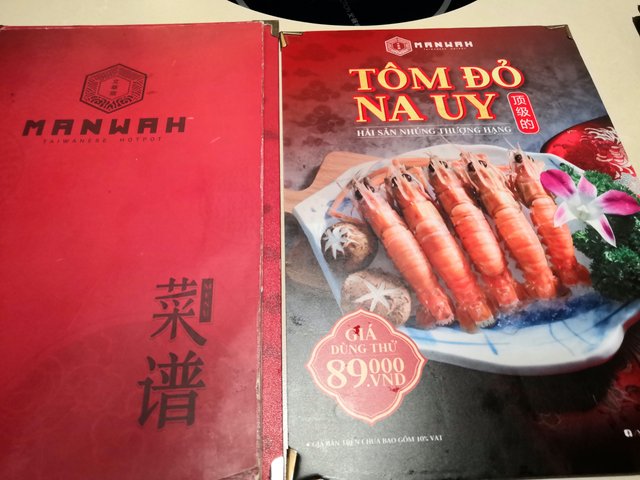 For this price, I do agree that it's value for money especially if you eat mainly seafood and meat. Only thing I didn't quite like is that when we ask for replenishment of the soup stock, they actually add in chicken stock. Not the actual soup stock that we selected before. That's also why after several replenishment of the chicken stock, the taste of the soup changes so drastically.
---
Restaurant Information

Manwah Taiwanese Hot Pot



Cao Thắng Mall, Số 19 Cao Thắng, Phường 2, Quận 3, Hồ Chí Minh, Vietnam
---
Manna Taiwanese Hot Pot | Tasteem Review
This post participated in the Tasteem contest Your weekly choice