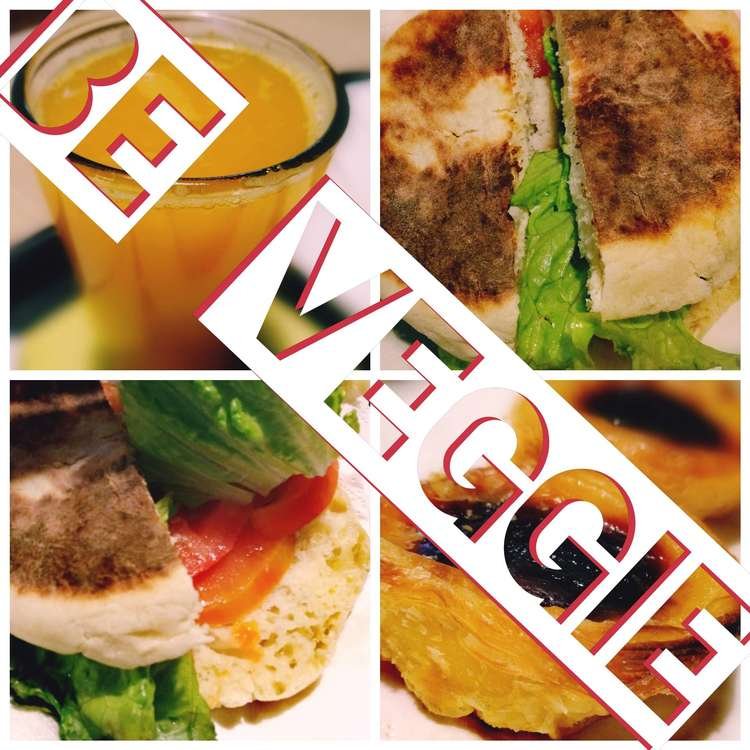 Spontaneous vegan option in the B.A.G.G.A.
Some people who read my posts know that I was traveling to the Azores again some time ago.
I try to make the background story short, I had a cold and flew there for a weekend to relax and I wanted to visit the hot natural springs. Everybody said "hey, go to the hot springs, they can heal your cold" so I went. Background story end, let me go on with my visit of the B.A.G.G.A.
Everybody needs something to eat and I didn't feel like cooking on the weekend, so I went out to find a nice, cozy location to eat.
I was already at the B.A.G.G.A. 3-4 months ago. It is directly in Ponta Delgada, and it has open early (so great if you land in the morning because most cafe's open around 9 or 10 oclock but here you can go around 8 am) and this bakery-café Variantion even has a passage to a supermarket. Of course this was extremely practical, as I could get everything what I need when I am on my way in this supermarket. Two flies caught with one flap. Perfect isn't it?!
Regularly it is hard to get anything vegan here.
I remember, last time I had a vegan soup, which was also delicious. But this time I wanted to test whether the employees also work customer-friendly and whether I can possibly modify sandwiches with a special sparkling vegan "extra wish".
So I asked if I could have the cheese ham sandwich without cheese ham and get tomatoes and salad on it.
I was astonished, without any problems and extremely friendly, the lovely employee fulfilled this wish for me. No surcharge. No extra paying. And I was allowed to eat the original Azores bread for the first time. Which is very tasty and fluffy.
I ordered a freshly squeezed orange juice. As a menu it was selectable and both cost together 2.50 €, which is totally fair. Everything was fresh. Extremely thumbs up.
The Pastel de Nata, the little cakes on some pictures, are a traditional Portuguese delicacy but unfortunately not vegan. My regret, but for my friends their treat, they are only vegetarians. I also hope to find these cakes someday, somewhere in a vegan variant. That would be my personal food dream, because I know they are fucking delicious. When I mainly had vegetarian food, I was able to enjoy this little cake.
Also these were really cheap. Only 80 Cent per piece. Normally the price is 1 €. So, we count together, 2,50€ + 1,60€ = 4,10€. Is in my opinion a good price for a breakfast.
But please leave me some tips if you know more locations here and I will try to visit them during my next visit.
Bon appetit and stay tasty.
Text and pictures made by myself.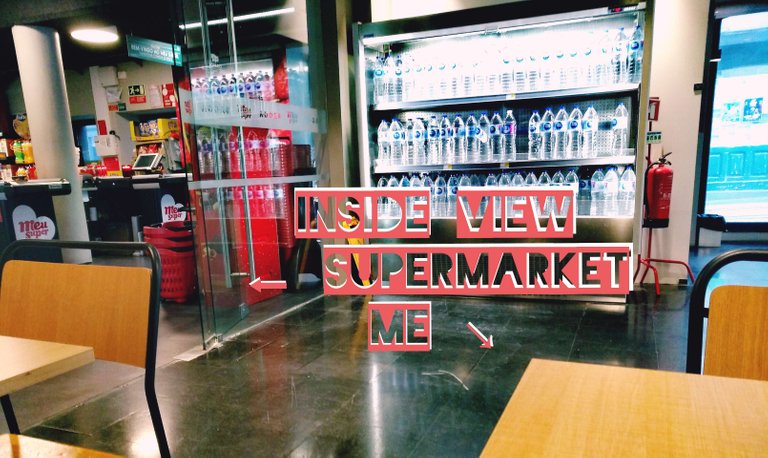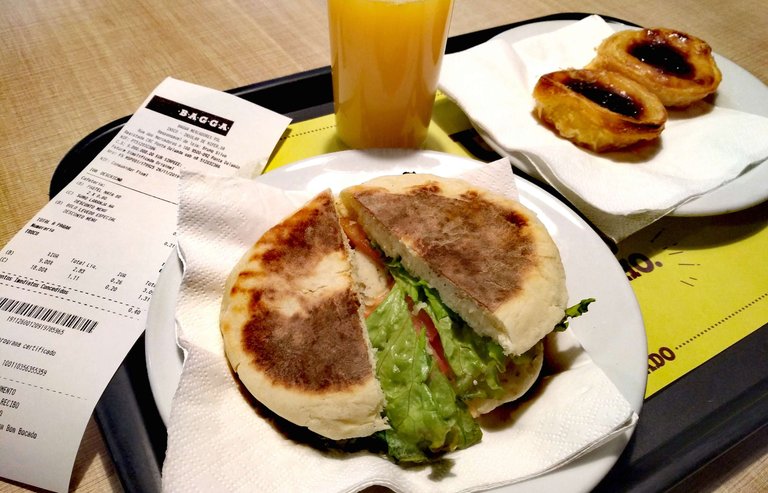 Opção vegana espontânea na B.A.G.G.A.
Algumas pessoas que leram os meus posts sabem que eu estava a viajar para os Açores há algum tempo atrás.
Tento resumir a história de fundo, tive uma constipação e voei até lá durante um fim-de-semana para relaxar e queria visitar as fontes termais naturais. Toda a gente dizia: "Ei, vão às termas, podem curar a vossa constipação", por isso fui. Fim da história de fundo, deixe-me continuar com a minha visita à B.A.G.G.A.
Todo mundo precisa de algo para comer e eu não tive vontade de cozinhar no fim de semana, então saí para encontrar um lugar agradável e aconchegante para comer.
Eu já estava no B.A.G.G.A. 3-4 meses atrás. É directamente em Ponta Delgada, e abriu cedo (tão bem se aterrar de manhã porque a maioria dos cafés está aberta por volta das 9 ou 10 oclock mas aqui pode ir por volta das 8 da manhã) e esta Variação de padaria e café tem mesmo passagem para um supermercado. Claro que isso foi extremamente prático, pois eu poderia conseguir tudo o que eu preciso quando estou a caminho deste supermercado. Duas moscas apanhadas com uma aba. Perfeito, não é?!
Regularmente é difícil conseguir algo vegano aqui.
Lembro-me, da última vez que comi uma sopa vegana, que também era deliciosa. Mas desta vez eu queria testar se os funcionários também trabalham com o cliente e se eu posso possivelmente modificar sanduíches com um "desejo extra" vegetariano especial.
Então eu perguntei se eu poderia ter o sanduíche de presunto de queijo sem presunto de queijo e obter tomates e salada nele.
Fiquei espantada, sem problemas e extremamente simpática, a adorável funcionária cumpriu este desejo para mim. Sem sobretaxa. Nenhum pagamento extra. E foi-me permitido comer o pão original dos Açores pela primeira vez. O que é muito saboroso e fofo.
Encomendei um sumo de laranja espremido na hora. Como cardápio era selecionável e ambos custam juntos 2,50 €, o que é totalmente justo. Tudo era fresco. Extremamente polegar para cima.
O Pastel de Nata, os bolinhos em algumas fotos, são uma iguaria tradicional portuguesa, mas infelizmente não vegana. Lamento, mas para os meus amigos são apenas vegetarianos. Também espero encontrar estes bolos algum dia, algures numa variante vegana. Esse seria o meu sonho gastronómico pessoal, porque sei que são deliciosos. Quando eu tinha principalmente comida vegetariana, eu era capaz de desfrutar deste pequeno bolo.
Também estes eram realmente baratos. Apenas 80 cêntimos por peça. Normalmente o preço é de 1 €. Então, contamos juntos, 2,50€ + 1,60€ = 4,10€. É na minha opinião um bom preço para um pequeno-almoço.
Mas por favor deixe-me algumas dicas se souber mais locais aqui e vou tentar visitá-los durante a minha próxima visita.
Bom apetite e fique saboros.
Texto e fotos feitas por mim.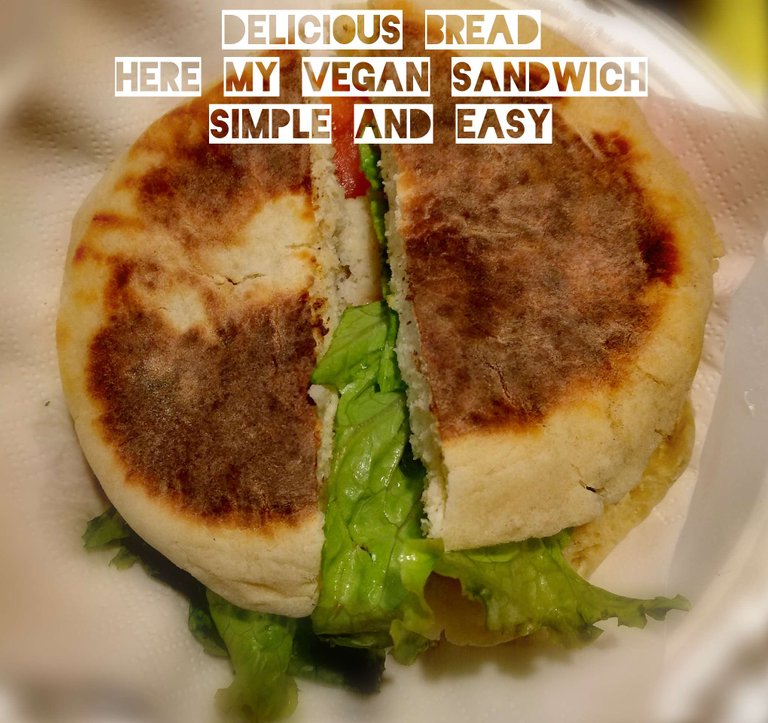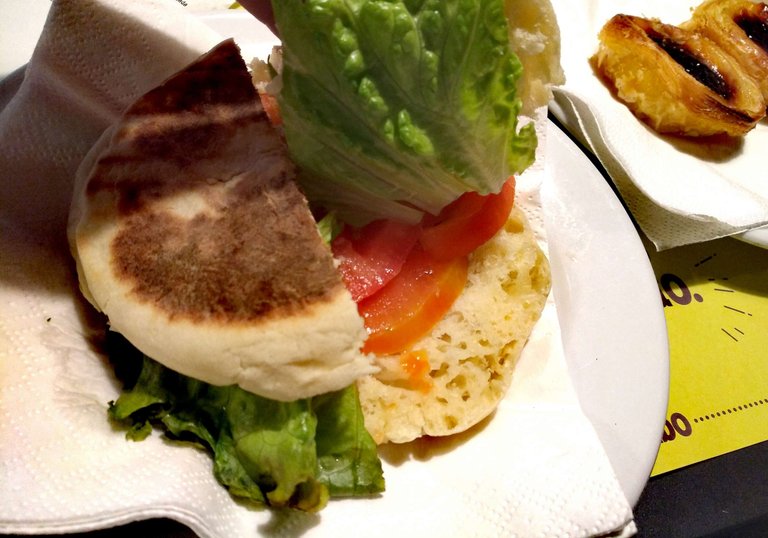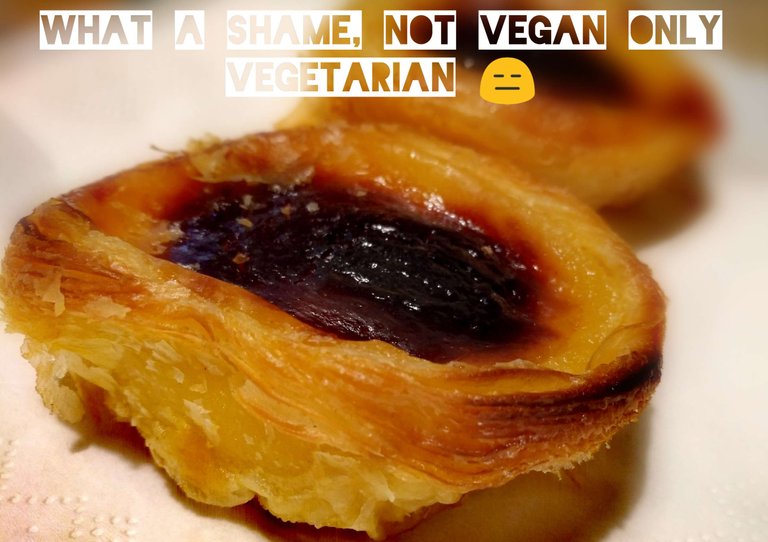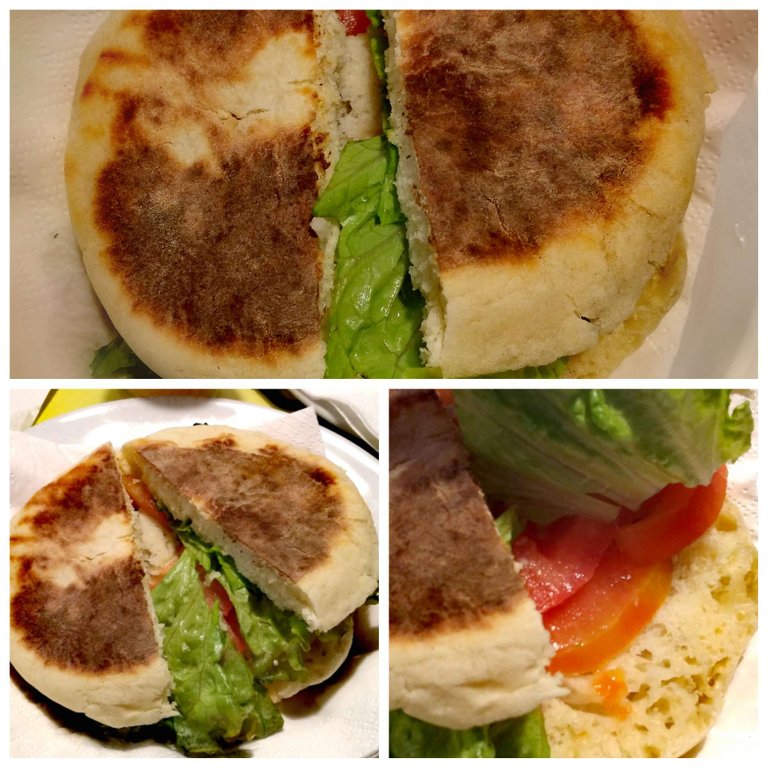 Spontane Vegane Option im B.A.G.G.A.
Manch einer, welcher meine Posts liest, weiss, dass ich vor einiger Zeit wieder kurz auf den Azoren war.
Kurz gesagt, ich war erkältet und bin zum erholen ein Wochenende hingeflogen, um die heißen Naturquellen aufzusuchen.
Doch jeder braucht auch etwas zu essen und da ich an dem besagten Weekend mal keine Lust hatte selbst zu kochen, bin ich halt essen gegangen.
Im B.A.G.G.A. war ich schon vor 3-4 Monate mal. Es liegt direkt in Ponta Delgada, hat früh auf (also super wenn man früh landet und noch nichts anderes auf hat) und diese Bäckerei-Café Variantion hat sogar noch einen Durchgang zu einem Supermarkt. Das ist natürlich extrem praktisch gewesen, da ich wiederum im Supermarkt alles für unterwegs besorgen konnte. Zwei Fliegen mit einer Klappe erwischt.
Doch an sich ist es schon schwer hier etwas veganes zu bekommen.
Damals hatte ich die Suppe, welche auch lecker war. Doch diesmal wollte ich testen, ob die Mitarbeiter auch kundenfreundlich arbeiten und ich eventuell Sandwiches auch mit "Extra Wunsch" abwandlen kann.
Also fragte ich, ob ich das Käse-Schinken Sandwich auch ohne Käse-Schinken und dafür Tomaten und Salat haben könnte.
Ich war erstaunt, problemlos und mega freundlich hat die liebe Mitarbeiterin mir diesen Wunsch erfüllt. Kein Aufpreis. Und ich durfte zum erstenmal das original Azoren Brot essen. Welches wohl angemerkt sehr lecker und fluffig ist.
Ich bestellte dazu einen frisch gepressten Orangensaft. Als Menü war es wählbar und beides zusammen hat 2,50 € gekostet, was total fair ist. Alles war frisch. Extrem die Daumen nach oben.
Die Pastel de Nata, die kleinen Küchlein auf manchem Bild, sind eine traditionelle, portugiesische Leckerei doch leider nicht vegan. Mein Bedauern, doch für meine Freunde ihr Gaumenschmaus, die sind nur Vegetarier. Ich hoffe diese Küchlein auch irgendwann, irgendwo mal in veganer Variante zu finden. Das wäre ein Traum, denn ich weiß die sind mega lecker. Als ich hauptsächlich vegetarisch gespeist habe, konnte ich in den Genuß von dieser Leckerei kommen.
Auch diese waren kostengünstig. Grad mal 80 Cent pro Stück. Normalerweise liegt der Preis bei 1 €. Also, wir zählen zusammen, 2,50€ + 1,60€ = 4,10€. Ist meiner Meinung nach voll in Ordnung für ein Frühstück.
Doch gern hinterlasst mir Tipps, falls ihr hier noch mehr Locations kennt und ich versuche bei meinem nächsten Besuch dort vorbei zu schauen.
Bon Appetit und bleibt lecker.
Fotos und Text von mir gemacht.

---
Restaurant Information

B.A.G.G.A.



R. dos Mercadores, 9500-150 Ponta Delgada, Portugal
---
Vegan opinions in a non-vegan area (ENG/ PT/ DE)
This post participated in the Tasteem contest Be Veggie