After my last post about some limpets I found to eat, I continued to walk in order to find something better to eat, I walked, I walked but I didn't find anything.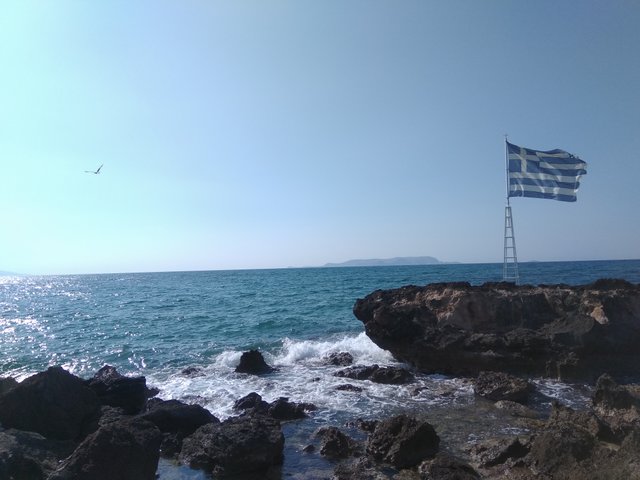 Most restaurants were closed due to covid19, I went back to pick my car to go in next village, there I found an open restaurant, the truth is that at first my eyes did not fill but I had no other choice.
This restaurant is called Island and is located in Gouves, Hersonissos, Crete, Greece.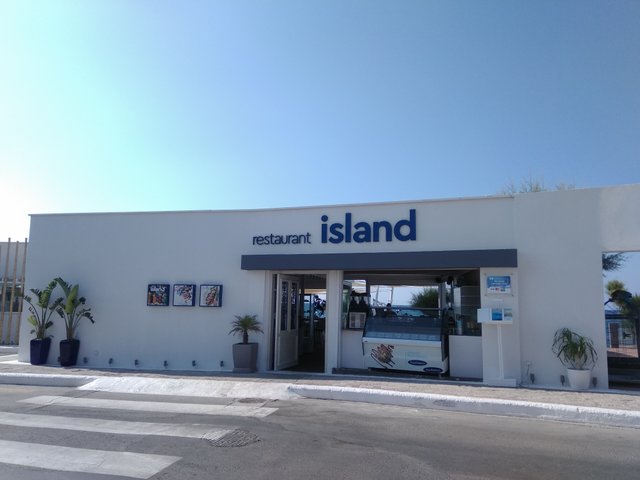 It has a very nice space by the sea.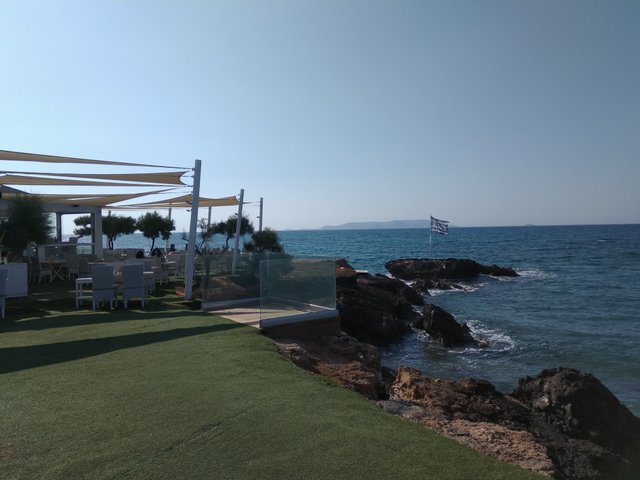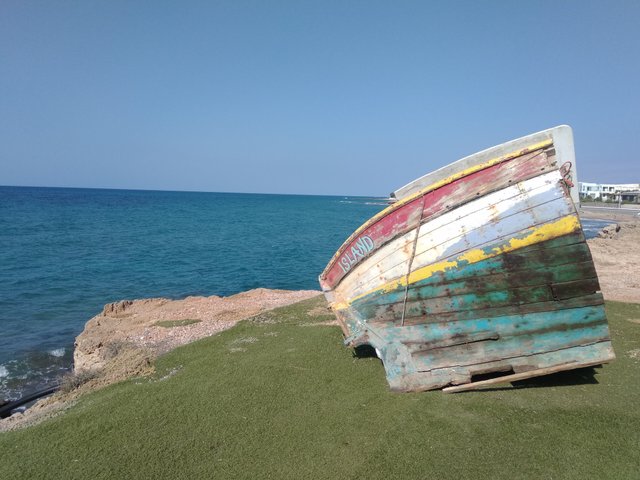 It also has a large colorful parrot.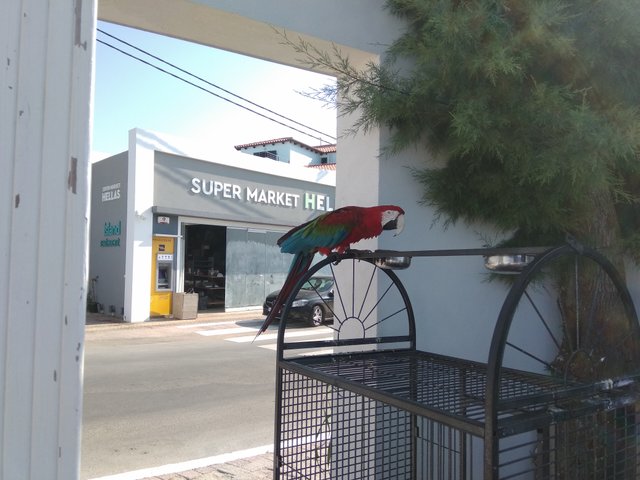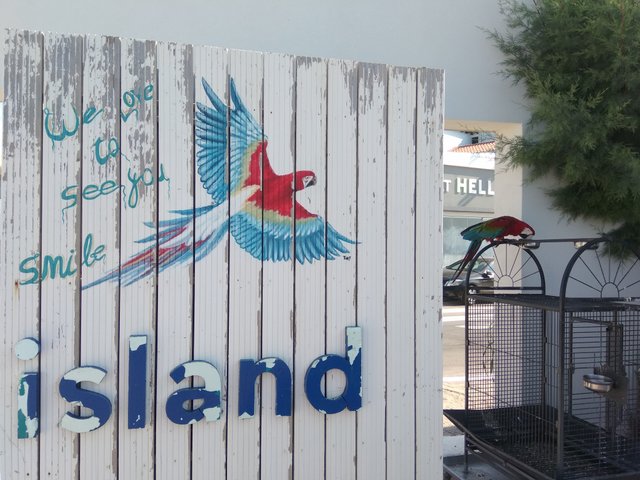 Only one company in the restaurant and many options for where to sit, I finally chose a table in front of the sea with very good shade.
The view was incredible, wherever you were looking you were seeing a sea and on the rock a big Greek flag waving proudly.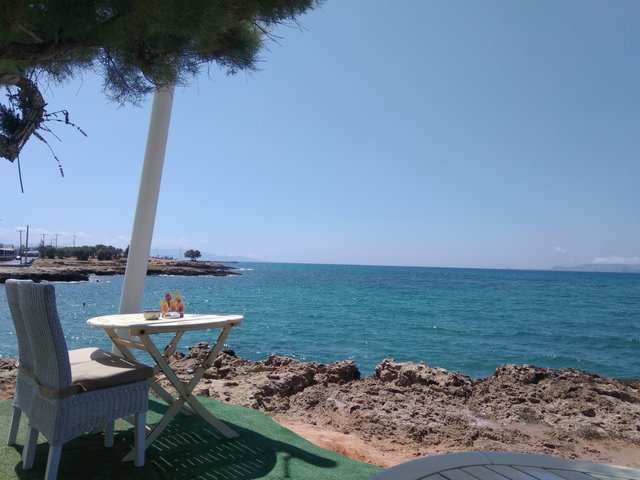 The shade, the sea, the view and a very cool breeze made me feel cool and full of energy.
It was time to order something, looking at the menu the options were many and the prices a bit expensive. It took me a long time to choose something good and economical.
I finally chose a portion of barn steak.
I wasn't sure if I finally made the best choice and anxiously waited to see the portion.
While I was waiting for my portion, the waitress brought me fresh bread with a very nice dish with three sauces.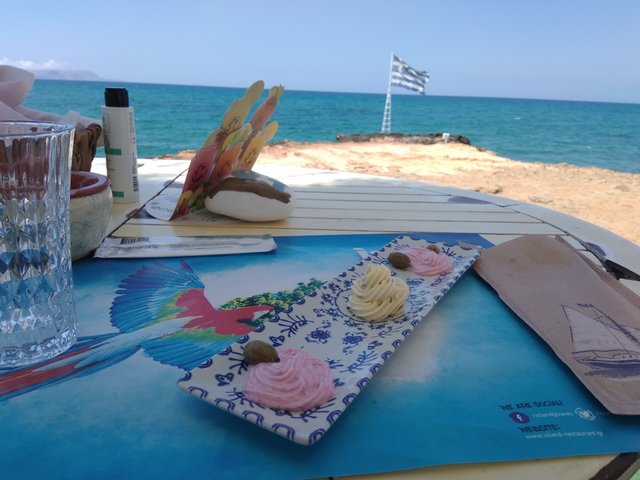 They were really tasty and the bread was fresh.
After a while, the steak came.
A huge portion, contained a very large steak, french fries, roasted zucchini, roasted florin peppers, roasted eggplants, a boiled corn and a plate of green salad. (If you think that the steak is small, it is better to notice that the steak is folded.)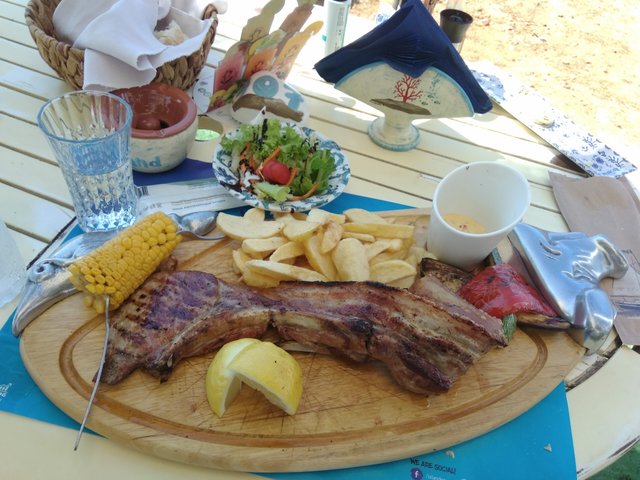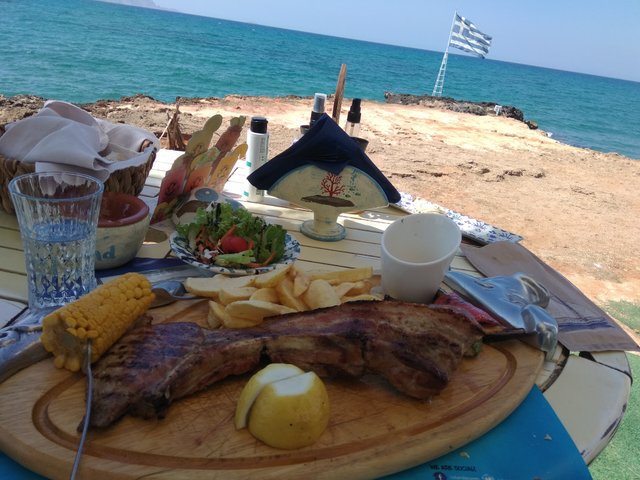 I was really impressed! Although I was very hungry, I found it difficult to do so.
After my great effort I asked for the bill ... but my fight was not over yet, The waitress brought me a beautiful dish with a piece of fresh apple pie and whipped cream as well as a triple plate with a spoonful sweet of bergamot, fig, sour cherry and of course, since I am in Crete, a small bottle with Raki (Tsikoudia).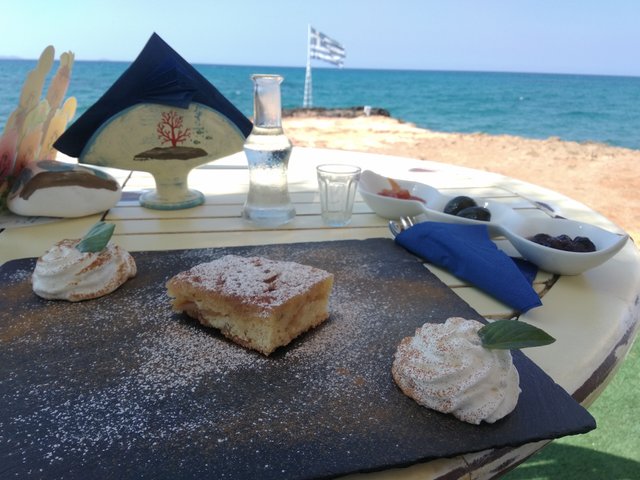 It was so nice that I wanted to eat them by force.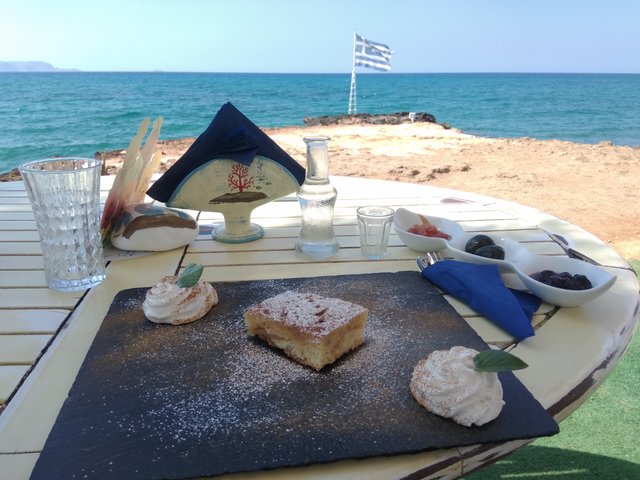 After all these, I stayed for a while to enjoy the view and to digest.
In conclusion, although the restaurant initially seemed expensive to me, it turned out that the services it provides correspond to the above prices.
I payed 15.50 euros.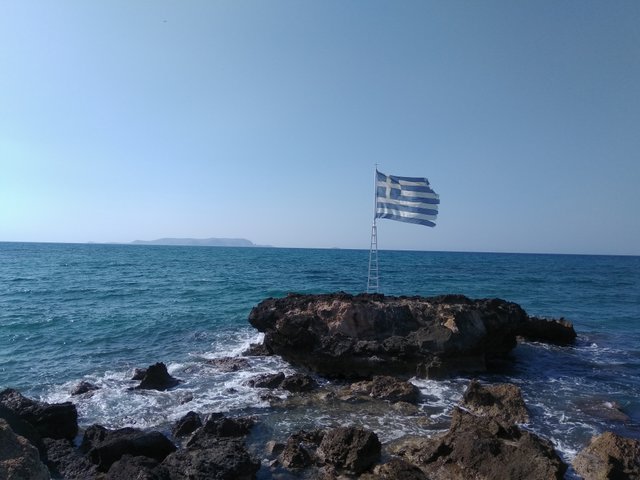 And of course I can recommend it to anyone is going to be in Gouves Hersonissos, Crete, Greece.
Later I continued my trip to Elounda, stay tuned for the next post about Elounda.
I would like to thank the restaurant and its stuff also my friend @katerinaramm for her suggestion to visit Gouves.
Summer is here and Greece is ready to welcome any welcome visitor.
Thank you!
@nikoleondas