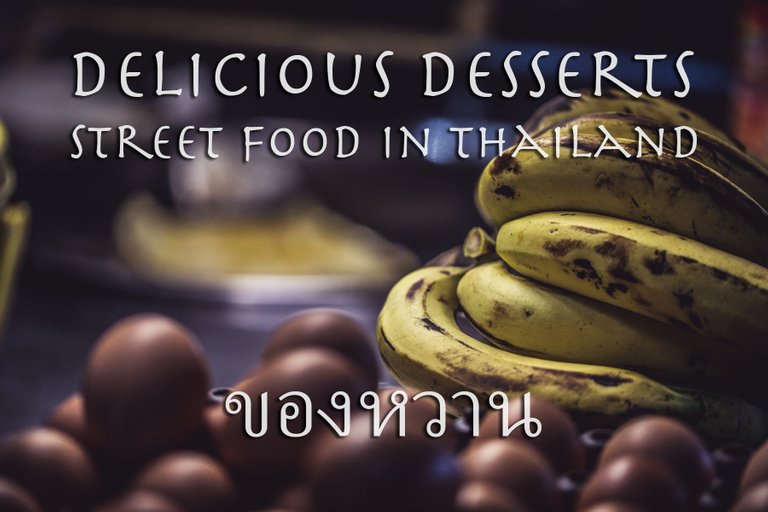 Photo taken by me @derangedvisions
Tasty Treat on the Street

The street food in Thailand is amazing, but the desserts on the street are even more amazing. That is one thing in particular that @faitherz33 and I had that we really loved. When we were in Pattaya, on Jomtien Beach, we found so many great foods. I don't remember what this one was called, but it is a lot like a crêpe.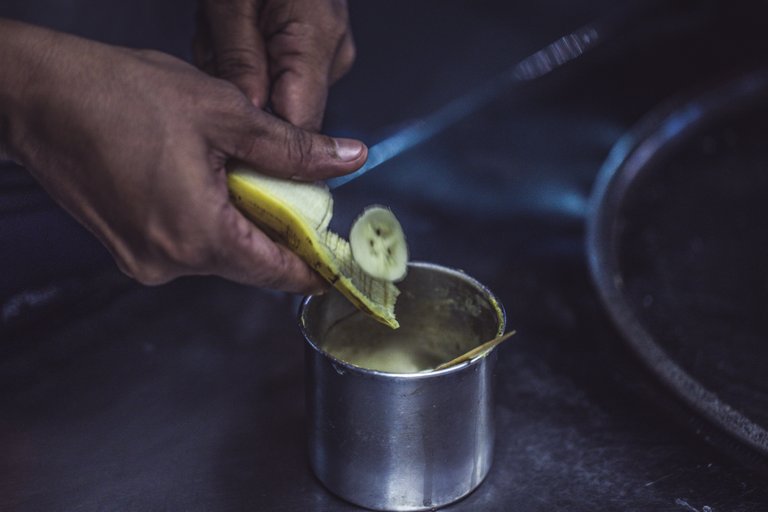 Photo taken by me @derangedvisions
The first time I had the crêpe thingy was at Wat Pho in Bangkok. I got a mango one there, but this time here on the street, I ordered a banana filled one.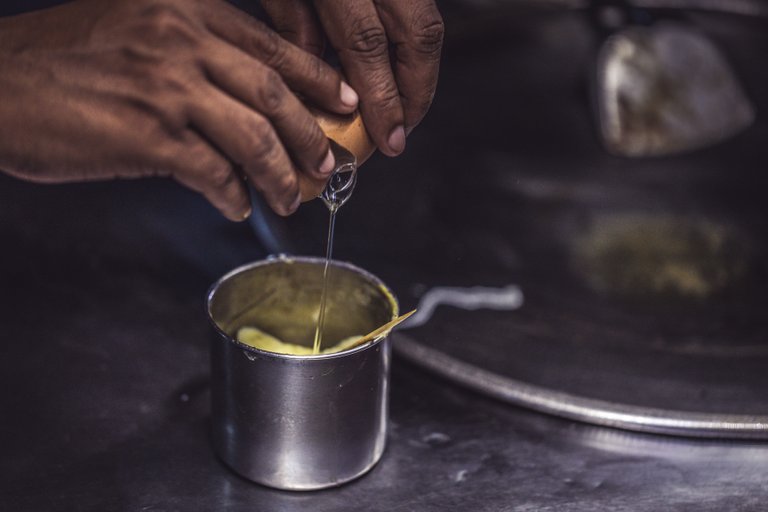 Photo taken by me @derangedvisions
They start off by cutting up the fruit that you want as a filling to your dessert and plop it in a little cup. Then bust open an egg in the cup and wang jangle it all together.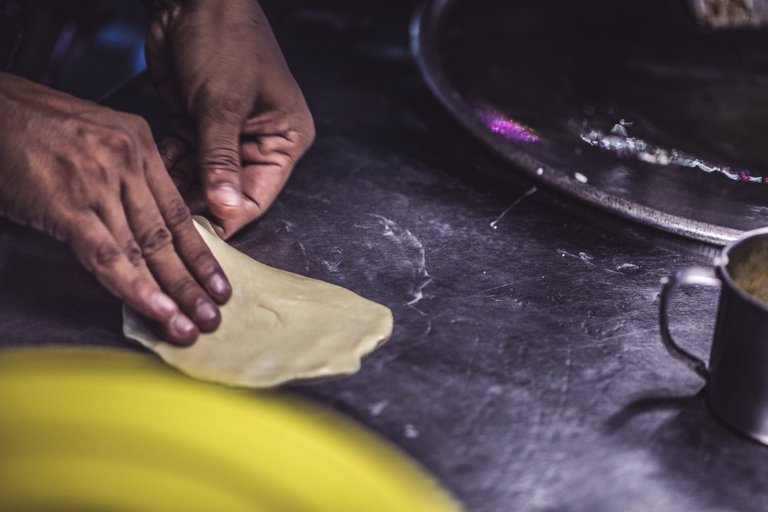 Photo taken by me @derangedvisions
Then he grabs one of the dough balls that has been sitting out in the warm air for who knows how long and them starts slapping it around on the table to start stretching it out to a large tortilla shape where all the goodies are going to go.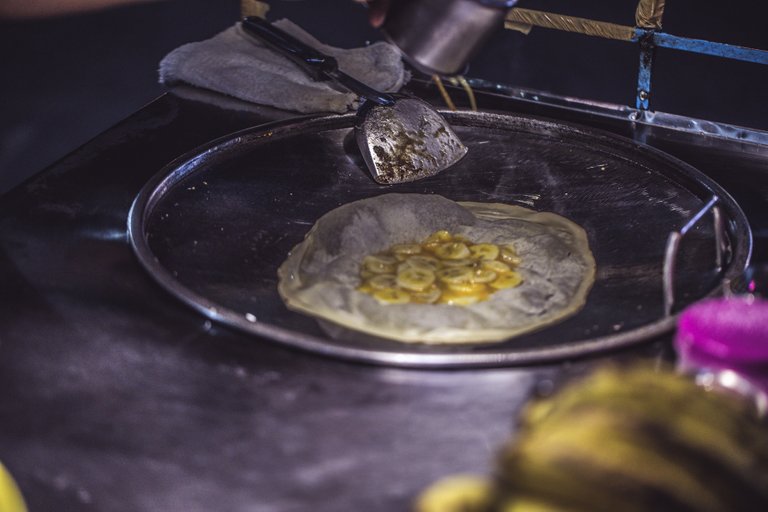 Photo taken by me @derangedvisions
He scoops a glob of something that I am assuming is some sort of grease and slaps it down on the grill and then puts the doughy pancake on it. The heated up grease starts popping and killing (hopefully) any sort of microorganisms that could have crawled onto the dough, the cart tabletop, or his hands. Then the mixture of egg and banana gets dumped in the middle of the dough.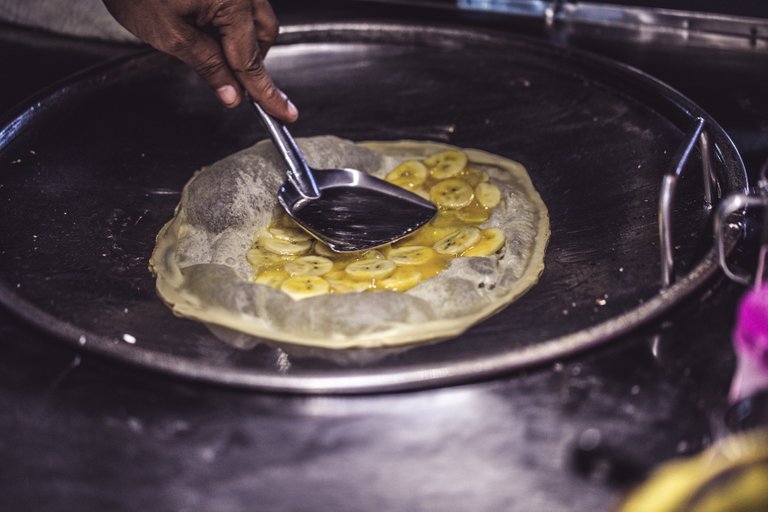 Photo taken by me @derangedvisions
He makes sure to flatten it all out and cook it with the love that it deserves because he knows that his is the best dessert in the area.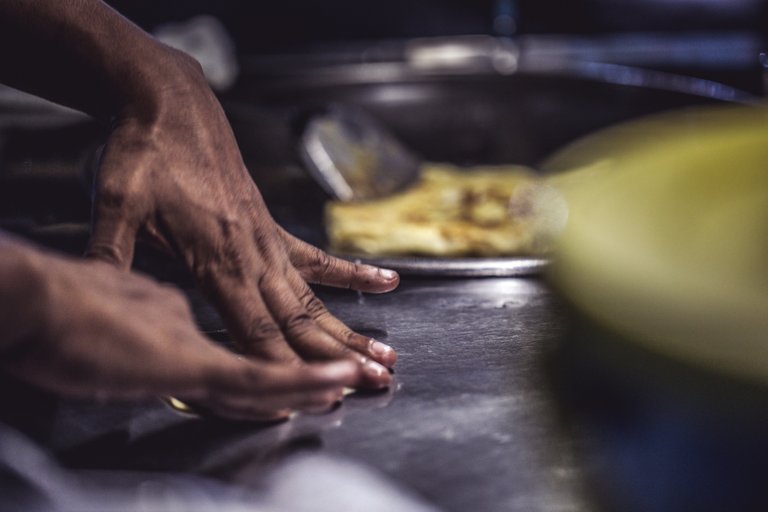 Photo taken by me @derangedvisions
Other people know that he is the best so they all come and order some as well, so he starts flapping their dough balls all over the place getting theirs ready as my order is cooking. Bananas are getting chopped, eggs are cracking and dough balls are flying all over the place.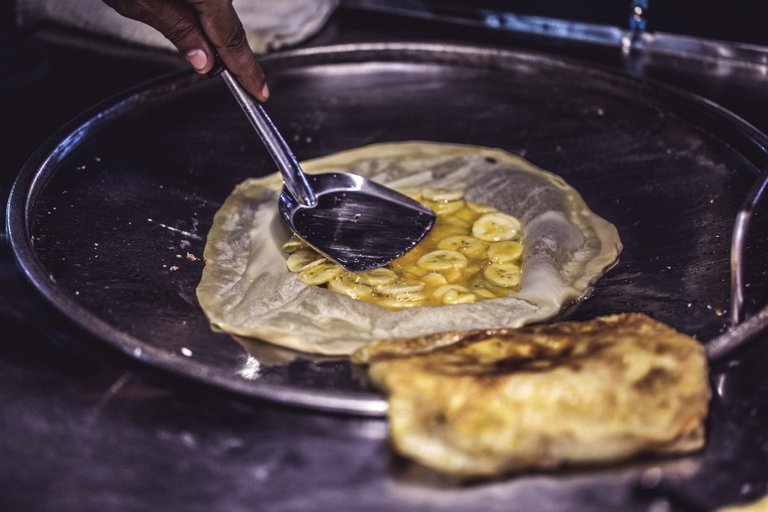 Photo taken by me @derangedvisions
As he throws all of the next persons stuff into the magic grease, he sets mine aside to let it rest and continue cooking and cool off just a tad so we don't burn our mouths off.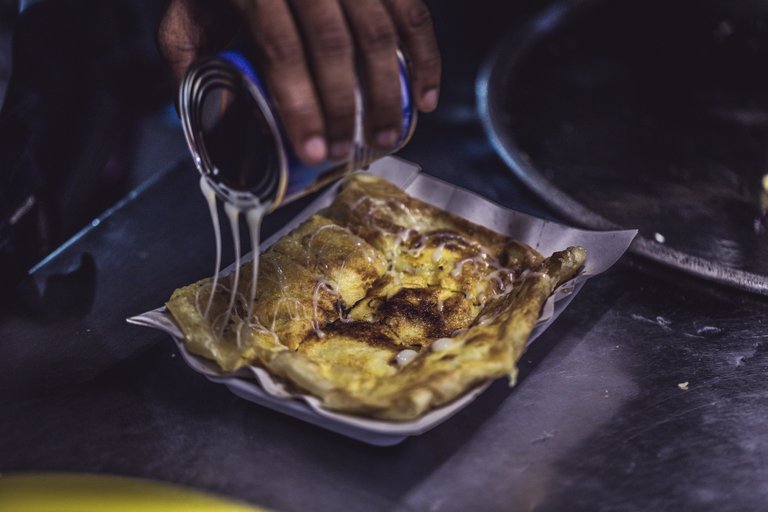 Photo taken by me @derangedvisions
After it has cooled off enough for him (still freakin hot), he plates it and then drizzles some sweetened condensed milk on it for an amazing sweet topping. This is the perfect small dessert when you need a quick bite. I think it was like 50 baht, which is about $1.60 US.
If you are traveling to Thailand, make sure to take part in the street food. Many people say to avoid eating the street food in Thailand because you can get sick from it, but if you don't eat any of the street food there, you will be missing out on so much of the culture and some of the most amazing food you will ever eat in your life.
The amount of love and care that goes into some of the food that these street vendors has is incredible. A lot of times, their recipes are passed down from generation to generation, so you are getting some of the most authentic taste you can get. That is something you would miss if you went to a bigger restaurant.
I hope that you enjoyed this post as much as I enjoyed writing it and experiencing the content that I wrote about. Thank you for visiting. You are awesome.