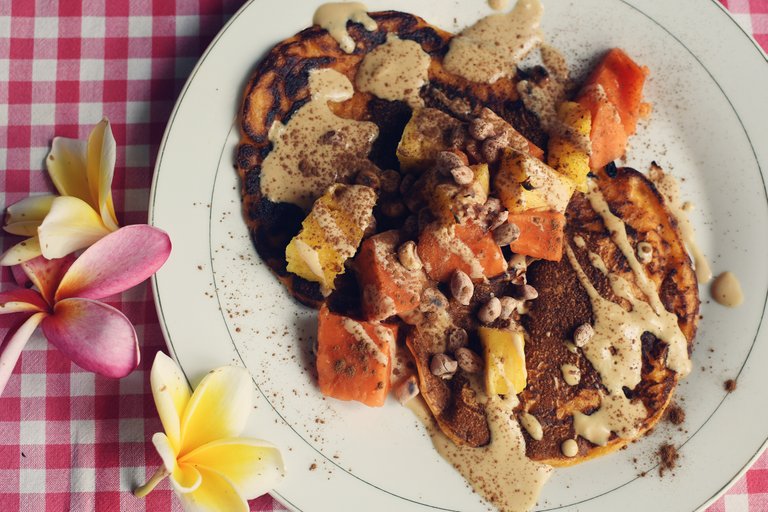 We are staying in a very low budget Arbnb in Sanur Bali. Fortunately I have a kitchenette. The room is nothing to look at
but they come in to clean, change the sheets and towels every other day. They also supply us with drinking water.
We have been paying 20 dollars a night (Canadian). I really can't complain. They give us a bike to use as well.
It's off down a small quiet lane from a main street that leads to the tourists areas. There is a little store at the end of the lane which is hardly noticeable. When we found it we realized we could get little supplies there quickly.
It came in handy the other day when it rained on and off. We didn't want to run to the supermarket which is about ten minutes walk.
I noticed in their front glass case that they had some fruit. One giant papaya sat there with bumps and marks all over it. There were tiny little pineapples which seems to be the going size in Asia.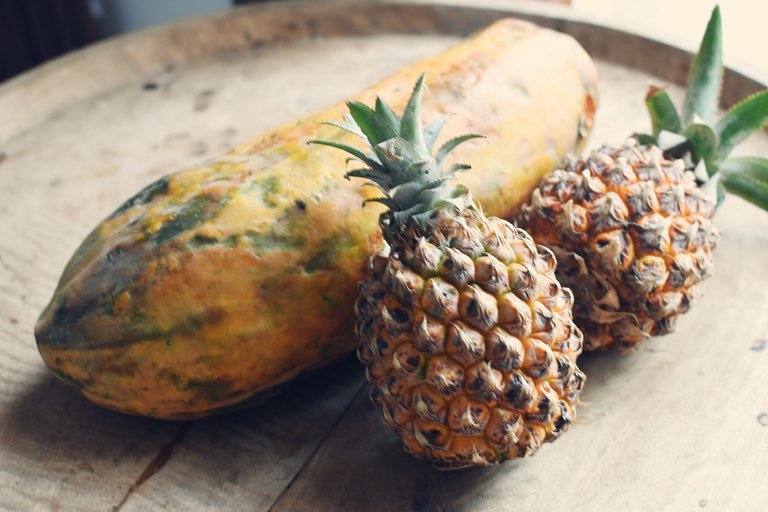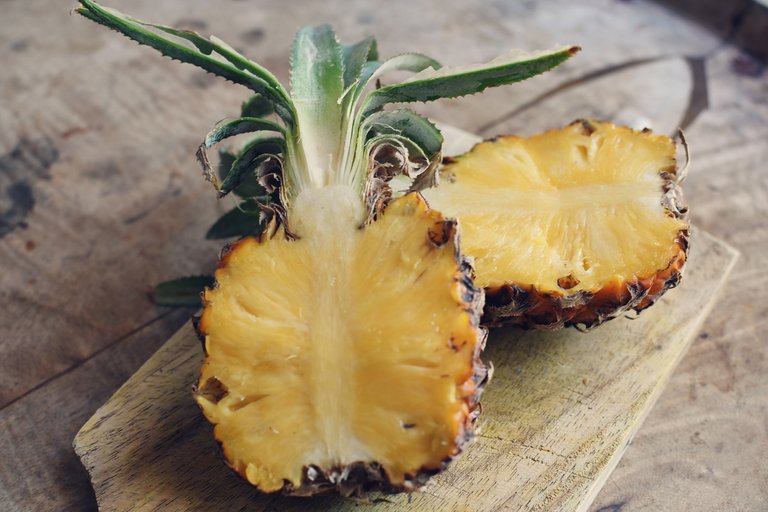 The fruits looked sad in the case. They cried out for me to take them home. When I asked the lady for the one large unattractive papaya she seemed shocked. Then she seemed very eager to serve me. Before this she sat glum on her stool. I'm pretty sure there would be a slim chance that anyone else would buy this papaya. To me it was like striking gold.
Even though health wise, fresh papaya is the best, I had so much of it so I decided to use it for some breakfast pancakes. I usually don't eat pancakes but every now and then I get that craving. Using the papaya in the mix would add flavor and add sweetness. This was so simple to make and so delicious.
When in Bali...make papaya pancakes!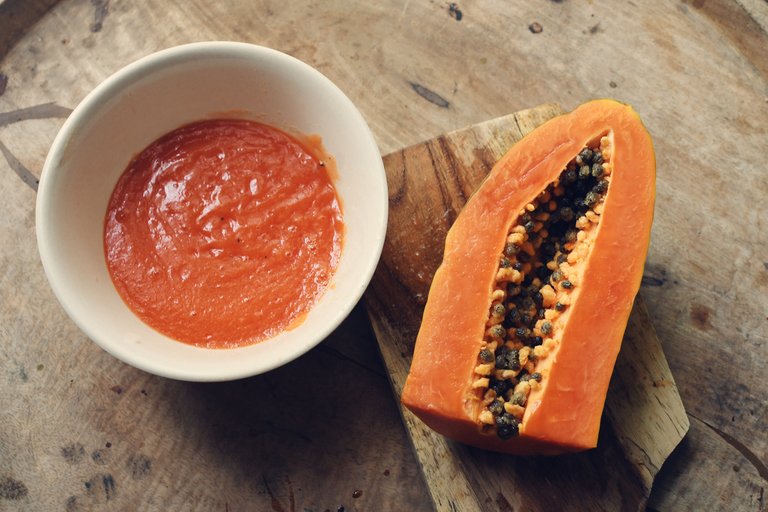 I put about two cups of papaya in a blender and along with about a third cup of coconut cream into the flour mix than added water until I got a thick but runny mix.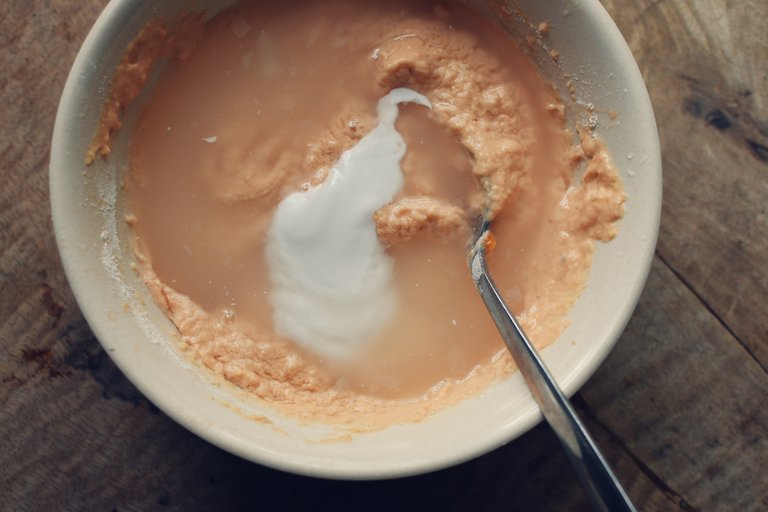 It was put aside while I made a simple coconut cream sauce to drizzle over top. In Canada we use maple syrup of course. That's what Canada is about.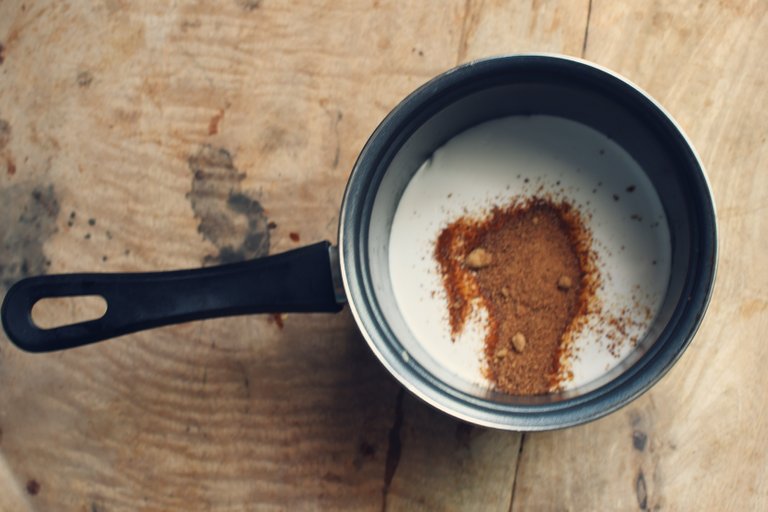 Then I made small pancakes and as my father taught me when I was a kid, the first one always fails. It was true in my case. After that they were perfect.
What a simple delicious treat topped with fresh papaya and pineapple, drizzled with coconut cream and sprinkled with peanuts.
A non vegan wouldn't question where the eggs and dairy were, if they were to eat this.
Papaya pancakes
2 cups papaya blended
1/3 cup coconut cream
water added for a thick creamy mix
1/2 teaspoon baking soda
pinch of salt
Coconut sauce
1/2 cup coconut cream
1/3 cup water
1/4 cup coconut sugar ( for sugar free, add date puree)
Heat to melt the sugar
If you don't want to use peanuts to sprinkle over top, you could use any other nuts or toasted coconut.