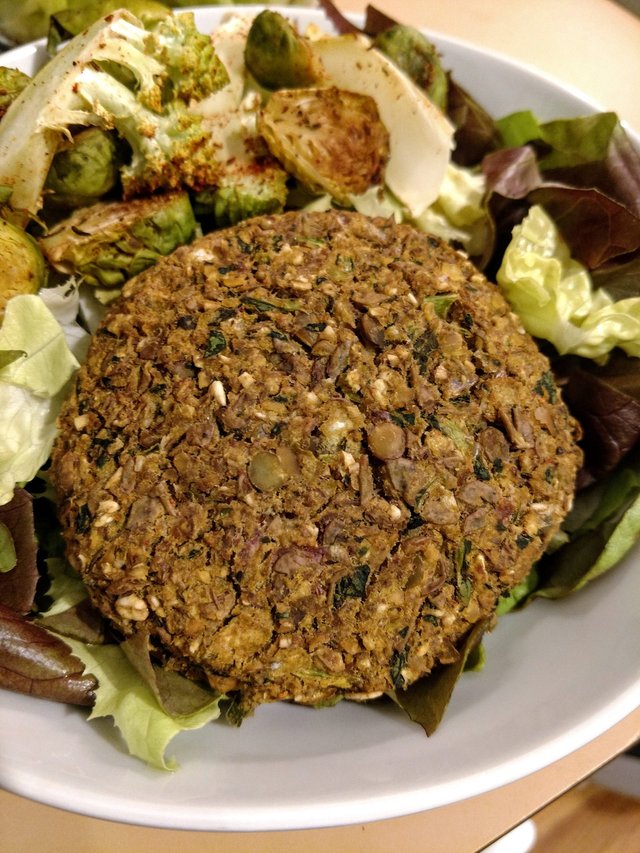 There is a lot of debate I see these days on nomenclature of certain foods. As plant-based options become more normal to find all around the world, in grocery stores and restaurants alike, some people have problems with the terms used to define them. One of the biggest examples is the right to use "milk" on products that are not derived straight from mammalian origins. I'm sure many of you have seen the funny meme about vegans having to get up to "milk the almonds" or other such humorous ones.
Here in the United States, the consumption of dairy products is going down due to people opting for more of these plant-based choices. Not just milks, but nut and seed-based cheeses, butters and yogurts are in more demand, as well. similarly, there is a huge growth in the non-meat-meat arena, with the rise of the Impossible and Beyond Burgers, sausages and even bacon. Of course there have been veggie burgers available for MUCH longer than the last few years, but this is the first time I've ever seen some of the biggest fast food chains all offering a vegetarian option on their menu. Not that I'm one to consume much processed vegan food, and there are certainly still ethical and environmental issues with the overly processed options, not to mention the nutritional value. However, it is still very interesting to see how quickly the demand is rising for more of these vegan options.
Coming back around to the topic of how these alternative products should be named, I think a lot of the arguments are quite humorous. Coconut milk has been consumed for generation after generation, and coconuts, along with many other fruits and vegetables, are often referred to as having delicious "flesh" or "meat". Then of course there is always one of my faves--peanut butter. Should it and other nut butters have to change their names because they are not made from dairy? This is really only scratching the surface, and of course I can only speak from my experience in the US. I don't speak much of any other language and unfortunately am not very well traveled (though I would love to change that). Are there issues in your home countries currently with backlash against the plant-based industry for appropriating non-vegan terminology for foods?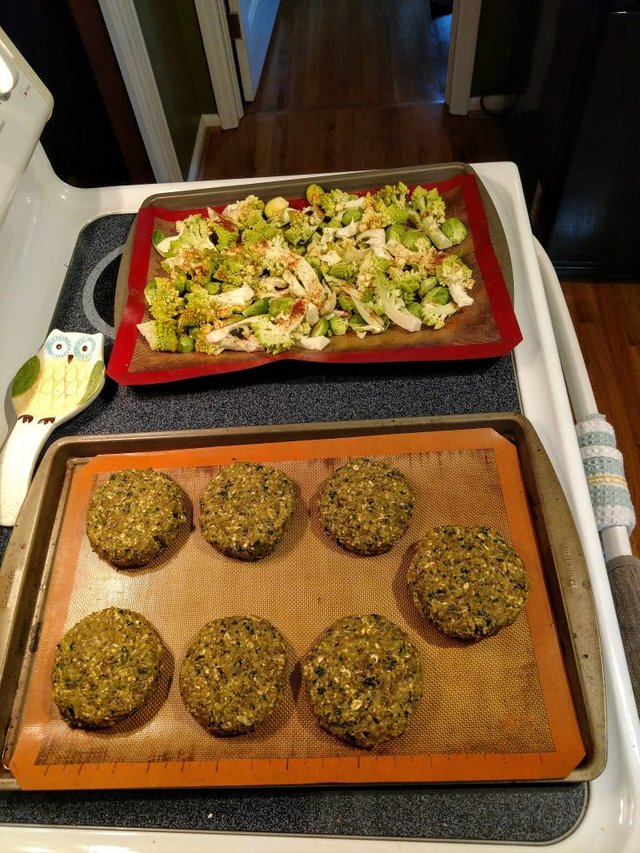 For me, I honestly don't care too much what people want to call their foods, as long as they truthfully label the ingredients. I just thought the subject was interesting, so figured I'd bring it up to see what others think about it. Ultimately, I want my diet to be made up of as many whole foods as possible, thus why I make my own burgers like the ones below instead of relying much on any of the processed options out there. Yes, I also call these patties, but I've always been a burger gal, just made from plants these days instead of animals.
The hunt for veggie burger recipes that actually stick together is always a challenging one, though a few of my Steem friends have led the way recently. Both @lotusfleur and @riverflows have made some delicious patties and veggie balls. Perhaps that's one where I do draw the line--can't quite use the term meatballs here, haha! Though I have no problem following a tried and true recipe, I do still very much enjoy free-styling in the kitchen and whipping something up based on what I have on hand. I had just a few jars of my lentils left from my winter nutrition event, along with plenty of roasted pumpkin frozen ready to be put together for the latest kitchen experiment. It turned out well enough to share!
Bon Appetit!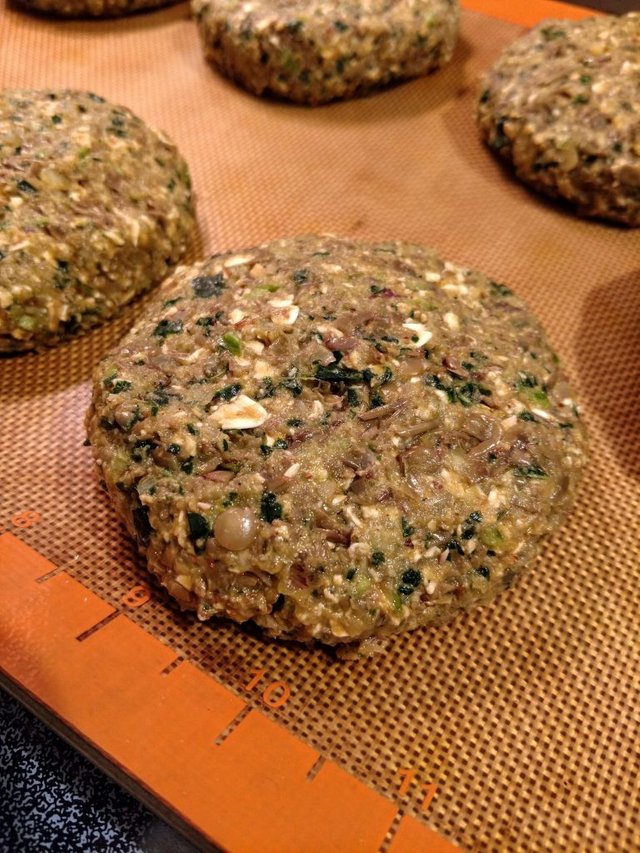 Lentil Burgers
Makes 7-8 Burgers
1 1/4 cups dried lentils, cooked until soft (should yield about 3 cups)
1/2 red onion, peeled and roughly chopped
1 cup kale, roughly chopped
1/2 cup pureed pumpkin
1 tsp vegan Worcestershire sauce (can sub liquid aminos)
1 teaspoon Northwoods seasoning*
1 cup rolled oats**
2 tablespoons nutritional yeast
1/4 cup ground flax
Cook the lentils until soft. Mine had dried thyme, oregano and a bay leaf for flavoring. Drain any excess liquid and set aside to cool.
Preheat your oven to 375 degrees Fahrenheit. Line a sheet pan with a silicone liner or parchment paper. Place your onion and kale in a food processor and pulse until coarsely chopped. Next add in the cooked lentils, pumpkin, Worcestershire sauce and seasoning. Pulse until the mixture is combined and the lentils are mostly broken down, but not totally pureed.
Scoop out the lentil mixture into a bowl and stir in the oats, nutritional yeast and flax. If it still feels too wet or loose, add a bit more oats to the mixture. Let sit for 15-20 minutes to make it easier to form into patties.
Using a half cup measuring cup, scoop out portions of the mixture to form into your burgers. Place on the lined baking sheet then put in your heated oven. Cook for 30 minutes or until the outside of your burgers is starting to lightly brown. Some people like to flip their burgers halfway, but I tend to like to just leave them alone so I don't risk breaking them.
Once done, remove from heat and serve! This time I served them over fresh lettuce with homemade sauerkraut on top and roasted veggies. Yum!
*Northwoods is a yummy seasoning blend from my favorite spice shop Penzeys. It is a blend of salt, paprika, pepper, thyme, rosemary, garlic and ground chipotle, so any combination of similar spices should work.
**If you need your burgers to be 100% gluten free, make sure to get certified gluten free oats.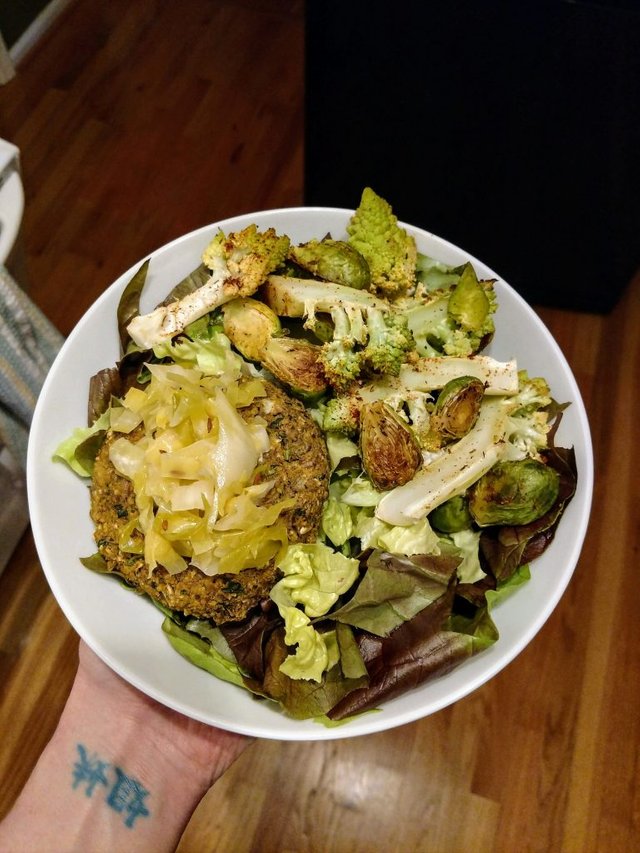 I get asked on occasion if I miss meat, but with meals like this I don't feel like I'm missing out on anything! I think a lot of the people who enjoy some of the current plant-based burger offerings still enjoy the taste but use those as a good transition after eating meat for most of their lives. Or I know plenty of people who aren't vegan who still like a Meatless Monday option. There are plenty of vegans who just want a treat, as well, and don't mind consuming some processed options on occasion. I think I have tried the Impossible burger in a pinch when I was at the beach with some girlfriends and the restaurant didn't have much else on the menu. It was ok, but I would take a lentil or bean burger over that every single time. Luckily it is not often that we eat out since it is rare that my kitchen isn't loaded up with all the best from my local farmers!
Legumes for the win! 😉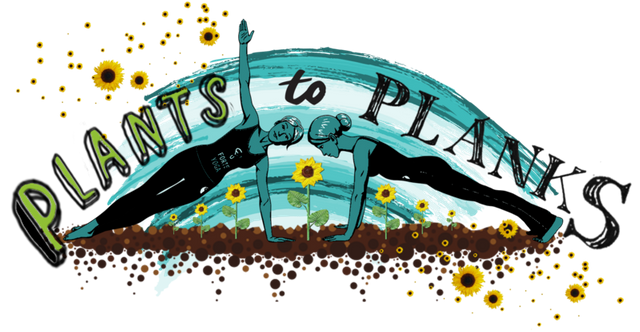 Banners by @woman-onthe-wing, @dksart and @bearone for @steemusa



---
Posted from my blog with SteemPress : https://plantstoplanks.com/lentil-burgers-oil-free-gluten-free/
---